Hey Steemians, 👋
You may recall from my previous few newsletters that I was targeted in a SIM swap attack last month. SIM swapping is a vicious form of identity theft that took more away from me than just my identity--I lost thousands of dollars in crypto and A LOT of time. 😔
Over the past few weeks, I've been making a number of improvements to my operational security and I wanted to share them with you so that you don't have to experience what I just went through.
Check out my new video: What is SIM Swap Fraud? — 5 Important Crypto Security Tips. It's a 10 minute time investment that could literally save you thousands of dollars: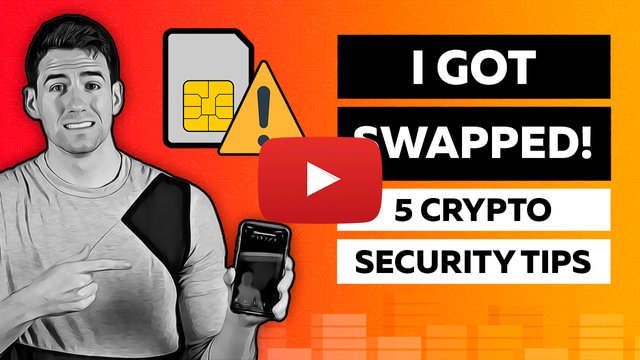 Sharing is caring! If you find this video helpful, please remember to share it with your friends and family members so that they can benefit as well! 🙏 👍
---
From The Cheddur Community
You can currently earn free Banano (BAN) by participating in Banano's comic strip competition or "what's in the box" competition. 🏆
SmartCash (SMART) is now accepted by tons of retail stores in Brazil. 🇧🇷
Check out Terracoin (TRC)'s weekly update here 📣.

Top Stories This Week

After a bumpy hardfork, Bitcoin Cash (BCH) now supports Schnorr Signatures--a big improvement to the privacy and scalability of the network. 🍴
Smart contracts are coming to... Bitcoin (BTC)?! 🤯
IOHK, the company behind Cardano (ADA), is teaming up with Polymath (POLY) to launch the world's first security token blockchain. 🤝
Bitfinex raised $1B USD in a private sale of its new exchange token, LEO. 💰
USD Coin (USDC) is now supported in 85 more countries! 🇧🇷
Pre-orders of the Ledger Nano X hardware wallet started shipping this week. Order yours here! 🚚
Poloniex, a popular cryptocurrency exchange, is delisting 9 altcoins from its U.S. markets. 🇺🇸
HitBTC now requires you provide rigorous KYC information in order to use the exchange.
Cryptopia, a popular altcoin exchange, has officially gone out of business. 🚪
Cobinhood, another altcoin exchange, has also left the building. 🤦‍♂️
Stellar (XLM) went completely offline for about 2 hours and apparently nobody noticed. 😲
HTC announced that it will start selling Exodus 1, its blockchain smartphone, next quarter. 📱
The U.S. Securities and Exchange Commission (SEC) delayed their decision on whether to approve or reject Bitwise's Bitcoin (BTC) ETF. Again. 🤷️
---
That's it for this week! As the crypto markets continue to heat up, I'm expecting the scamming and hacking to intensify. So please heed my 5 security tips and protect yourself (and your funds) from SIM swappers--it could end up saving you thousands!
- Jon Cursi & the Cheddur Team ✌️