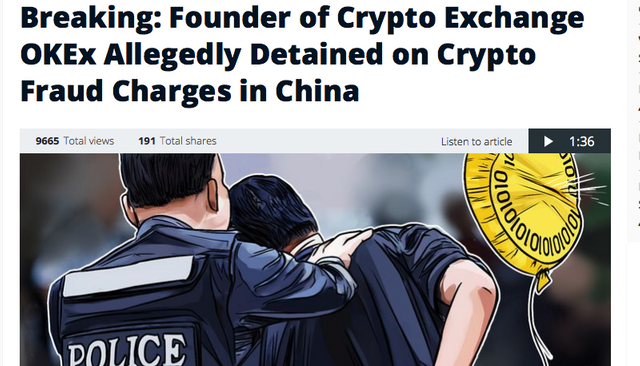 This seems strange, as Star Xu and his company did not issue the WFEE coin... BUT, they did just have massive surge in volume this summer. Could fu*kery be afoot? Perhaps a jealous competitor? Who knows? But for now, it looks like the investigation isn't really going anywhere.
Here is the meat 'n potatoes from the article (link below):
"As ZeroHedge writes, WFEE issued tokens and sold them through their website. As a WFEE shareholder, Xu can be held responsible for any kind of fraud related to the company.
However, the investigation has seemingly shown that Xu's company in Shanghai is not related to issuing the WFEE Coin, ZeroHedge notes, adding that it makes "little sense" for them to defraud investors through a Beijing subsidiary.
The news of Xu's detentions comes shortly after OKEx volumes significantly surged this summer. As Cointelegraph reported earlier in August, OKEx posted a new record in July 2018 with $5.7 billion in volume, as compared to June's $2.9 billion.
After the news of Xu's alleged detention broke today, CoinMarketCap data showed that OKEx saw an almost 3 percent drop in trading volume over a 24 hour period, having traded around $714 million on the day."
https://cointelegraph.com/news/breaking-founder-of-crypto-exchange-okex-allegedly-detained-on-crypto-fraud-charges-in-china