Announcing Cheddur 2.0 :  An Incentivized Crypto Review Platform using a Steem SMT

We're launching a new Smart Media Token, CHDR, to help bring safety, order, and accountability to crypto.
---
Introduction
Two and a half years ago, I embarked on a mission to onboard as many people onto cryptocurrency as possible by helping them safely enter the market and navigate the ecosystem. In the spirit of this mission, the Cheddur platform was born.
Progress
Over the last ten months, our team has established 200 partnerships with cryptocurrency companies who have claimed and actively manage their Cheddur profiles. We've amassed over 2,500 cryptocurrency reviews on the platform. And most importantly —we've guided over 50,000 users along their crypto journey.
Challenges
Behind the scenes, it hasn't been all sunshine and rainbows. Tribalism is prevalent among cryptocurrency communities and can cause users to be overly positive in their reviews of coins that they hold (5 stars), or overly negative in their reviews of "rival" projects (1 star). In addition, we suspect that several crypto companies on the platform have used astroturfing and vote brigading in order to drown out critical reviews and/or artificially inflate their popularity.
In a market where 80% of the ICOs are deemed to be scams, maintaining the integrity of the Cheddur review system is critical towards holding crypto companies accountable and enabling beginners to easily distinguish between high-quality and low-quality projects.
Philosophy
As a company, we believe that it is best to be neither the judge nor jury over deciding which projects are scams. When it comes to listing new coins and crypto apps on Cheddur, our goal is to instead be factually complete and to list new and interesting projects based on user demand and the facts that are available on the Internet. We believe that it is the responsibility of the cryptocurrency community as a whole — rather than a central authority —to collectively determine the quality of each crypto company.
Announcing Cheddur 2.0
I'm excited to announce that in 2019, we are tokenizing the Cheddur platform with our very own cryptocurrency, CHDR (Ʉ). The purpose of the CHDR currency is simple -—to help bring safety, order, and accountability to the crypto ecosystem by aligning the interests of cryptocurrency beginners (who need help), cryptocurrency experts (who can provide it), and crypto companies (who want to grow their communities, but also need to be held to a higher standard).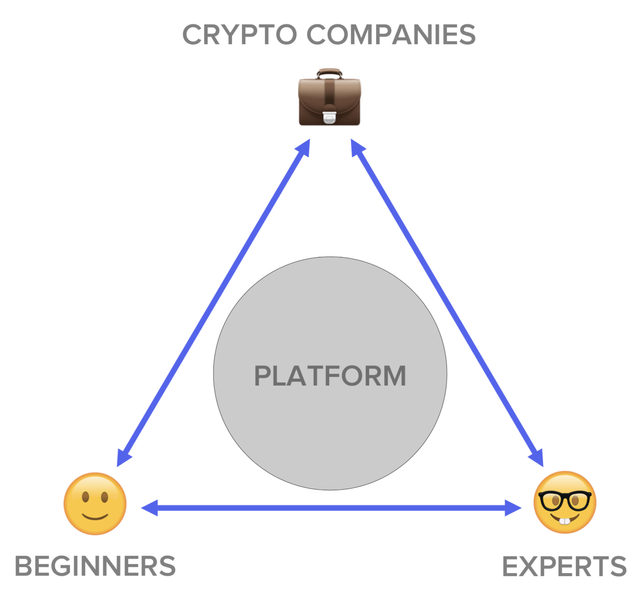 How?
In order to fulfill its purpose, the CHDR currency will:
Establish a reputation system to designate each user's influence within the platform.
Incentivize users to create and curate high-quality, unbiased reviews through rewards and platform influence.
Determine the individual quality of each user-generated review using the Wisdom of the Crowd.
Help us more accurately calculate the overall star rating and popularity of each crypto company by favoring reviews that are deemed to be high quality.
Minimize the effects of tribalism, astroturfing, vote brigading, and other forms of malicious activity.
Empower the Cheddur community to be self-policing and self-sustaining.
Enable beginners to earn their way into the crypto market with little or no downside risk.
Benefits
Crypto experts can use the platform to share their wisdom, knowledge, experiences, successes, and failures — so that we can collectively learn from each other - and they are incentivized to do so in an honest way through our rewards system.
For beginners, it's like having a trusted expert right in your pocket, available 24/7 and ready to guide you every step of the way of your crypto journey. Beginners are also rewarded for up-voting high-quality content when they see it, and down-voting any malicious activity.
And for crypto companies, it's a platform they can use to not only list themselves, but to claim and manage their free Cheddur profiles, respond to user reviews, and use our premium tools and targeted advertising to grow their communities of users and investors.
Token Economy
We published a full, technical white paper on token.cheddur.com that explains the nuts and bolts of our token economy. It works like this: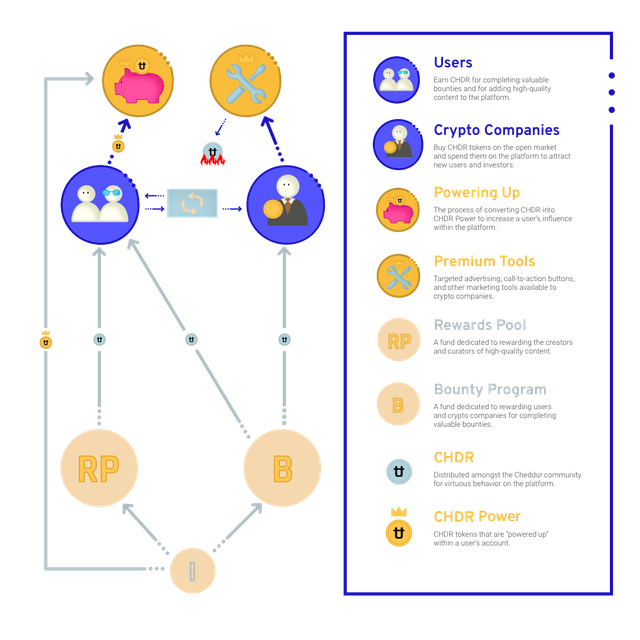 Rather than individual users having to pay rewards and fees directly amongst each other (as is the case with most Ethereum-based ÐApps), Ʉ tokens will be awarded via the programmatic inflation of the CHDR supply. Inflation aligns the interests of each stakeholder as the Cheddur community as a whole  — beginners, experts, companies, and the Cheddur team  —collectively pay for the creation and curation of high-quality content.
A Smart Media Token
The CHDR currency will utilize the industry-leading Proof of Brain properties that were pioneered by the Steem blockchain and made available through the Smart Media Token (SMT) protocol. By using the Steem blockchain, Cheddur users will be able to enjoy the benefits of the blockchain without having to realize they are using one.
Concluding Thoughts
We Want Your Feedback!
We believe that the CHDR currency should be launched in collaboration with the community, so we are seeking feedback on the design of Cheddur 2.0. We intended to spare no details from our white paper, so if anything is unclear, missing, or doesn't make sense, let's talk about it!
Starting points for an open discussion:
We are currently undecided on whether to do an airdrop or an ICO (using the built-in capabilities of the SMT protocol, as described in the white paper), so we'd appreciate feedback on that!
We're considering burning some percentage of our quarterly profits in Ʉ tokens, but aren't sure if a) this is necessary, and b) what the parameters would be around this.
Thank you!
---
Useful Links