Armageddon (AGDN) is a masternode deployment platform designed to make masternode hosting simple. It removes the need for the technical skills required to setup a masternode manually. That means you don't have to worry about using a VPS or figuring out how to operate a Linux terminal. Anyone can do it!
The platform configures the masternode server for you automatically and only requires some information in order to link to your wallet. All of the coins remain in your wallet so you don't need to worry about leaving them with a third party. This means that if the Armageddon platform is hacked, your funds will be safe. The platform costs $0.30 cents a day and is purchased with AGDN so your masternode rewards can cover it. This does cost more than a typical Vultr server, but you're paying a premium for the convenience of 1-click hosting and paying directly with masternode rewards. Also, 5% of the profit is donated to a charity chosen by the masternode network, which means you can vote on the charity as a masternode holder!

A summary of features from the official website
The Armageddon hosting platform was launched earlier this week, roughly around the time the coin started trading on Crypto-Bridge, so they are still new and in the process of adding other masternode projects to be hosted on the platform. Projects currently available on the platform include Armageddon (AGDN), 401k Coin (401K), Savenode (SNO), and Respawn (RSP). Respawn is one that I own and may host on the AGDN platform after I manage to secure an AGDN masternode.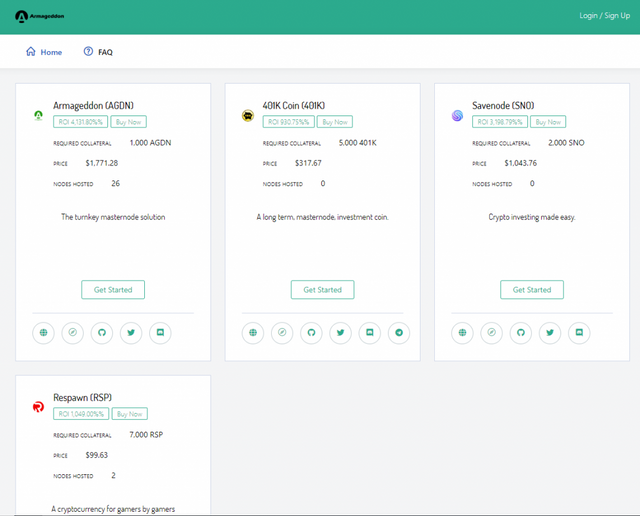 The Armageddon platform dashboard
The roadmap is looking pretty good, too. Coming up soon is the first mass marketing phase, mining pool release, and the whitepaper. Following those will be the iOS and Android app releases and then a major exchange listing. So far, everything on the roadmap for 2018 has been completed, aside from the inevitable implementation of more masternode projects on the platform.
Armageddon is not the first of its kind. GINCoin (GIN) is currently the most well-known masternode hosting service and certainly stands as Armageddon's largest competitor. This is a good thing, though, as competition is healthy and will lead to the best experience for the consumer as the platforms compete to outdo each other. I'm not ready to commit to a full masternode investment, but will likely be joining AGDN's shared service and own a percentage of a node. Until then I will be keeping a very close eye on the project.
Learn more about Armageddon on their website https://armageddon.cc/
Masternodes.online also has good info https://masternodes.online/currencies/AGDN/
Join their Discord https://discord.gg/ExdFDCQ
Buy AGDN: https://wallet.crypto-bridge.org/market/BRIDGE.AGDN_BRIDGE.BTC
Follow me for more content like this!
Instagram: jmilla28
My blog: jmilla.tech
Twitter: @jmillatech
Disclaimer: The author of this article is not (yet) invested in Armageddon (AGDN). As always, this is not investment advice. Do your own research. Trust me, it's fun!