BiFrost (FROST) is a Proof-of-Stake/masternode coin that has thus far existed without a working product to set it apart from the rest. That's all changing, however, as the team is gearing up for the release of their platform ShadeMyTrade. ShadeMyTrade is an application for novice traders to "shade" (or piggy back on) the trades of pro traders. The novice will pay a fee for profitable trades, but will not be required to pay if the trade goes south and money is lost. The pro trader is incentivized to use the platform because they earn not only from their own profitable trade but also from the fee paid by the novice. In the case of a profitable trade, its a positive scenario for both the pro trader and the novice.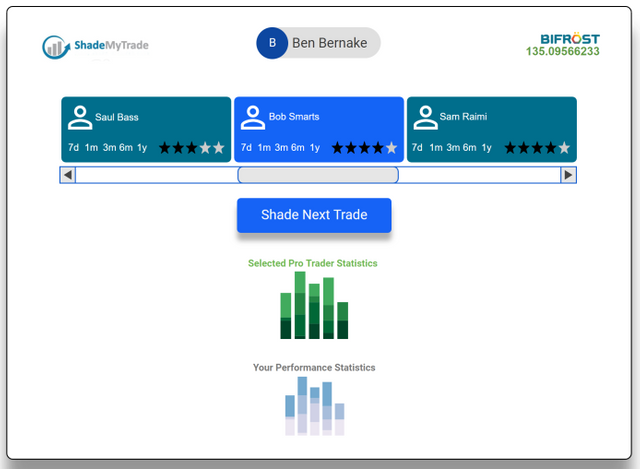 A teaser of the dashboard released by Mantrid on Discord
Pro traders are required to go through an approval process by demonstrating, or providing, a set of successful trades. Pro traders will also be required to complete at least 5 successful trades and a profile indicating what type of trading they do (long, short, day trading, etc.). Once these requirements are met the pro trader will have access to the platform and become available for novices to start shading their trades. Pro traders will also be rated with a 5-star system, further verifying the authenticity of the pro trader. If a novice trader is happy with their gains, they can always override the pro trader and take profit.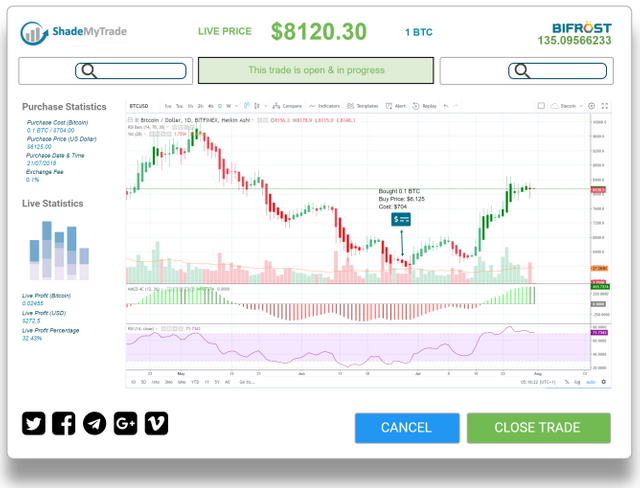 A teaser screenshot of the trade editor
I won't get too much into the detail of how the platform works as this is meant to be a general preview. Mantrid, a user on BiFrost's Discord group, has done a great job explaining platform details in their #platform-discussion channel.
In addition to the progress the team has made with ShadeMyTrade, they have also been hard at work with the FROST coin itself. Recently they implemented a major reward reduction to help fight overinflation of the coin and increased masternode collateral. In addition to these changes, a major chain and wallet update has implemented some of the latest tech from PIVX for further stability and privacy options.
ShadeMyTrade Explained
In order for coins to stay relevant, especially in the masternode space, they have to provide value to the field. ShadeMyTrade is BiFrost's attempt at doing just that. It will certainly be interesting to see where the platform goes and how well it operates. For now, it is a matter of waiting for the developers to follow through with their promises and hope that the product works and is widely adopted. It will need users to succeed. Learn more about BiFrost on their website
http://bifrostcoin.io/
Masternodes.online also has good info
https://masternodes.online/currencies/frost
Join their Discord
https://discord.gg/pQ2BtKM
Buy BiFrost:
https://wallet.crypto-bridge.org/market/BRIDGE.FROST_BRIDGE.BTC
https://www.cryptopia.co.nz/Exchange/?market=FROST_BTC
Follow me for more content like this!
Website: jmilla.tech
Twitter: @jmillatech
Disclaimer: The author of this article is invested in BiFrost. As always, this is not investment advice. Do your own research. Trust me, it's fun!