BitUniverse, Your Cryptocurrency Manager
We are thrilled and proud to announce that after 4 months of development, BitUniverse v1.9 has been released! We meticulously designed the new interface to focus on efficiency, with our goal being to make BitUniverse the best crypto portfolio tracker in the world.
Oh, and coming up on the horizon we also have v2.0, which has some stuff that's going to be mind blowing.
About BitUniverse
BitUniverse is your all-in-one cryptocurrency manager that calculates profit/loss, tracks coin prices in realtime, has customizable alerts, and a built-in decentralized wallet that supports Ethereum ERC-20 tokens. Android and iOS are both supported — head to bituniverse.org or go to Google Play or the AppStore and search "bituniverse" to download.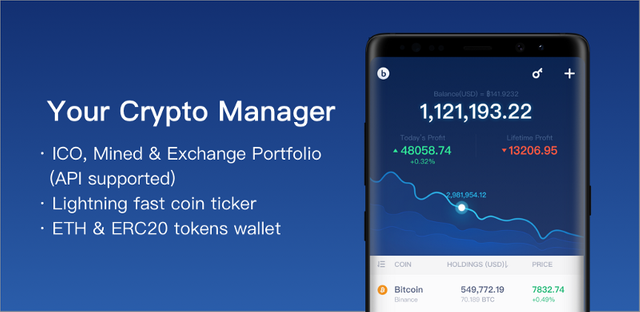 BitUniverse Highlights
BitUniverse's headline feature is the ability to accurately track your profit/loss in crypto transactions.
This is something that many portfolio apps have, but we've come up with some smart innovations to make everything as quick and easy for users as possible, and carefully polished every aspect of it to make the best product available.
The biggest game changer in BitUniverse is the ability to automatically and quickly import your transaction data from exchanges using API keys. Just think about how much time you normally waste by manually adding each of your buy and sell transactions using Blockfolio. If you've made hundreds or thousands transaction, it would take forever to add all of them. But now with BitUniverse, all you need to do is to find your exchange's API key, tap on import, and wait for a few seconds, voila!
Let's see how we can track our transactions on Binance:
First go to the Portfolio tab, tap on GET STARTED, choose Binance from Auto Mode, then you are in the key input page. If you have no idea where to get your key, there is a handy tutorial on the page that gives detailed instructions. We can even read your key from a QR code to make everything as quick and convenient as possible. If the QR code option is not available for a particular exchange, you can just copy and paste your API key directly.


After importing the key successfully, your balance, profit/loss and life-time change will be calculated and shown. You can also check your API key import status from here, or reset/delete the API keys you've previously imported.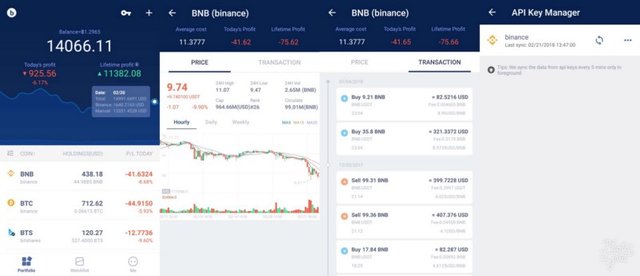 We currently have auto-import support on 11 exchanges, including Binance, Bitfinex, Bittrex, Poliniex, Coinbase, Gdax, Cryptopia, HitBTC, Kraken, Kucoin, Huobi, and more coming soon.
While some other apps and websites support auto-imports, we have spent tons of time bug fixing and fine tuning this feature to make our experience greater than anyone else. Specifically, Coinstats only imports the current balance but does not import historic transactions, so it's not helpful if you want to calculate the overall profit or loss of a coin. Delta announced that it supports auto-imports as of v1.6, however it doesn't support withdraw/deposit transactions, and many users are reporting that it consistently fails to import or sync successfully. It also limited in the number of exchanges it supports compared to BitUniverse.
Speaking truthfully, it's not easy to ensure that data can be pulled successfully from an exchange in this way, and making sure that the data calculations that come from them are accurate is even harder.
More neat features
Besides auto-import, BitUniverse's manual tracking mode lets you keep tabs on coins earned through mining or ICOs.
You can easily input the data relating to your ICO coins, including the name, quantity, and cost in ETH or BTC. Once those coins are launched on an exchange we will automatically calculate the balance and profits.
What's coming in the future?
Soon we will not only increase the number of exchanges that can have data auto-imported, but we will also let you import data directly from a wallet address, so you can manage all your crypto assets in BitUniverse.
Slick and efficient UI
We refined our UI in v1.9 to make it more user friendly, and we feel that it's now the smoothest on the market.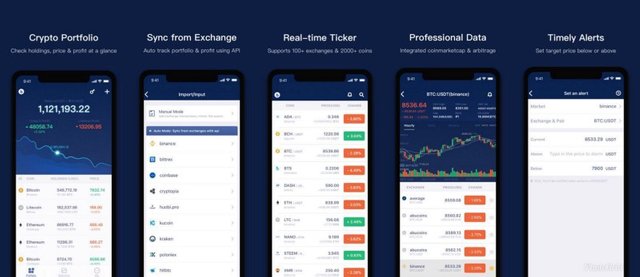 Lightning Fast Coin Ticker
BitUniverse supports 100+ exchanges and 20,000+ coin pairs. Our prices update every 4 seconds, and we're working to bring this down to 2, ensuring that you're always perfectly up to date and can be on the ball when a coin starts mooning or dropping. Other apps only manage to update every 15–60 seconds.
In addition to speed, we also spent a lot of time making our candlestick charts professional and customizable to break down information by day, hour and week. CoinMarketCap has been integrated to show each coin's cap, rank, and other information, giving you all the information you need at a glance.
Furthermore, we provide coin price comparisons from multiple exchanges in a clean and readable format to help with arbitrage trades.
Built-in wallet
The Android version of BitUniverse includes an Ethereum & ERC-20 wallet using the BIP-44 protocol. It's a local light wallet with an amazing user experience and high-grade security.
---
This is BitUniverse, your cryptocurrency manager, and our team is proud of what we've accomplished so far. We're not even close to being finished and we're still working hard to bring you new features and fixes. We strongly believe that BitUniverse will continue to improve and become a blockchain tool that brings a genuine benefit to the entire world.
Because we are true believers in blockchain, and true believers in a better world ;)
Contact Us:
Official website: https://bituniverse.org/
Twitter:https://twitter.com/bituniverse_org