Greetings fellow Steemians!
Today's post is about Secure Cloud Coin (Ticker name: SC2), the project that supports a decentralized cloud based marketplace! This coin features lightning fast, near instant transactions that are completely anonymous through the SwiftX and Zerocoin protocol! It also is a great source of passive income for investors, who can earn rewards through holding Masternodes or running a Staking Wallet! Currently, SC2 has a fantastic ROI of over 800% according to Masternodes.online, and can be purchased at the Crypto Bridge exchange for ~$.03 each.

The first thing to look for when researching a crypto project is a well written, focused whitepaper. SC2 has exactly that. In their paper, they detail their plan for global adoption through a partnership with Vultr and GoDaddy. The next thing you look for is KYD verification, which the development team has recently undergone. The benefit of KYD verification is reflected in the price of SC2, as it has risen 50% in price and 500% in daily volume. Third, you look for active development. In Q1 2019, SC2 will roll out their platform, in which users will be able to use their SC2 to purchase a domain and VPS, all managed in one place!

Here is an example of how it will look: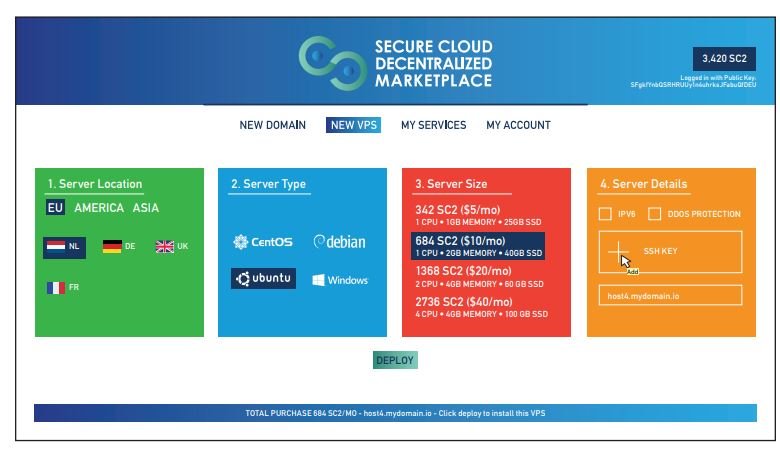 But this is not where it stops. From here, development will only continue! According to the roadmap, there are plans to develop a mobile app, additional partnerships with cloud providers, and listings on major exchanges scheduled for 2019!

The Crypto Market in general is still in the early stages of development, and SC2 is aiming to take crypto currency to the next generation through its transaction speed and anonymity. Though it is a young project, but with a committed Development team with a solid vision, they have a plan for global adoption and use!
To find out more about SC2, check out the following links:
website: https://securecloudcoin.com/
masternode stats: https://masternodes.online/currencies/SC2/
whitepaper: https://securecloudcoin.com/wp-content/uploads/2018/08/White-paper_v1_3.pdf
discord: https://discord.gg/pHntZpv
exchange: https://wallet.crypto-bridge.org/market/BRIDGE.SC2_BRIDGE.BTC
**As always, do your own research before making any investment.
Please upvote, resteem, and follow for more exciting crypto posts!