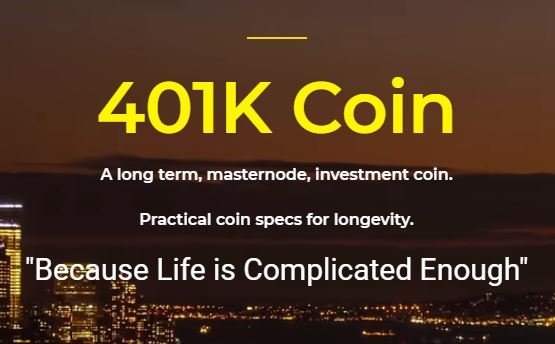 Hello Steemians!
Today's CryptoBlog article is about 401k Coin: The 100% POS, Masternode currency featuring private, secure, and instant transactions. The code for 401k coin is a fork off of the PIVX code base, providing a stable and secure foundation for the project.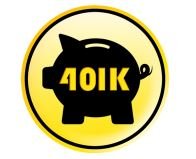 401k coin is a project centered around a unique use case: retirement integration. According to the 401k whitepaper, beginning in Q1 2019, all Masternode holders with an active 401k retirement plan will be eligible for a 15% reward bonus. This benefit will also be available to holders in other countries who do not have a 401k, but have a similar retirement program. Discussions are currently underway with parent companies and organizations to ensure this program is implemented smoothly.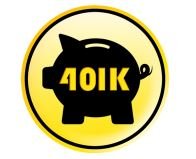 The reward program for 401k coin is also unique, and comes in stages. Every 10,000 blocks, the rewards rotate from 10 to 20, 20 to 30, and then 30 to 10 401k per block. This is done to control the inflation of the currency, and to ensure that rewards remain valuable. After block 100,001, the block reward goes to 5, and will decrease by 50% every 1,000,000 blocks until the maximum supply of 25,000,000 is reached. Max supply will not be reached until ~100 years from now, ensuring that the 401k project is a long lasting, reliable source of passive income for holders.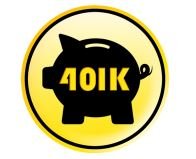 Currently, 401k is traded on the Crypto Bridge platform, and trades for ~$.20 per coin. Shared Masternodes are available on Stakinglab.io and StakeUnited.
Please UPVOTE, RESTEEM, and FOLLOW for more exciting crypto posts!!
**Always do your own research before making any investment.
For more information on 401k coin:
Discord: https://discord.gg/F86UGUU
Website: https://www.401kcoin.ltd/
Masternode Information: https://masternodes.online/currencies/401K/
Exchange: https://wallet.crypto-bridge.org/market/BRIDGE.401K_BRIDGE.BTC
Whitepaper: https://www.401kcoin.ltd/wp-content/uploads/2018/08/401KCoinWhitePaper1.3.pdf