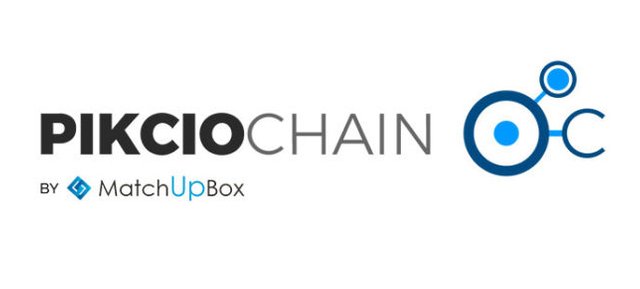 PikcioChain ICO review for you, fact checking and clarification for another very interesting project. Pikcio is building several products, and although very ambitious and complex goals, it seems like Pikcio is already well on its way to succeed. Pikcio/Matchbox is already a profitable company. NEO and OnChain are on board, participating in the development of the Pikcio products and have invested 3 million USD in the ICO. The main products are about to be go live in a few months. There are many green flags, please find all the facts below and make your own judgement.
This is not financial advice, do your due diligence before investing. Again, DYOR (Do Your Own Research).
Basics
---
Official Website
White paper
Short paper
Technical paper
Fields

Big data, KYC/AML, Crypto Wallet, Crypto Social Network, ICO Participation Management & Discovery

Goal

Build a decentralized, secure, transparent and legally compliant means of exchanging personal data between individuals and businesses
Validate, secure, store and allow the safe monetization of your personal information
Put the power of your personal data back into your hands

Products status
Market size

Huge - big data is already massive now, it will become even bigger in the future - "data is the oil of the 21st century".
Securing data: 93 billion USD spent on information security in 2018

Description

Reputation system called the Trust Capital Index (TCI).
Enables the collection, certification and exchange of personal data.
Protects the individual's data while making data acquisition and management easy for businesses.
Providing the world's first monetized personal data marketplace.
Users choose how to share their data, who to share it with, while also providing them with the opportunity to be compensated for its use.
Complies with GDPR: Data stored and transferred in a peer to peer way, not on the open blockchain. Only hashes and validation of the data are stored on the proprietary, private, permission-based blockchain.
Users store their data only on their own devices
PikcioTokenSaleWallet (TSW): allows for easy participation in token sales - developed with OnChain

a one-time KYC process
NEO wallet
ETH wallet
Fiat wallet - traditional bank account in EUR/USD/else


Auto-oneclick-participate in token sales
Extra token sales features when paying PKCs or holding PKCs on account

PikcioMe: for the individual users (suppliers of data), to exchange and certify personal data

Data exchange will be end-to-end encrypted whilst the encryption key is generated on the user's device by the PikcioMe application, making the data exchange secure

PikcioPro: for the businesses (consumers of data), paid service to access he Pikcio data exchange
PikcioLab: for the developers (designers of smart contracts)
PikcioChain will eventually have its own Blockchain



Existing clients: BNP Paribas and P2Link.

Won quite a few awards

Took part in 4 accelerator programs

ICO Details
---
Hard cap
For private pre-sale, public pre-sale and ICO

Dates

Pre-sale: until March 16th 2018
Main sale: March 17th - 31st 2018

Bonuses (max bonus?)

Early pre-sale: 35%
Pre-sale: 5%
Strategic supporters: 35%


Token amounts

83,088,000 = total token supply
36,009,716 = tokens for sale (43.4%)

Token allocation

Summary: 43.4% tokens are being sold (Pre-sale + Main Sale + Neo allocation + Strategic supporters).
Token allocation in percents

33% - Presale & Token Sale
25% - B2B Premium Inventory
15.8% - B2C Growth Pool
8% - Team
7.7% - Advisors
5.4% - Neo Allocation
5% - Strategic Supporters
0.1% - Bounties


Team tokens vested for 2 years.
Bonus and advisors tokens not vested



Banned countries

US citizens and residents are only to participate if they are accredited investors.
Citizens or residents of mainland China, Countries or regions comprehensively sanctioned by the US Office of Foreign Assets Control (OFAC) (including countries currently sanctioned by the OFAC such as Ukraine, Cuba, Iran, North Korea, Sudan and Syria).
Token trading & usage
---
Token trading

date tokens get distributed: March 31st, just after the token sale ends.

date tokens hit exchanges
exchanges planned to list the token

Token usage

NEO Nep5 token
Used to execute/run smart contracts on the platform
PikcioChain is a platform/protocol so there will be many apps created on top of it, by the community, by clients and/or by Pikcio as a company. The first two apps which are about to be released are the KYC and TokenSaleWallet, but as clients connect & create their systems they can add their own use cases/utility.

If paying a certain amount of PKC, or holding certain levels of PKC, users gain access to advanced features on the platform. For TokenSaleWallet:

Access to exclusive token sales
Access to higher bonus tiers
Guaranteed allocations for chosen token sales
Higher allocations for chosen token sales
"Automated participation" feature enabled for chosen token sales
Participate in voting rounds on future token sales
Team
---
Summary: a solid team made of strong tech profiles, strong finance profiles and a couple
Didier Collin De Casaubon - CEO & Co-Founder

Summary: a well rounded and very experienced entrepreneur, "ability to build and drive teams, craft winning strategies, structure budgets, and implement flawless execution to significantly optimize business profitability and mind share"
CEO & Founder @ MatchUpBox Inc
VP, Commercial Relationship Manager @ Metro Credit Union
Business Banking Relationship Manager @ Citizens Bank
CEO & Founder @ Labeda, SA
CEO & Founder @ NextValue Consulting
Executive Vice-President, Publishing, Marketing and Development @ Index+
SVP, Multimedia and Subsidiary Products @ Havas-Teleimages
Founder, Managing Director of Larousse Multimedia @ Havas-Larousse
CEO & Founder @ SIDIS
Research Intern @ §CNRS
Post-grad in Philosophy, a masters in Mathematics and an MBA

Fabien Bucamp - Co-Founder & CTO

Summary: leading many IT projects at a very high level
Co-Founder & CTO @ MatchUpBox Inc
Manager of the R&D department @ Defense Ministry of France
Manager of the Software and Electronic department @ Defense Ministry of France
Project Manager @ Defense Ministry of France
Engineer Telecommunication @ Defense Ministry of France
Engineering diploma in Telecommunication, Network & Computer Science @ ESIEE Amiens (University)

Dr. Jorick Lartigau, PhD - Co-Founder, Research

Summary: a strong tech profile with education & work experience in China
Researcher @ MatchUpBox Inc
iOS application developer @ Heilongjiang branch of China Unicom system integration
Web developer @ CNC, China Netcom Group System Integration Corp.
PhD in Computer Science focused on data security and big data algorithms @ Harbin Institute of Technology

Cherie Arruda - Co-Founder, Plan & Audits

Summary: 26 year career in financial services working at Bank of America Merrill Lynch
Executive Vice President, Planning, Risk and Control Management @ MatchUpBox Inc
Director, Business Controls Executive @ Bank of America
Director, Strategy & Business Support Exec, Global Wealth Management (GWIM) Residential Real Estate @ Bank of America Merrill Lynch
Director, Service Delivery and Client Experience Executive, GWIM Residential Real Estate @ Bank of America Merrill Lynch
More roles... @ Bank of America Merrill Lynch & @ Fleet Boston Financial

Alizon König - Software Developer

Summary: a software developer
Developer @ MatchUpBox Inc
Masters in Computer Science @ Montpellier University (France)

Gonzague Grandval - Strategy

Summary: expert in crypto, advisor in various ICOs
Advisor @ MatchUpBox Inc
Senior Advisor @ Eiffel Investment Group
Co-Founder @ Paymium - Bitcoin & Blockchain Solutions
Strategic Marketing Manager @ Orange - Telecommunications
Business Manager - Payment Solutions @ Orange Business Services
Post-graduate diploma in Economics @ Sorbonne (France)

Jean-François Lienart - Chief Sales Officer

Managing Director @ New Skill SA
Note: not much to be found on his Linkedin nor anywhere else online

Delphine Benat-Rassat - Operations

Summary: helps optimizing its administrative, HR and financial processes
Operations @ MatchUpBox Inc
Operations @ SNInvest_Groupe Biolux Medical
Back Office Export Manager @ LYSA

Kelly Stafford - Community Manager

Summary: 4 years in digital marketing
Digital Marketer & Web Designer
Digital Account Manager @ what.digital
Founder and Co-Owner @ The Rose & Bean

Kirsten Morel - Content Manager

Summary: a lot of experience in writing about tech and finance
Director @ Edge Media
Editor @ DQ Magazine
PR Consultant & Copywriter @ Kirsten Morel
Freelance writer @ BusinessLife.co
Editor @ Technology Banker
more positions…
Advisors
---
Summary: an serious advisory team, most are based in Switzerland
Joe Zhou

CEO & Co-Founder @ FirstBlood
CEO & Founder at Alt-Options LLC
Alumni & ex-Resident at DCU FinTech Innovation Center

Lidia Bolla

Summary: co-founded of several startups in the field of crypto investments and machine learning applications
CEO & Co-Founder @ Vision& - asset management for blockchain investments
Co-Founder @ Jamie & I - virtual shopping assistant (AI)
Managing Partner @ Algofin AG
Associate Asset Management @ Swiss Re
PhD in Finance

Thomas Galovic

Founder of Crypto Investment Bank Technocracy Associates
Associate at Deep Knowledge Ventures
Assistant to Chief Investment Officer at IFC - International Finance Corporation

Luke Szkudlarek

Digital Strategy Lead, Founding Partner at what.digital
Digital Projects Lead, Director Business Development at Webrepublic AG
Director of Digital Marketing at E-scape Interactive Limited

Mario Colombo

Technical Lead at what.digital
Senior Product Specialist at Webrepublic AG

Victor Chow

Serial entrepreneur and senior corporate leader in venture capital, start-ups, telecommunications, ICT, financial and education technologies
CEO & Managing Partner (ICO & Cryptocurrency) at Aristagora International
Co-Founder & Global Chief Operating Officer (COO) at TiENPAY Limited | 天汇电子钱包
Partners & Investors
---
Partners

Summary: strong partners from within and outside the crypto space
NEO - "The Chinese Ethereum"
Ernst & Young
PwC
CapGemini
OnChain

Blockchain consulting since 2014, the company behind NEO

Ontology

blockchain network which combines distributed identity verification, data exchange, data collaboration, procedure protocols, communities, attestation, and various industry-specific modules

University of Montpellier, Praxiling and Epsylon lab (both parts of CNRS, the largest fundamental science agency in Europe) https://news.pikciochain.com/pikciochain-signs-key-partnership-with-french-government-3617a4640580




Investors

Jun 2014: Self funded, 750k USD by Didier Collin De Casaubon (CEO) and close friends
3 million USD from NEO as a strategic partner - contribution for tokens
6 million USD pre-ICO funding from private individuals, family offices and financial institutions - contribution for tokens
Online Presence
---
Media coverage - niche & mainstream
Social media attention

Telegram
Twitter
Reddit
Medium
Bitcointalk
Transparency
---
Organization registration & jurisdiction
Open source or not

No.


Code audited or not

Code audited by OnChain.
Not sure if can be considered an audit since OnChain is developing the products with Pikcio


Overall communication

The team is extremely transparent when asked questions. The marketing is not very aggressive, the result is a low hype.
3rd party ICO reviews
---
You liked this article?
---


Share it, vote it up, comment
Donate ETH: 0x5C3c3C12ba509Bb277D0997A91AdCF9EFf7b439E
Donate Nano (XRB): xrb_1y7u6dhkdc7xoqpbfwzzknszzkfur4zy53937reu4tdktar3k6cx81hogoe7
Article written by Adrien Berthou - founder of ICO Points Analysis