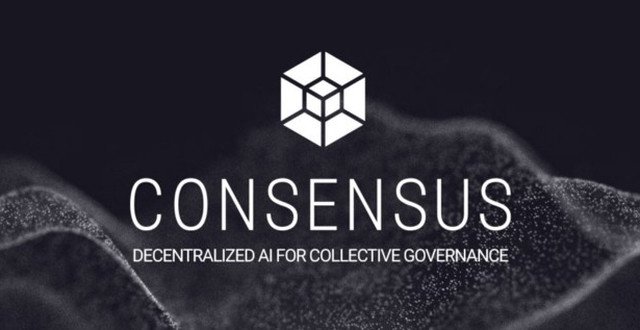 Overview & Opinion
---
Pros

The ICO had a lot of success so was only sold in private sale. A strong team & very strong advisory team, strong partners. A strong presence on Twitter & Telegram. And finally, a huge target market.

Cons

Very high goals. A lack of publicly available information, including the ICO hard cap & token allocation. Little media coverage.

Conclusion

Considering the lack of information & media coverage, one can only rely on the rest of the fact to decide whether or not this project has a bright future or not.
Methodology used when creating this report
---
Every article published using this "5min read" format is answering a very specific list of questions.
The list of questions does evolve slightly from one article to another, but stays 90% the same to allow easier read and comparison between projects.
If the answer regarding a given question isn't available on the project's publications (website, white paper, blog, etc) and isn't answered by the team when asked on its Telegram Group Chat (i.e. the team ignores the question or avoids the question asked by answering on an unrelated topic), it is communicated in this report:

some answers will be written as "not disclosed/available"
a comment may be added in the "Overall Communication" sectionregarding the team's attitude
Getting started
---
Official Website
ICO page
Overview paper
White paper
Fields

Governance, AI, Machine Learning, Big data

Competition

Summary: so far, only few projects have focussed on the field of governance at large scale.
Aragon (aragon.one) is the governance project we keep hearing about, with its very strong profiles as founders and advisors.

Goal

Achieve collective governance based on interdependence
A software system for collective governance, enhanced by machine learning principles. Our mission is to unite people through shared understanding.
Governance solution for any organisation: community, startup, NGO, enterprise, city, county or the entire country.
Consensus AI will be able to offer automated, data-driven solutions to the most complex problems of our collective co-existence by modelling the potential outcomes of proposed changes.

Market size

Huge, billions of USD maybe. Consensus.AI is planning to have governments as clients.
About 3,6 billion people globally to carry a national eID card by 2021 (according to Acuity Market Intelligence)
Estimated 1.6 billion people worldwide (25% of the world population) cannot officially prove their identity, according to the 2017 update of the World Bank's Identification for Development Global Dataset



Project status

"The product is our main priority at the moment. Our core developer team in Toronto office is already working on the Sentient Network and we plan to release in Q2, 2018. We are currently recruiting more people to enhance the team, but the core developers are already on it. We are opening early registrations to join the Sentient network in the nearest future." - update received from the team on April 20th 2018
But extremely detailed white paper with clear roadmap.
Note that "With this additional funding now available, we're able to accelerate some of the project timelines and are now planning to deliver the network in Q2, ahead of the originally proposed schedule. Our own internal deadline is early June 2018."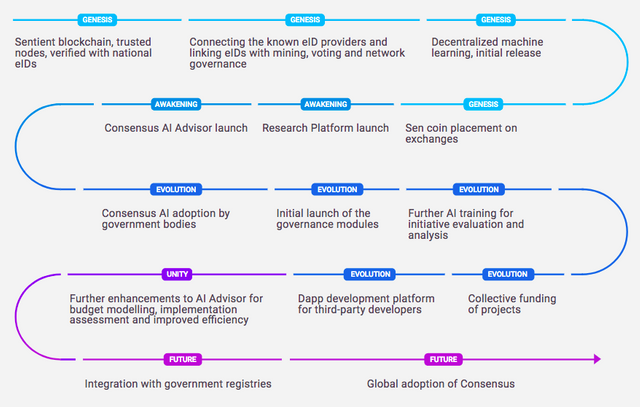 Description

This is a massive project - the white paper explains in depth the different parts and stages of the project
Pillars of the project

Sentient blockchain network - allows running distributed machine learning
Electronic identities
Research platform - a system to enable conducting extended research, working with various data sources, including proprietary data acquired by the Foundation and contributed by the participants, data from open sources, public voting and opinion data gathered from the members of the network in exchange for Sen

Improve the governance mechanisms at all levels of organizational structures
Open-sourced, decentralized artificial intelligence platform
Automated, data-driven solutions to the most complex problems of our collective co-existence
"plan to cover, gradually, most of the governmental interactions within a country and offer advanced modelling capabilities to enhance the decision-making process."
A user wallet with eID integration for general, non-developer participants (regular citizens) to allow the creation customized smart contracts for virtually any type of deals or transactions
ICO Details
---
Hard cap (if no high cap, mention auction model)

not disclosed at the time of writing

For private pre-sale, public pre-sale and ICO

Special note: there wasn't any public sale, only a private sale. "Due to the token demand, as well as the changing global regulations regarding the token sales, we decided to only offer the tokens for purchase to the strategic accredited investors, who passed our KYC process. Consequently, we will not have a public sale of tokens at the moment. We may offer some tokens for sale to additional strategic partners, most likely traditional venture funds, in the future, and these will be native Sentient network tokens, not ERC-20 tokens."https://medium.com/consensus-ai/march-2018-consensus-ai-project-update-2-70534cc30c18
Dates

"As we worked with our strategic partners only, we didn't have hard start/end dates. The allocation of tokens to our strategic partners was finalized in March 2018." - update received from the team on April 20th 2018

Price & Bonuses

Price ranged from 0.0225-0.0250 USD to 0.03375 USD

Token amounts

Token sold: 1.65 Billions
not disclosed: amount distributed for each price bracket
"We worked with our strategic partners only, the terms are private." - update received from the team on April 20th 2018

From the Telegram Group:


Token allocation

not disclosed at the time of writing
The team does not hold any token though (see screenshot below)
From the Telegram Group:


Banned countries

not disclosed at the time of writing
Token trading & usage
---
date tokens get distributed

Tokens got distributed at the end of March 2018

date tokens hit exchanges

not disclosed at the time of writing

exchanges planned to list the token

not disclosed at the time of writing
From the Telegram Group:


Some unofficial data from https://steemit.com/consensus/@ebru/consensus-ai-summary-and-review

Token usage & tokenomics

Sen coin provides the payment mechanism to network participants and is generated by the network during mining and execution of smart contracts and other activities (user participation, provisioning of compute resource, provisioning of storage capacity).
Reward for computation power - much like the Golem project but in the context of Consensus AI. The team updated us on April 20th 2018: "Each network node will be able to provide a portion of its hardware resources for the AI engine computations, and will be rewarded in SEN for it—each node will be able to determine what percentage of its resources to make available for AI engine computations. As a result the Consensus AI will be powered by the fog supercomputer where nodes will receive rewards in SEN that correspond to the price of compute power."
Reward for users providing personal data. "users providing their data and getting SEN as a reward: using our approach, the AI engine will bring the models to where the data stores are and train them on the encrypted user data. Each time user's data improves the model, the user gets SEN as a reward. In other words, users will get passive income by providing their data."
Team
---
Summary: Very strong team. They all worked together previously at 500px, except Julia Ivanova. They are all Russian speakers.
Special note: as of writing, Consensus AI is recruiting, c.f. https://angel.co/consensus-ai/jobs
Oleg Gutsol - Founder

"Software developer, entrepreneur"
Head of Global Growth @ Republic of Estonia e-Residency program
Founder and CEO @ 500px
Partner @ O2 Ventures
Co-founder @ Pickapaw

George Bordianu - Cofounder Technology: Blockchain and AI

"Software developer, founder of several startups, crypto currency expert"
Founder @ Paradiso (Balance) - crypto currency index fund
VP of Engineering @ Deep Genomics - medical AI company
Director of Engineering @ 500px
Founder, CTO @ YourExtraLife

Artem Loginov - Product, AI, Governance

"Founder of several AI, EdTech and eSports startups. Chief Product Officer with 10+ years of experience and focus on mobile and artificial intelligence"
VP of Product @ Lingualeo
Director of Product @ Yandex
Cofounder and CPO @ InField
Cofounder and Head of Product @ 500px

Julia Ivanova - Growth, Marketing

"Marketing, PR, advertising and business development specialist"
Co-founder @ Parla.ai
Marketing Director @ Artificial Intelligence Startups
investment analyst @ eValue Investment Fund
Account Director @ Smartclip
COO @ Click District
Advisors
---
Summary: very strong team of advisors, with skills across the fields of blockchain, governance, tech, entrepreneurship
Yin Cao

Founding Partner and Chief Strategy Officer @ Energy Blockchain Labs (China) - world first company focused on blockchain technology energy and green finance application
Principal Energy Analyst @ China Cinda Securities - biggest Chinese financial asset management company
Founder of E-Resident Community in China @ Estonian e-Residency
Executive Director, Energy & Power Business @ 弗若斯特沙利文公司
strategic advisor @ several famous energy and finance companies
written several books

James Stewart

Co-founder of the UK Government Digital Service - playing a wide variety of roles in the digital transformation of the the UK government
Principal / Independent Consultant
Tech lead in various companies

Yury Selivanov

"His software is used to improve performance at Facebook, Instagram, Pinterest etc."
"Python core dev & JavaScript wizard"
Founder @ MagicStack https://magic.io
Founder @ EgdeDB http://edgedb.com
Technical Director, Product Design @ Experience IT inc.
Core Developer @ Python Software Foundation
Core Python developer, author of uvloop, asyncpg, asyncio.
Consulted Cisco, ABB, Nintendo and others.

April Rinne

Local and national governments consultant.
Member of China's Sharing Economy Committee
Advisory Boards member of Seoul, Amsterdam and the National League of Cities (USA)
Advisor to 5+ companies
A lot of experience across many different organizations
Law School @ Harvard

Alkarim Nasser

Product and growth @ Facebook
Co-Founder / Chairman / Board Member @ Gallop (Acquired by Big Viking Games)

prescriptive mobile marketing platform - radically innovative in data science

CEO / Chairman @ Bogaroo Inc
Founder / Managing Partner @ BNOTIONS (Acquired by Symbility Solutions)

working closely with Facebook, eBay, Indigo, Royal Bank of Canada, American Express, C Spire Wireless, Vu Digital, TD Canada Trust, Johnson & Johnson and 500px on mobile strategy, experience and engineering

Co-Founder/Co-Chair @ AndroidTO

Canada's first Android developer conference

Jane Zavalishina

Announced on April 24th 2018, c.f. https://twitter.com/consensus_ai/status/988347147190984705
Co-Founder @ Mechanica AI
VP Strategy @ OnlinePay.com
Faculty Member @ Singularity University
Member, Global Future Councils @ World Economic Forum
Advisory Board Member, Responsible AI @ SIDN fonds
Mentor for Rockstart AI @ Rockstart
CEO @ Yandex Data Factory
Board Member @ Yandex.Money
Chairman of the Board for NBCO @ Yandex.Money
[email protected] Yandex.Money
CEO @ W-M.RU
Chief Product Officer @ Yandex
Partners & Investors
---
Partners

Republic Of Estonia

The fundamental part of the project, the Sentient Blockchain Network, will be developed in collaboration with the Estonian e-Residency team and launched as a pilot in Estonia first, with 25,000 e-Residents becoming the initial users.

Creative Destruction Lab

A Canadian program that provides access to world-renowned experts and chief scientists from leading academic institutions.

Mothership

A digital asset exchange and a token market platform established in Estonia.
Helps Estonian-base blockchain companies streamlining their registration, development and providing access to funding and incubator-type services.
https://mothership.cx


Investors

not disclosed, the team commented on April 20th 2018 "Unfortunately we can't disclose the names"
Online Presence
---
Media coverage - niche & mainstream

The project is still under the radar of most crypto enthusiasts, so there is very little information to be found.

Social medias

Telegram
Twitter
Reddit
Medium
Bitcointalk
Transparency
---
Organization registration & jurisdiction
Open source or not
Code audited or not

not disclosed at the time of writing

Overall communication

The project is still under the radar of most crypto enthusiasts, so there is not much to be found online.
Additionally, the team has been mostly in touch with its contributors (strategic partners and investors). This communication does not happen publicly.
3rd party ICO reviews
---
Again, there isn't much to be found online since the project is still under the radar of most crypto enthusiasts.
However, here is one interesting we came across: "mixed feelings because Consensus AI has such a high goal" - https://bitcoinexchangeguide.com/consensus-sen
More info
---
You liked this article?
---


Share it, vote it up, re-steem it, comment
Donate ETH: 0x5C3c3C12ba509Bb277D0997A91AdCF9EFf7b439E
Donate Nano (XRB): xrb_1y7u6dhkdc7xoqpbfwzzknszzkfur4zy53937reu4tdktar3k6cx81hogoe7
Article written by Adrien Berthou - founder of ICO Points Analysis