What The Korean Crypto Ban Is and Is Not
Observers walk past Bithumb, South Korea's second largest exchange, photo credit Reuters
Recent FUD (Fear, Uncertainty, Doubt) surrounding South Korea's Justice Minister, Park Sang-Ki, move to tighten up regulation on cryptocurrency in the country has sent fear through the cryptocurrency markets, causing the market to shed tens of billions. This isn't the first time a country tried to ban cryptocurrency, China back in September halted trading, to get better grasp in terms of regulation over the space. The same thing is happening here in South Korea, so there is no reason to panic sell.
Park Sang-Ki had this to say at a news conference regarding the proposal:
"There are great concerns regarding virtual currencies and the justice ministry is basically preparing a bill to ban cryptocurrency trading through exchanges,"
Regulation is good for cryptocurrency, it means governments are recognizing it as an asset and form of payment.
South Korean chief analyst at EST Security, Mun Chong-hyun, stated this in regards to proposals enforcement:
"will make trading difficult here, but not impossible."
President Moon Jae-in was quick to say this ban was just a proposal and that is all it is currently. Nothing more, nothing less. This move came after a petition on the website of the Presidential Blue House had drawn over 120,000 signatures as of Friday; the website even crashed due to heavy traffic.
More than a third of South Korean corporate workers trade cryptocurrency according to a recent poll. The average amount invested is 5.56 million Korean Won (roughly $5,169) and 54% of the respondents when asked why they are trading said, "it seemed to be the fastest way to make money." South Korean's youth unemployment rate is three times the national average (3.7% in 2017), putting it around 10%. Many young Koreans worry about economic prospects and what their future beholds for them.
Why the ban in the first place?
It wasn't too long ago that Youbit, a South Korean exchange, filed for bankruptcy after being hacked back in mid-December. The exchange reported losing 17% of it's assets. Many officials fear a serious correction, not the ones we've seen recently, but a serious correction that wipes out the market, would devastate their economy.
South Korean police and tax authorities raided selected exchanges this week that were suspect of tax evasion. It is no shocker to many governments now that cryptocurrency is an easy way to hide ones assets, especially with the advent of privacy coins like Zcash, Monero, Sumokoin, and more.
Another thing to note, South Korean exchanges tended to trade at a premium compared to global averages. This difference in price is called a "kimchi premium" by traders. It was the reason Coin Market Cap decided earlier this week to exclude pricing and volume from Korean Won trading pairs, making it appear that certain coins instantly lost around 25% of their value. Ripple was the one where XRP traded for a kimchi premium, and currently trades at $2.72 against KRW versus other trading pairs (EUR, USD, BTC) where it trades around $1.97. Ethereum is trading around $1,925 (as of writing this) against KRW versus the global average being around $1,400.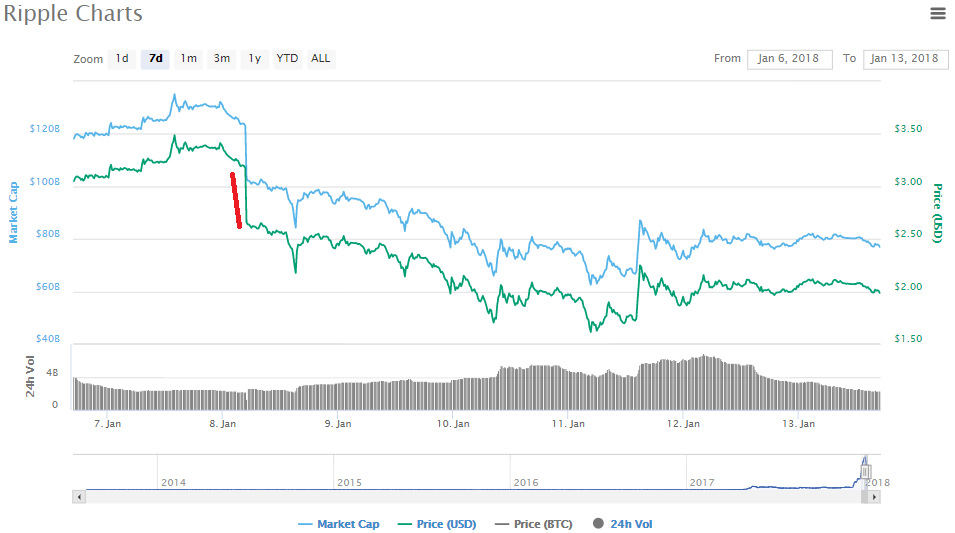 XRP price drop after exclusion, chart courtesy of Coin Market Cap
Clearly, the enthusiasm of cryptocurrency is on another level in South Korea. In Japan, they are pretty adamant about cryptocurrency, where Bitcoin is now legalized and accepted as a form of payment.
Going Forward
The cryptocurrency market cap has already recovered quite a bit since the original dagger, the coin market cap exclusion of Korean trading pairs, then the Korean ban proposal earlier this week. Every time there has been a harsh dip, the bulls buy again, and we head back up.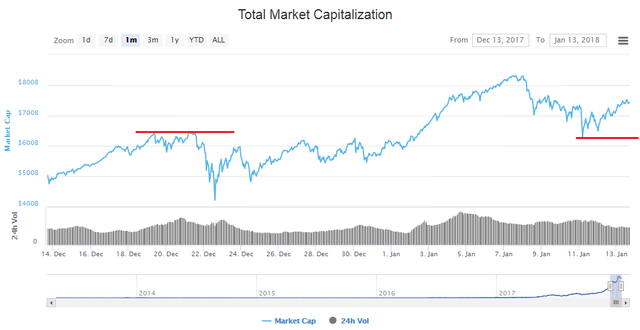 One month cryptocurrency market cap, courtesy of Coin Market Cap
Notice the red horizontal lines, the most recent dip bottomed out at the last all time high (ATH), around $654 billion. This has been the pattern for the cryptocurrency market cap over the past five months. The next move up once we pass the most recent ATH of $830 billion, will push us up close to the trillion dollar mark.
My personal guess is trillion dollar market cap around January 31st. The market is moving again and with exchanges reopening new user registration, it's hard not to be bullish. Binance added over 240,000 users in one hour after opening up registrations again, that's hundreds of millions, if not billions flowing into the cryptocurrency market. Most exchanges experienced degraded service for it's users since Thanksgiving and throughout the holiday due to the waves of new users entering the market.
If you liked this content, please upvote, comment, share, and resteem it!
Follow me @investoranalysis
Thanks!
Check out my website and my Contributor site, Influencive.
Disclaimer:
This author currently owns some XRP (Ripple) & Sumokoin.

The views expressed in this article are solely the author or analysts and do not represent the opinions of the author on whether to to buy, sell or hold shares of a particular cryptocurrency, cryptographic asset, stock or other investment vehicle. Individuals should understand the risks of trading and investing and consider consulting with a professional. Various factors can influence the opinion of the analyst as well as the cited material. Investors should conduct their own research independent of this article before purchasing any assets. Past performance is no guarantee of future price appreciation.