Ripple: Summary of Swell Event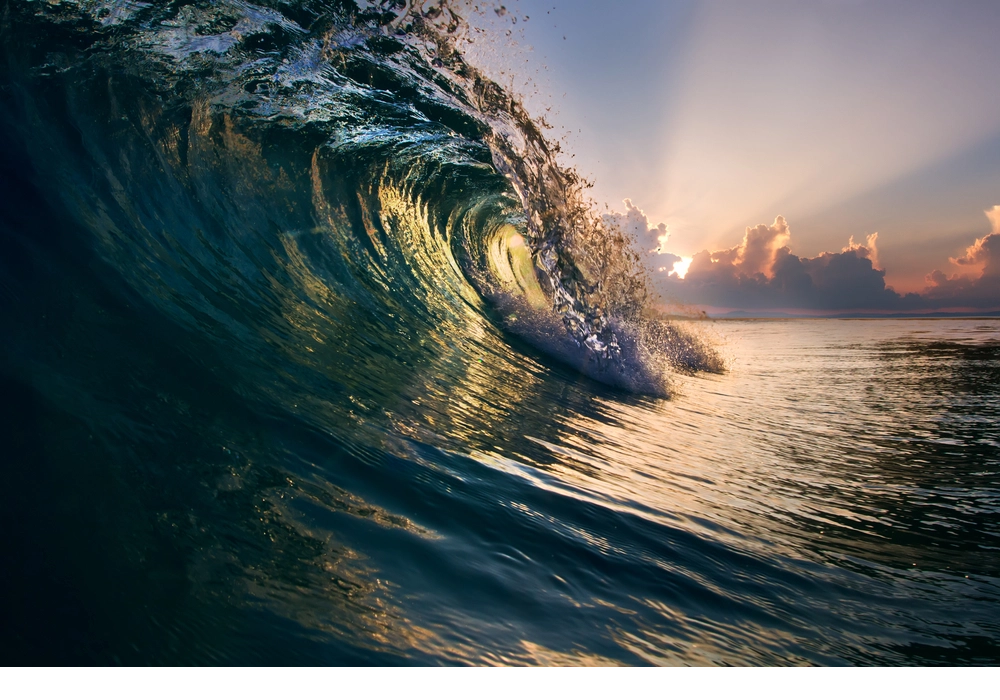 Photo courtesy of Ripple Insights
Ripple Price Explanation
As many know the Swell event came last week and so did Ripple's price, heading downwards of course. Buy the rumor, sell the news... again. Same thing happened in August when a series of tweets from Ripple managed to send price from $0.15 to $0.29. Those series of tweets happened to be an announcement for the Swell event.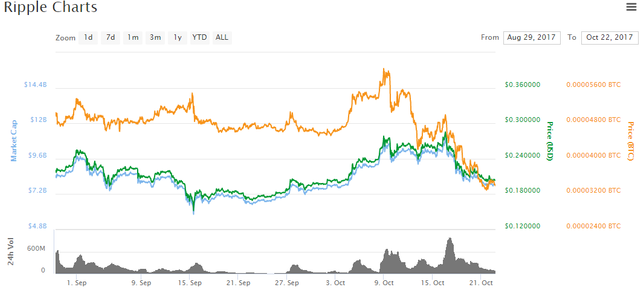 Chart courtesy of Coin Market Cap
As you can see those who bought back in September watched the price rise up until week prior of Swell, pull back and then pump again on the first day of the Swell Conference. It seems Ripple has a hard resistance line at about $0.29-.0.30. A number it hasn't broke since it's run back in late May.


Bill & Melinda Gates Partnership
The big news from the Swell event for Ripple was a partnership with the Bill & Melinda Gates Foundation to help level the playing field for the poor. According to the world bank, nearly 2 billion people don't have access to banks or financial services. The developing world is a new economic frontier that is still developing and has lots of room for growth.
The lack of interoperability for current mobile wallets not only prevents financial growth for the impoverished, but also slows growth for local and national economies, as the fluidity of money isn't there yet.
That is set to change, as with the partnership with the Gates Foundation, Ripple will also be partnering with Dwolla, ModusBox, Software Group, and Crosslake Technologies. With funding and support from the Gates Foundation, this group developed a new open-source software called Mojaloop for creating real-time, interoperable payments platform on a national scale to reach the world's poor with essential financial tools.
Using the strength of the Interledger Protocol (ILP), Mojaloop offers a way for financial providers, governments and mobile network operators to simplify and reduce the cost of developing inclusive payment platforms.
From Ripple Insights:
Mojaloop can be connected to customers, merchants, banks, providers and government offices across a country's economy- accelerating progress toward a truly inclusive economy.
Mojaloop is giving the worlds unbanked a chance to take part in the world's digital economy and add to the internet of value.
Swell Summary
Keynote speakers, Ben Bernanke and Sir Tim Berners-Lee had important statements that should be dually noted.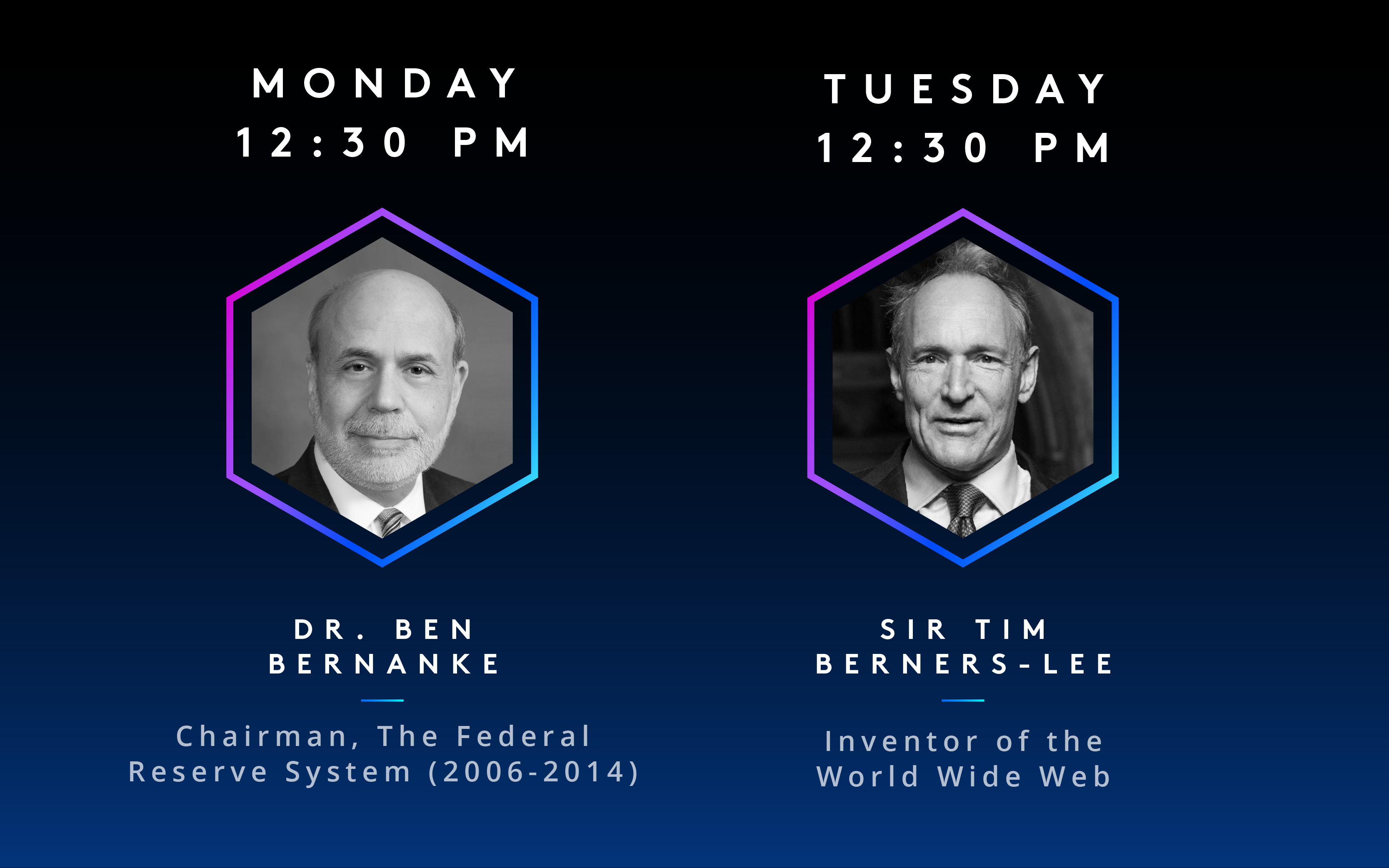 Sir Tim Bernerers-Lee was asked about his prediction on the future of the internet and blockchain, here was his response:
"There is a time for creativity, there is a time for consortia [and] working together, and there is a time of consequences."
A very humbling statement from a man who built the internet up from it's infancy starting in 1989. The time of consequences is one that should not be overlooked, as we've watched the cryptocurrency space explode since last May.
Dr. Ben Bernanke spoke upon the complicated process it was sending and receiving funds from Germany stating:
"It's an obvious area where new technologies like blockchain or these electronic currencies can be used to improve the process."
The long painful process of international transfers and not knowing where your funds are going has left this industry ripe for disruption. As we see many different cryptocurrencies taking advantage of this boom to show their tech off.
On day two, we had speakers from many different innovative leads looking to disrupt this space and take advantage of what Ripple has to offer, an open garden. Whilst the rest of the crytpocurrency world has been working from their closed gardens keeping banks and other payment providers out, Ripple has worked to keep them up to date if they choose to not become a dinosaur.
The Panelist included the Innovation Lead at Banco Santander, Richard Bell; Hirofumi Aihara, General Manager, Digital Innovation, Bank of Tokyo-Mitsubishi UFJ; Nobuo Ando Representative Director, SBI Remit Co., Ltd.; Paula De Silva, Head of Transaction Services, SEB; Dharmesh Desai, Group EVP, Yes Bank.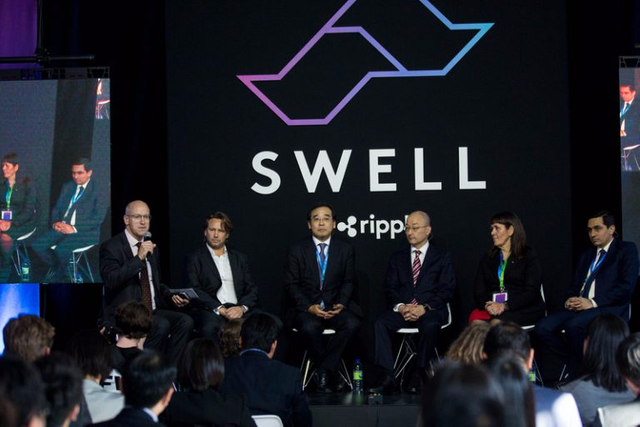 Marcus Treacher, Richard Bell, Nobuo Ando, Hirofumi Aihara, Paula De Silva, Dharmesh Desai at Swell. Photo courtesy of Ripple Insights
The Panel was moderated by Marcus Treacher, Global Head of Strategic Accounts for Ripple; who started by asking this question to the panel:
"I did a lot of investigation and I wanted to see what kind of problem Ripple could solve, I looked across the major banks in the U.K. and looked at their service offerings for international payments, and I was shocked by what I saw."
Richard Bell responded by saying that after boatloads of research, he found that many banks took eight to 14 days to settle payments. Bell also added:
"This is quite incredible considering it was 2015. Back in the 1960s, Buzz [Aldrin] and his pals got to the moon and back in less time."
Paul De Silva was asked the same question and put it simply:
"We do payments in 180 countries. We needed a faster and cheaper solution than what we have today."
The demand for a fast, interlopable, payment system is clear. It's 2017, and many companies wish to settle funds and payments in a faster, less ambiguous manner.
Customers are going to want convenience too, and the companies offering the most convenient payment processor will win. Raul Pai, COO of UAE Exchange credited the success of his institution's efforts to convenience. Here is a quote from Pai on convenience:
"If you look at why customers choose us and how we were able to get to large processing volume, there's only one answer — convenience. We try to put the customer at the center of any transaction. How can we make it faster?"
Later on during Day 2, Swell had Ethereum's co-founder Vitalik Buterin on with a panel including Stefan Thomas, Ripple CTO; Brian Behlendorf Executive Director of Hyperledger; and Tom Jessup, President of Chain.
This panel went on to discuss the future of blockchain, cryptocurrency, and Distributed Ledger Technology (DLT). Thomas put the nail on the head here when he said:
"When I asked myself, 'What does it mean for technology to be widely adopted?' The thing that I realized is that it is interoperability."
"You can't lie in an ivory tower and imagine a perfect world and let people come to you. You can't build things in insolation. You're not going to enable people to come to you and join your vision."
Vitalik Buterin agreed with these statements, and it is clear to that as Ethereum is an open source project anyone can participate in. All of the men in this panel agreed that the future of blockchain lies in interlopability.
As we've seen with the craze of Initial Coin Offerings (ICOs) recently, raising billions of dollars running off the ERC-20 token (Ethereum based token to run on Ethereum platform.) This has caused for better or worse a giant ICO bubble loaded with a bunch of projects put together with sole purpose of raising as much money as soon as possible.
On day 1, panel member Kapil Mokhat, Global Director of Payment Programs at AirBnB, said it best:
"These days you can track a pizza [being delivered], it makes sense to give that same level of transparency to tracking a payment."
This is exactly what Ripple is offering to payment providers, a clear, fast way to verify payments and know where they are going and when they will be there.
Future of Ripple
Ripple has now signed on over 100 financial institutions to the Ripple Net, if this doesn't show you where the future of payments are heading, then I don't know what will. There is going to be a drastic change across the board as this becomes adopted by more consumers. Customers are going to want banks and financial institutions to offer instant transfers in the near future. Those who don't offer it will soon be brushed to the way side.
Either way, the consumer wins here, as payment times are going to dramatically reduce over the next five years as DLT implemented throughout various parts of payment providers and financial institutions.
One more thing for a few laughs, here is a quote from Swift's CEO Gottfried Leibbrandt:
"It's not a swell, it's a tsunami."
This was in reference to Swift's Sibos event that took place only a mile away from the Swell conference during the same time frame this past week. Stefan Thomas even took time to poke fun at Swift's CEO's comments.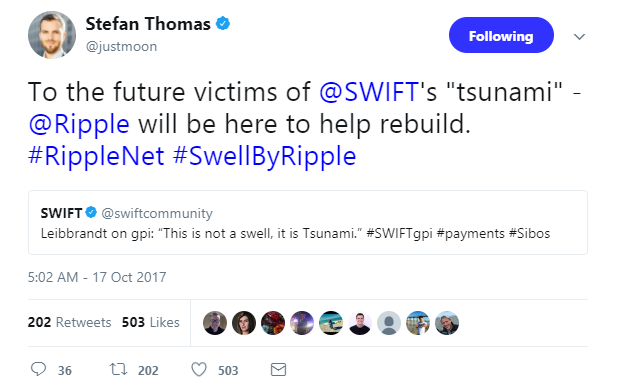 Swift's GPI (Global Payment Initiative) is said to be top of the line, yet fails to even come close to competing with Ripple Xrp or other DLT technologies. The photo below is out of date, since Ripple now has currently over 100 financial institutions signed on.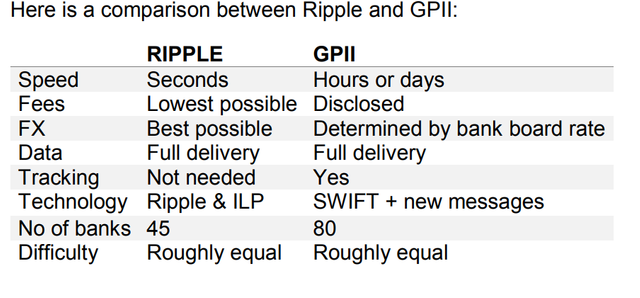 It's not even a question that the Swell conference was a huge success, that brought the future of payments and the innovators in the fintech and blockchain fields together.
Ripple is something to keep your eye on and remember their goal they set, to be the backbone of cross border payments; which they are making their way towards everyday now.


If you liked this content, please upvote, comment, share, and resteem it!
Follow me @investoranalysis
Thanks!
Disclaimer:
This author currently has a stake in Ripple.

This is not investment advice, always do your own research. It is very important to do your own analysis before making any investment based on your own personal circumstances.