Cryptocurrency Market Cap over $800 Billion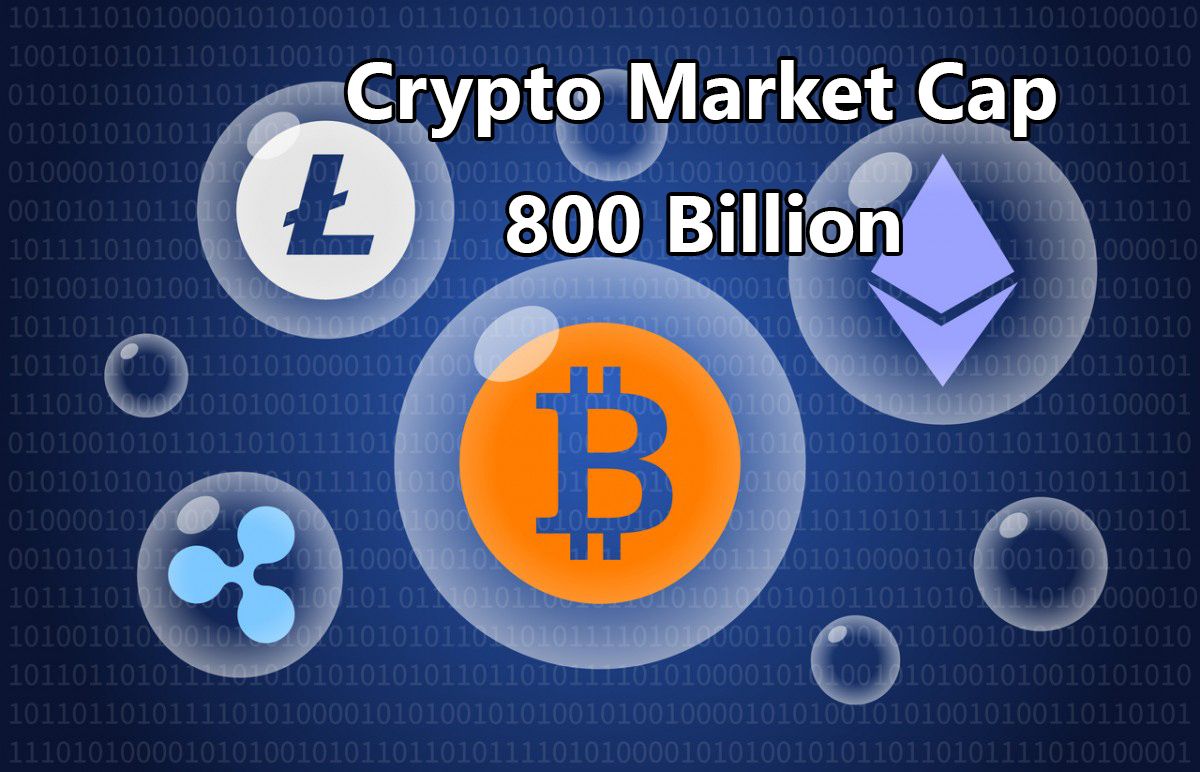 Photo courtesy of Kings of Crypto
365 days ago, the $17 billion cryptocurrency market was a joke to Wall Street and most of the rest of the world. Little did we know a year later we would be looking at a market that is now over $800 billion and can't just be ignored or called a "ponzi scheme" anymore. Cryptocurrency and the underlying technology, blockchain is here to stay.
Here is the moment of $800,000,000,000 (I typed out this just to show the enormity of $800 billion) was achieved on the morning of January 6th, only a mere $200 billion away from a trillion dollar market cap.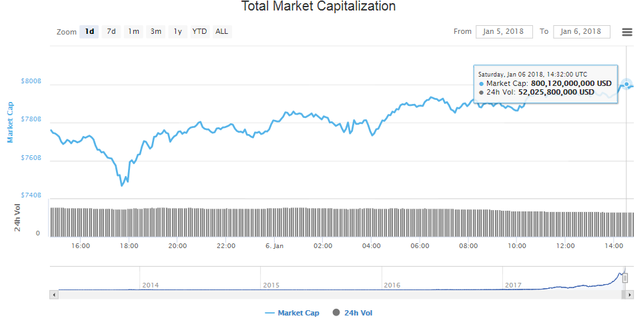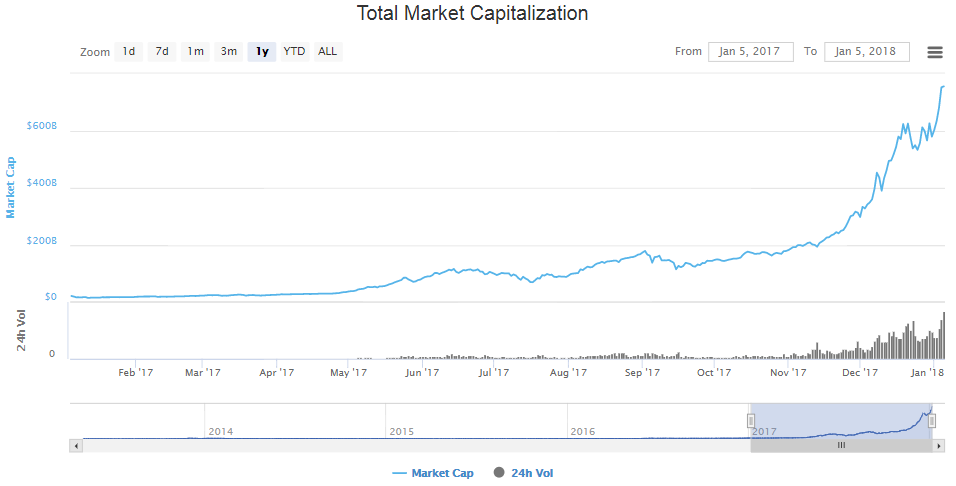 One year view of Cryptocurrency Market Cap courtesy of Coin Market Cap
There is no doubt this a bubble (my first article I wrote on Steemit was covering the Cryptocurrency bubble and how it was still aways off from bursting), but we are just entering that stage over the past few months. I'm not trying to call tops like many have been and this market still has room to grow. With estimates stating only less than 1% (1% of 7 billion is 70 million) of the world is invested in cryptocurrency, it's hard to not be bullish on cryptocurrency. In some countries like South Korea, the numbers are higher, where it is estimated a third of corporate workers have invested in digital currencies.
There is no doubt in my mind that we have hit the media attention phase of cryptocurrency at this point. If you watch any mainstream news, read any newspaper, they're covering it now. Thanksgiving definitely boosted the market with friends and family discussing cryptocurrency and the gains they have made. Coinbase added over 100,000 users on Thanksgiving, I wonder why...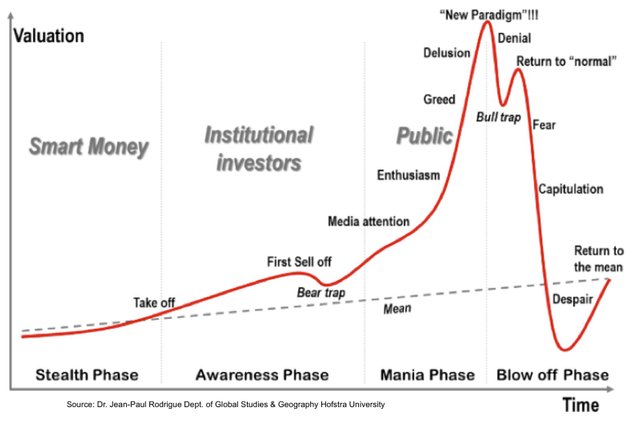 Although cryptocurrency is a new paradigm shift in the way we send value, creating the Internet of Value (IoV); we can't rule out irrational market behavior. There are coins that are valued in the billions and they don't even have a functioning network (EOS, Cardano, etc.)
As an investor and advisor in this space, I've gotten more concerned recently with all the hype and media attention surrounding cryptocurrency. CNBC is out here shilling and pumping altcoins (note photo below). It's only a matter of time before the flippening happens. For those unaware the flippening was when Ethereum was suppose to pass Bitcoin's market cap this past summer, that of course never happened. I covered in my previous article that there is an overall downtrend in Bitcoin dominance and you can read more on it there.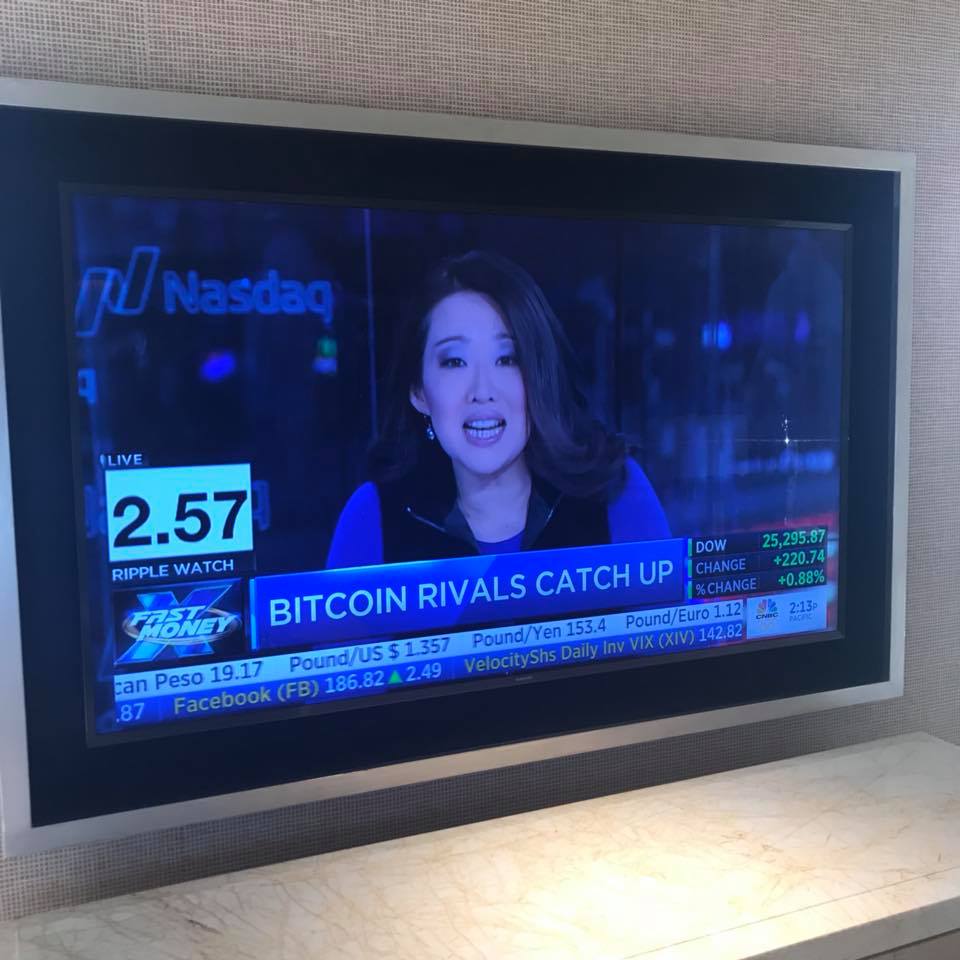 CNBC's Fast Money discussing altcoins
I've said previously 2018 will be year of the altcoin, and with the media shilling altcoins get ready for the cryptocurrency market to move as people pile into the markets. Although 2017 might have seen some of the most ridiculous gains, I wouldn't expect highcaps to do any more 10,000% leaps anytime soon, but then again I could be wrong, valuing coins is not an exact science yet. Currently, major altcoin exhanges Bittrex and Binance have stopped new users from registering. The sidelines are piling up with people waiting to jump in, the markets are ready for a trillion.
The Flippening
Bitcoin was a first mover and still dominates all trading pairs, but both Ripple (~$120 billion market cap) and Ethereum (~$101 billion market cap) seem poised to challenge Bitcoin's $291 billion market cap. Ethereum still rains king over the ICOs with it's ERC-20 token. If XRP (Ripple) achieves becoming an RTGS settlement currency to replace banks nostro accounts, a price increase from an already large size market cap wouldn't be shocking.
If Bitcoin were to be surpassed, the psychological effect on the market itself would be very interesting, since the king has never been dethroned. I would like to see more trading pairs with better settlement coins like Litecoin, Stellar Lumens, or XRP (Ripple). This would greatly increase the ease of transfer of funds across networks and allow for easier trading. If that were to happen, those coins values would increase due to utility.
Bitcoin's dominance is soon set to be tested again in the upcoming months. The top 200 coins are now over $100 million market caps, is that justified? Make sure what coins you are investing in have teams, communities, and projects that will work once this market deflates.
"Things are starting to feel a little bit bubbly"- J.R.B.
If you liked this content, please upvote, comment, share, and resteem it!
Follow me @investoranalysis
Thanks!
Check out my website and my Contributor site, Influencive.
Disclaimer:
This author currently owns some XRP (Ripple).

Disclaimer: The views expressed in this article are solely the author or analysts and do not represent the opinions of the author on whether to to buy, sell or hold shares of a particular cryptocurrency, cryptographic asset, stock or other investment vehicle. Individuals should understand the risks of trading and investing and consider consulting with a professional. Various factors can influence the opinion of the analyst as well as the cited material. Investors should conduct their own research independent of this article before purchasing any assets. Past performance is no guarantee of future price appreciation.