24 Hour Cryptocurrency Market Volume Surpasses NYSE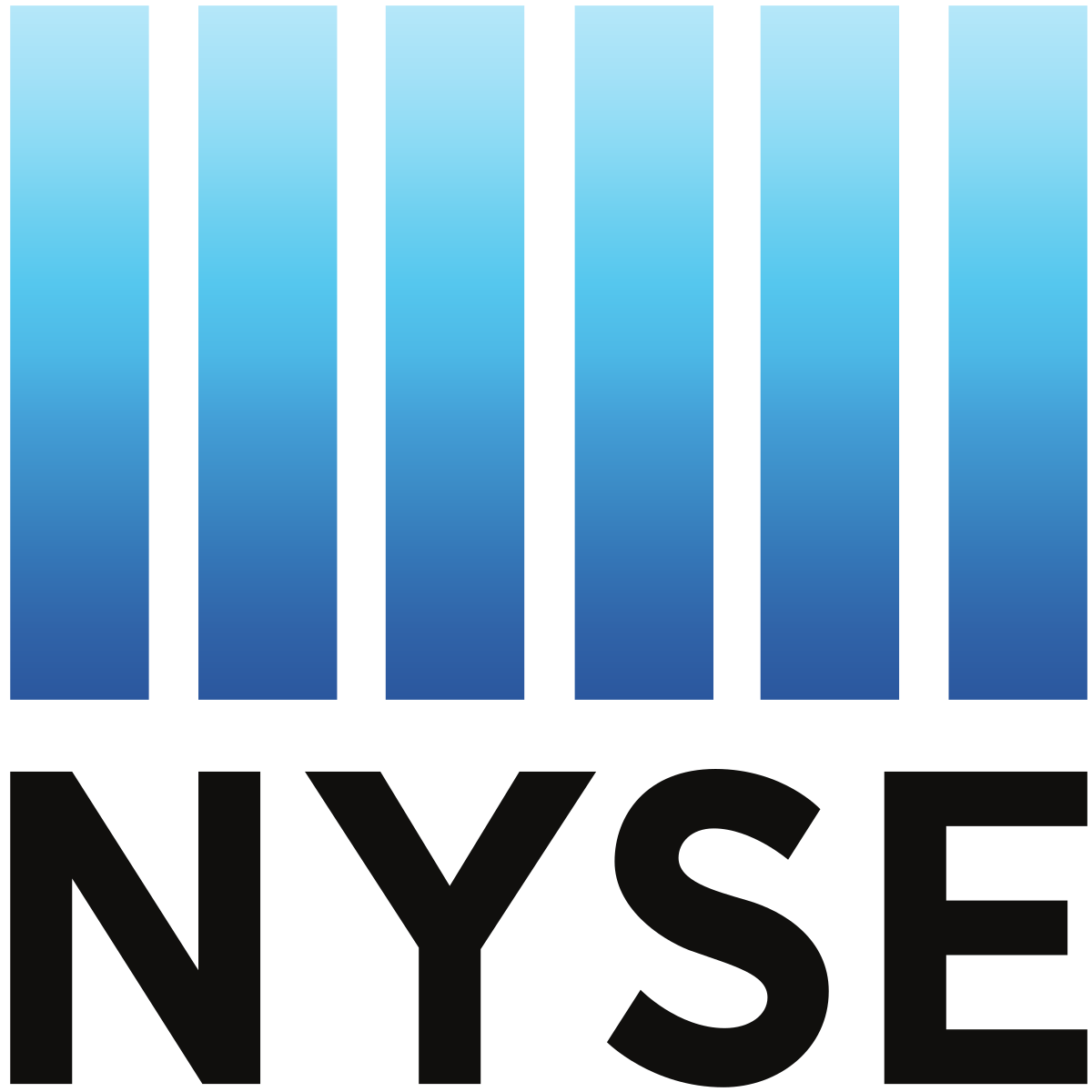 New York Stock Exchange logo courtesy of Wikipedia
On two separate occasions this past week, the New York Stock Exchange (NYSE) 24 hour market volume was usurped by the total global cryptocurrency market volume. Total 24 hour volume in the cryptocurrency markets went over $50 billion, peaking out just shy of $59 billion. Although this is similar to comparing apples to oranges, but it goes to show how much mainstream attention digital currencies are capturing.
Another thing to note is the NYSE is only open from 9:30 A.M. EST. to 4:00 P.M. EST, versus the crypto market which is open 24 hours a day. The crypto market volume is blowing the London Stock Exchange out of the water in terms of volume, which only see's roughly $6.7 billion on average daily trading volume.
A better comparison for the cryptocurrency market would be the foreign exchange (Forex) market, which sees daily volumes of $5.3 trillion. That just goes to show the room left to grow for daily volume in cryptocurrency. The cryptocurrency market itself is closer now to a one trillion dollar market cap than it is to $100 billion market cap.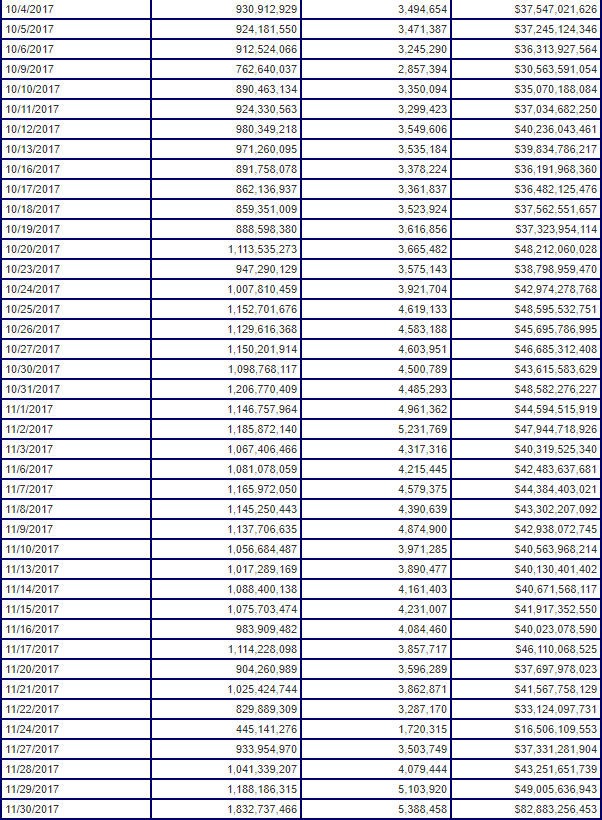 NYSE US Dollar volume over two month period courtesy of NYSE Data
Note the highest volume seen over this period is on November 30th, where we saw over $82 billion in 24 hour volume (trading volume is the far right column). This is passed the highest total cryptocurrency volume to date, but the average volume for 2017 is $41.6 billion when you average out the trading sessions from January up until the most recent numbers of November 30th.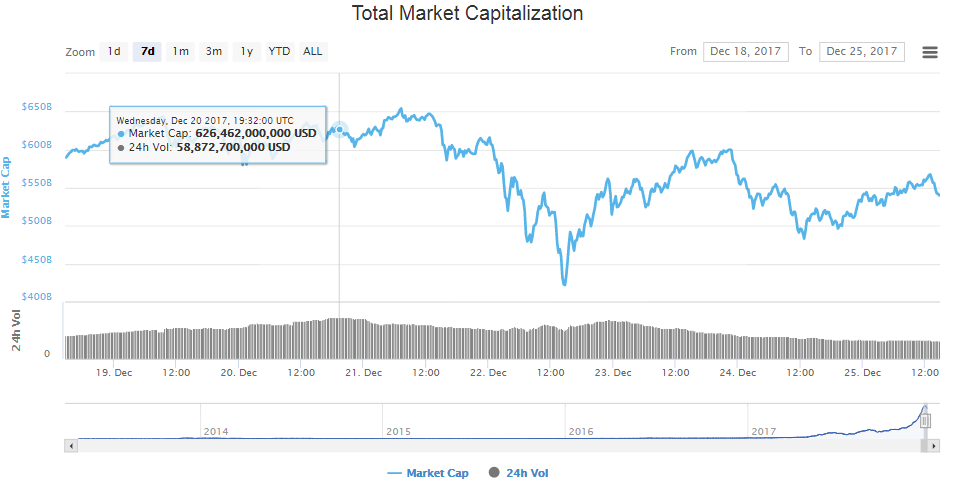 Total cryptocurrency market cap from 12/18 - 12/25 courtesy of Coin Market Cap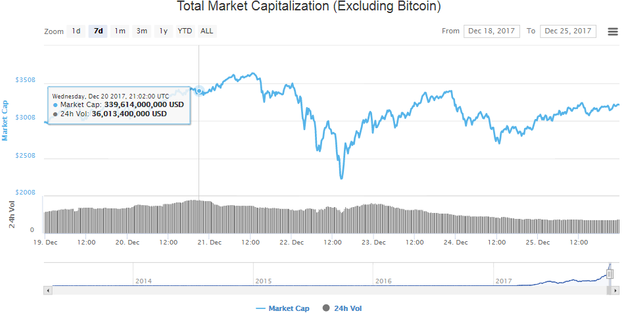 Altcoin market cap courtesy of Coin Market Cap
What's more notable is that at it's peak, altcoin volume got to about $36 billion, making it well over half the cryptocurrency volume. This is a good sign, as Bitcoin loses it's dominance, and the altcoins slowly balance out the market composition.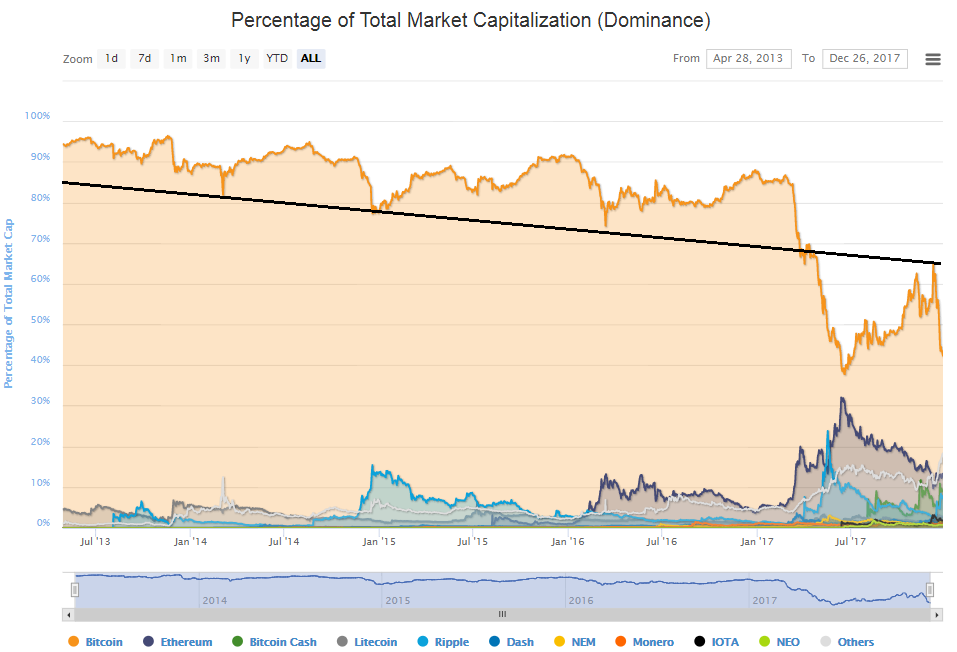 Bitcoin dominance April 2013 to present courtesy of Coin Market Cap
(Note overall Bitcoin dominance is on a downtrend)
Bitcoin's lowest percentage of dominance was on June 20th, at about 37.5%; we are currently at 42.4%. The 37.5% composition will be tested again and it will be interesting to see if the Bitcoin dominance will continue down or rebound up as we watch all our altcoin bags get murdered if Bitcoin turns on the jets.
What does this mean for the future of Crypto?
The cryptocurrency exchange market is more comparable to the Forex market, which means the volume has plenty of room to grow; thus a larger market cap. Clearly the cryptocurrency market is seeing a lot of speculation currently, as we see waves of new users, traders, and speculators.
We are just seeing cryptocurrency get into the mainstream. It is now easier for information to travel because we have the internet, thus new technology is adopted faster than previous generation. More and more mainstream news channels in the U.S. are covering them like CNN, FOX, CNBC, etc. Giving the spotlight to the everyday person who might otherwise not see it.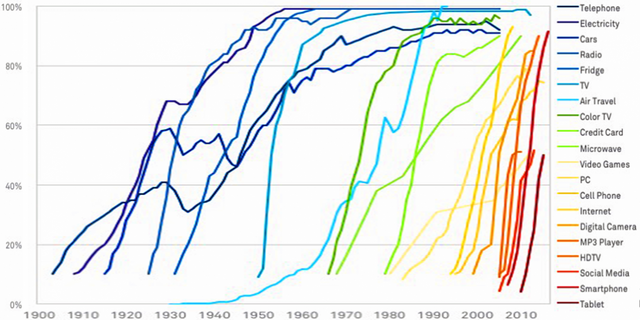 Technology adoption percentage versus time courtesy of Business Insider
At the current rate cryptocurrency adoption could be upwards of 50% in the next ten years. Think about how much has changed since 2007. We weren't taking selfies on Snapchat or sharing our current location with a friend over our iPhones.
The reality we face is that the world is much different than it was ten years ago and I can guarantee one thing: it won't be the same ten years from now. Cryptocurrency is most definitely a bubble in a sense that we see projects that are inflated around the current investor enthusiasm, but it is here to stay.
The best advice I can give to anyone new to this space is to learn as much as possible and to always Do Your Own Research (DYOR). Invest what you can afford to lose if you decide to invest; taking a loan out is never a wise idea, especially when you don't understand the asset you are investing in.
If you liked this content, please upvote, comment, share, and resteem it!
Follow me @investoranalysis
Thanks!
Disclaimer: This is not investment advice, always do your own research. It is very important to do your own analysis before making any investment based on your own personal circumstances.