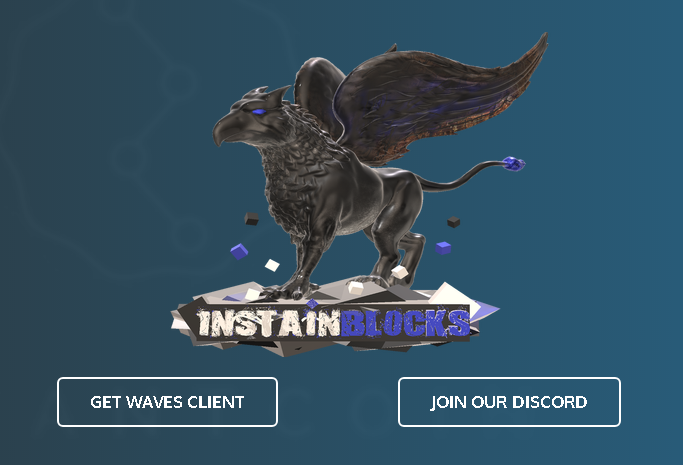 WHAT IS INSTAINBLOCKS?
A place where you can find out about the best cryptocurrency websites at the moment, get news/trading signals from the Discord channel and start to build a community for people to:
Share your posts(steemit, reddit etc.), Share idea's, Discord channels, Share music/art, Find partners, Join Giveaways/Events and much more!
WHAT ARE INSTANTCOIN?
​We have also created the ****INSTANTCOIN**** token that can be found on the WAVES platform. Buying this token is going to help startup this community because the profit will be shared and reinvested again in the community.
People can use it for example to:
support this community to get bigger and better

accept it for your own products and trading and share it on Discord and share it on Discord

exchange value in a second on a decentralized way with minimum fee's!
​

earn giveaways and bonuses on our Discord #giveaways channel at the moment so be there and start earning today!

Use it to unlock the # VIP ONLY SECTION with a special V.I.P. rank with their own: # vip-trading-signals # vip-member-posts # vip-only-chat
HOW MANY INSTANTCOIN TOKENS ARE THERE?
In total there are 100.000 tokens and 65.000 have been distributed this can be changed but will only be done trough a voting system when needed.
INSTANTCOIN tokens are distributed over 2 pairs: instantcoin/waves & instantcoin/btc but when bought it can be traded for all cryptocurrencies currently on the WAVES exchange.
The tokens are distributed over different prices on the Waves exchange so that there will be not a person or a group of people that could buy all the tokens. The rest of the tokens will be slowly distributed in time and used when needed with our giveaways.
WHERE CAN I FIND THEM?
To find the tokens use the WAVES Client and type in the searchbar: "INSTANTCOIN" to find it at the exchange.
If you can't find it by name search for this id in the searchbar:
9LzU7cidQwVXG7inifAoRvh61qdGhT68PyiwGLcboyik
IS IT POSSIBLE TO SHARE MY IDEA'S, LINKS AND POSTS?
You can share/promote your own website, channel, designs and idea's we will for sure take a look at it. Check this website frequently to stay updated and take a look at the new DISCORD chat, Slack & Telegram groups where you can share also.
Find The Promotion section on Discord and use these channels to share:
share-links-posts | # share-your-discord | # steemit-share-only | # share-your-art | # share-your-music
​
​There is also a CLOTHING STORE with t-shirts, sweaters and accessories available to order anything and everywhere you want. If you prefer your own custom print let us know!
CAN I HELP BY SUPPORT OR DONATE TO THE COMMUNITY?
Yes, always! You can help our community grow by buying the token or with a direct donation. You can also donate with more than 45 cryptocurrencies trough CoinPayments, also by sharing the site/channels. Check out the buttons below to get started! There is also a option to give tips at # give-tips-in-crypto at Discord more info there!
About the Discord rewards:
To earn a Supporters, Captains or Generals Rank start with inviting others or being active and you will be rewarded!
Role rewards are special roles that are automatically given to you when you reach the appropriate level!
Be active by sharing, talking, inviting and be rewarded with a new rank/role!
Available ranks:
First members - all first 50 members but start at 0
Supporters - reach lvl 10 or get 1 invite
Captains - reach lvl 30 or get 5 invites + REWARD 100 INSTANTCOIN
Generals - reach lvl 40 or get 10 invites + REWARD 500 INSTANTCOIN!
Other:
Partner
V.I.P. (a unique paid membership to unlock the V.I.P. ONLY SECTION)
Moderator
Owner
---
BONUS EVENT: 1000 INSTANTCOIN TOKENS FOR EVERYONE THAT HAS 10 PEOPLE INVITED TO THE SERVER!
Join our Discord: https://discord.gg/GJRA5yV
Visit website: http://instainblocks.xyz/
WavesPlatform: https://www.wavesplatform.com/