Hello everyone!
We are pleased to announce that the idap.io public pre-sale successfully concluded on the 24th of July, 2018. A total of 150,915,000 IDAP tokens were sold by the point pre-sale was closed.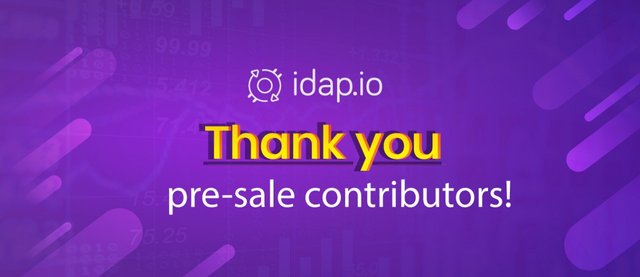 To the idap.io community
A very big thank you to all the members of the idap.io family who have stood strong in our support. With the faith you displayed in us, we braved the worst of the bear markets and your feedback was instrumental in the success of the pre-sale. The importance of communication with the community was evident in our decision to peg ETH and BTC prices for token purchases. A similar reference price model will be used for the crowdsale, details for which will be announced soon.
Progress parallel to the token sale
We had released the prototype for our Desktop Trading Interface prior to the public pre-sale, whose demo videos can be viewed at https://www.idap.io/product-demo. The web-version of the trading interface is coming along splendidly and we will soon release the completed prototype.
While the team was devoted to conducting the public pre-sale, at no point did we slow down in the development of the exchange and in our endeavor to make idap.io better. Here are updates on what all was happening while the token sale was live:
We acquired licenses for crypto-fiat exchange and cryptocurrency wallet services from the Estonian FIU.
We came another step closer to our mission of creating a decentralised crypto derivatives exchange.
We became part of India's biggest blockchain conference till-date, the first International Blockchain Congress.
Naviin Kapoor, Anders Larsson and Joakim Holmer, some of the most renowned names in the world of crypto and blockchain joined our advisory board.
We continued to stack favourable reviews, ratings and listings.
We are continuously working on making idap.io the best and the most trader-friendly exchange. We will release announcements regarding more updates very soon. Once again, we would like to thank all our early adopters for their support and confidence.
Our crowdsale dates will soon be announced, please get yourself whitelisted by visiting Tokensale
In the meantime, follow us on Medium to never miss any updates!