Hello everyone!
We are very glad to announce that IDAP Global OÜ has obtained licenses that allow idap.io to provide its own crypto wallet and exchange services for crypto/crypto and crypto/fiat pairs. The two licenses have been issued by Estonian Financial Intelligence Unit on July 16, 2018.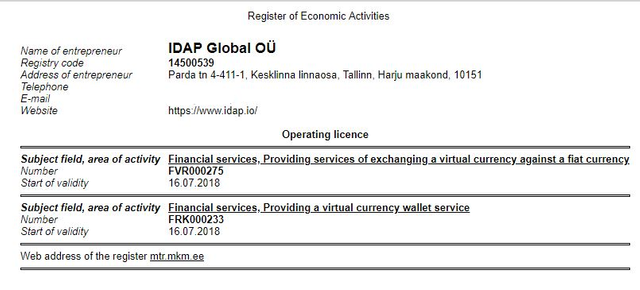 We believe that regulatory compliance benefits all participants of the crypto economy and by procuring the above-mentioned licenses we have made it easier for the customers of our exchange to engage with our platform. The users will be now enjoy these benefits:
Cryptocurrency Wallet: Users will be able to send and receive multiple coins/tokens using the wallet made available on the IDAP platform. All bounty/airdrop participants are going to receive their IDAP tokens on our exchange wallet.
Buying Cryptocurrencies: Users will be able to buy cryptocurrencies like BTC, ETH or IDAP using fiat currency like Euro, US Dollars by using payment services. Users may also convert one cryptocurrency to another.
Making Withdrawals: Users will be able to withdraw their tokens/coins from the exchange by converting them into fiat money.
By following the legal precedent we are ensuring transparency and protecting our clients' interest. We have thus taken another step towards becoming a global derivatives marketplace and will soon update the community as we make further progress. Stay tuned for more good news in the coming weeks!
In the meantime, follow us on Medium to never miss an announcement or update.