We are launching a video contest to give you a chance to win both ETH and the exclusive IDAP tokens by creating videos about idap.io project! Show us your creative side by putting your video making and promotional skills to test and we will choose the best videos among all!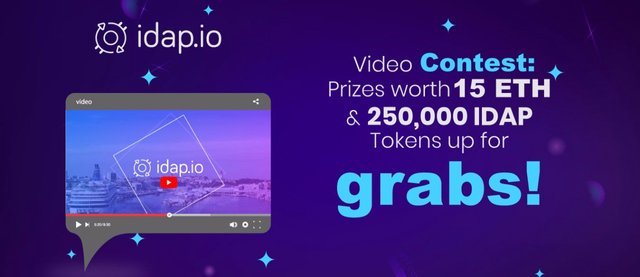 Contest Brief
The video must be about idap.io: it can be a review, an interview, an explainer or an educational one, or can simply be a video telling why you like the idap.io project so much! The video must contain correct information about IDAP.
How to participate
It is very simple to participate, just make your video, upload it on YouTube/ Vimeo/ any similar platform with the tags: #IDAP #idap_io #idapICO and and tweet to @idap_io Twitter Account sharing your link with tags: #IDAP #idap_io #idapVideo
You can also share a post with video link on various social media channels like Twitter, Facebook, Reddit, BitcoinTalk to get the maximum reach.
Contest Prize Pool
Winners will be selected under two categories:
Most Popular Videos
Judges' Picks
The Grand prize winner in each category will be awarded 5 ETH + 50,000 IDAP tokens. First runner up winners will get 2.5 ETH + 25,000 IDAP tokens.
For next three videos in each category, 1,00,000 IDAP tokens will be distributed among the winners as 25k, 15k and 10k IDAP! Thus, a total of 15 ETH and 250k IDAP tokens will be given away as winning prizes.
Contest Period
Submission period will begin on 1st September at 3:00 AM Estonia Time (GMT+3). The contest will end on 30th September at 11:59 PM Estonia Time. Don't wait for last minute to submit your video. Moreover, any videos on idap.io created before the contest period cannot be reused/re-purposed for this contest. The winners will be announced on October 15th in a blog post published on our Medium page. This video contest is open to all who would like to participate.
References for the video
Official Website
Whitepaper v2.0 and other project docs: https://www.idap.io/#documentation
About the IDAP Token (WRC20): https://www.idap.io/#idap-token
Wanchain partnership:https://medium.com/idap-io/idap-io-now-backed-by-wanchain-aligned-visions-fostered-into-a-collaborative-alliance-ae5da51d8db3
Hybrid exchange/ DEX protocol: https://medium.com/idap-io/announcement-idap-io-hybrid-exchange-coming-in-2019-dex-part-will-be-built-on-wanchain-984e40f9029
IDAP Token utility: https://medium.com/idap-io/idap-token-utility-why-choose-idap-io-3e5bbb3b0d9b
Exchange liquidity: https://medium.com/idap-io/idap-io-ecosystem-managing-liquidity-and-effective-price-levels-7ee8688ef719
Introduction to idap.io: https://medium.com/idap-io/introducing-idap-io-transforming-crypto-asset-market-6546e47f767
Existing Ratings and Reviews: https://www.idap.io/ico-ratings
Mainstream media coverage: https://www.idap.io/news
https://hackernoon.com/bringing-in-old-school-traders-to-crypto-5d23f7700808
idap.io Explainer Video:
Contest Guidelines
Try being as innovative as possible with the video's style while making sure that the content is representing the project well. You can go for video animation or even reach out for an AMA if that is what you feel will best convey the idap.io project to your viewers. Whether you talk about one particular aspect of the IDAP derivatives exchange or go for covering the entirety of features of the IDAP trading platform, make sure that your video showcases idap.io in the proper fashion.
You do not have to worry about being a professional! Whether you shoot the video on your phone or with a DSLR camera, as long as you show commitment, creativity and above all, represent idap.io in a great way to the audience, you stand to win the amazing prizes we have in store for the top participants.
Read the complete term and conditions for the contest before creating the video.
So what are you waiting for? Grab your camera, say, "Lights! Camera! Action!", tap into the filmmaker inside you and create a masterpiece with idap.io at its center!