One of the top Blockchain ICO Consultant and Advisor in the world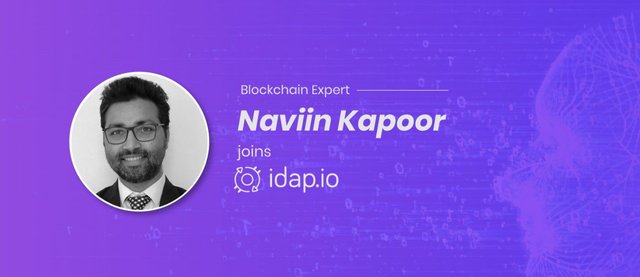 Hello idap.io Community!
We are pleased to announce that renowned Blockchain ICO Consultant Naviin Kapoor has joined our project to become part of our advisory board. Naviin will be guiding us on various aspects of the ICO, especially marketing and investment. We are extremely glad to have him on board and are hopeful that his immense knowledge and experience will take our project even higher than before!
Naviin remarked about idap.io, "I feel idap.io is one of the most important ICOs of 2018. I am happy to be a part of the work this team is doing and looking forward, I see idap.io as a great success of the crypto world."
He added that idap.io's commitment towards a trader-friendly exchange that can serve as a solution for a user's complete crypto trading and investment needs is what attracted him to join the project.
About Naviin
Naviin Kapoor is a blockchain consultant and a business transformation leader with more than eleven and half years of experience in project management and business analysis. He also has over one year of experience in Ethereum, Bitcoin, hyperledger, EOS, consensus protocol and distributed/shared ledger technology. He has also attained various industry certifications such as PMP, CBAP, ITIL & Professional Scrum Master Level 1.
Naviin is well-reputed in the world of crypto, having provided various services such as investor relationship, articles and news publications, networking with ICO Investors, and Blockchain consultancy to more than forty ICOs. He also founded the popular crypto news aggregator, the Times of Crypto. He currently ranks among the top 10 Blockchain Advisors on icobench.com.