Hello everyone!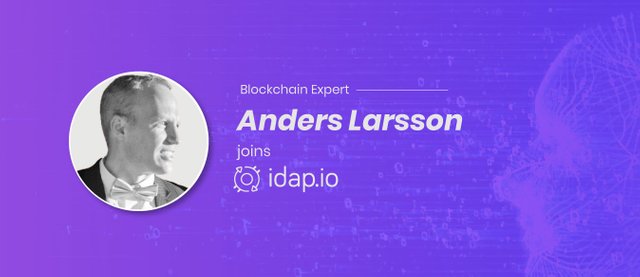 We are pleased to announce that idap.io's vision for a better trading ecosystem has found support amongst top members of the crypto community, with Anders Larsson now joining us in our endeavor. The latest addition to our list of esteemed advisors is the co-founder of the awesome allcoinWiki, the powerful tool to analyze the crypto market. We are extremely happy to have Anders as our ICO Advisor and look forward to the opportunity to learn and grow under his guidance.
Anders is one of the top 10 experts on ICObench and has played pivotal role as advisor and consultant in numerous ICOs. He is a respected crypto investor, who has worked for two decades in 10 countries with Ericsson, creating the ecosystems of 2G, 3G, 4G, 5G, IoT with 7.9 billion mobile subscriptions today.
"As an investor, the prospect of a derivatives exchange is really fascinating for me. I was convinced to join idap.io once I talked to Awanish Rajan (CEO, idap.io) about the project in-depth. I am excited to be working with this team and on this project," said Anders.
Our CEO, Awanish Rajan said, " We are very happy to have Anders on board. It is great to see a tech veteran of his stature supporting idap.io."
About Anders
Anders is an experienced technocrat of the telecom industry. He has held various CTO roles and the role of Vice President for Mobile Broadband in Southeast Asia & Oceania with billions of dollars yearly sales responsibility. Anders is now dedicated to taking Crypto to the same scale as telecom. At allcoinWiki, he has built the crypto master database and as ICO Advisor, Anders is among the top 10 Blockchain Advisors on icobench.com. He holds his own patents and since 11 years old, he has loved to code. Anders is from Sweden, has a beautiful wife and three young children.