IOST - Internet of Services ~ Reward Program // Earn Free IOST tokens Everyday •• 10X Profits in coming months [update]
Hi my dear friends & followers, I hope you all are good and enjoying your Sundays. In today's post, I am here with an update to my previous post related to reward program of IOST Tokens. IOST Foundation giving us an opportunity to try its platform and earn Free tokens by Completing simple social media tasks. IOST is very strong Blockchain project.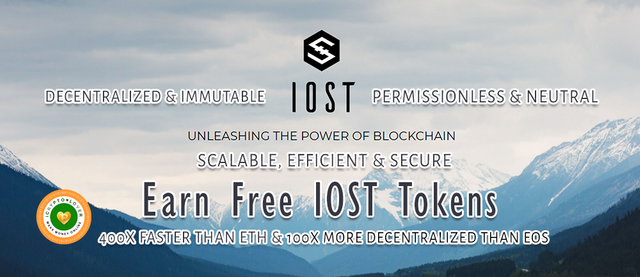 First let me introduce you to the project. IOST is Internet of Services foundation project. It's a scalable, secure and decentralised platform. It provides infinite possibilities for developers to create, innovate and build their big dream projects.
"IOST runs on Proof of Believability (PoB) consensus mechanism and efficient distributed Sharding (EDS) technology, that vastly improve Scalability. IOST is building an ultra-high TPS blockchain infrastructure to meet the security and scalability needs of a decentralized economy. Led by a team of proven founders and backed by world-class investors, our mission is to be the underlying architecture for the future of online services"

IOST blockchain is for everyone, from small to big complicated projects. IOST always performs greatly delivering reliable and best service due to its state-of-the-art technology. IOST is working with some of the world's leading developers to be ahead in DAPP revolutions. If anyone want to read full technical and fundamental details of this Project, jump to their Github profile.

IOST token currently using ERC20 standard ETH blockchain and soon going to be on mainnet. Current token price is around 0.01 USD which is 100% up from its ICO price and 10X down from its All Time High(ATH) in January 2018. In January the price of one IOST was 0.12 USD. You can check this data on Coinmarketcap . The Token IOST is trading currenly on more than 13 world wide exchanges. The team behind the project is very strong and experienced with over 50+ blockchain professionals. IOST has a global presence, with offices in Beijing, Seoul, Tokyo, Berlin, San Francisco, New York and Singapore. The core team is very actively working day and night to make this project ahead. The tech behind project is unique and very powerful. IOST is 400X faster than Ethereum and 100X more Decentralised than EOS . This token can give you 10X+ profits in coming Bull Run easily. So Lets earn some Free tokens or you can buy too from many exchanges available.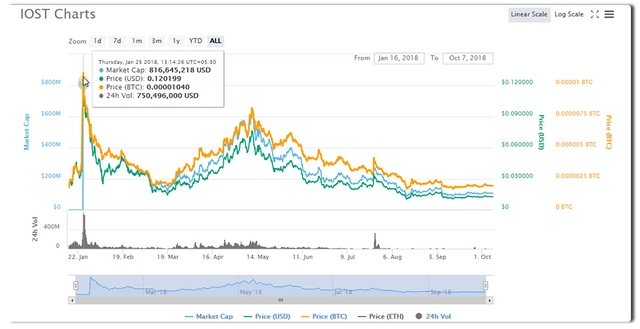 Now let's talk about the Topic of this post Reward program of IOST in which we can earn IOSTs free daily by doing some social tasks. If you like to use my referral code when registering to this program, I will be grateful for you else you can signup without referral code too.
Register using above link. You can signup using your mobile number only. Enter country code and your mobile number, Do captcha and click on get code. An SMS will be received. Write that code from SMS in Code field. Note: Sometimes Network is overloaded so it might delay of 5 to 10 minutes in receiving SMS Code. You have to wait. In invite code write/copy my invite code or if you follow my link no need to copy or write the code. After Signup, login and you will be in dashboard area. Go to menu and click on Quests to complete all social tasks as seen in pic. You will see various stats and info on Dashboard. You will earn daily login points also. Daily login will earn you tokens based on your daily point earnings.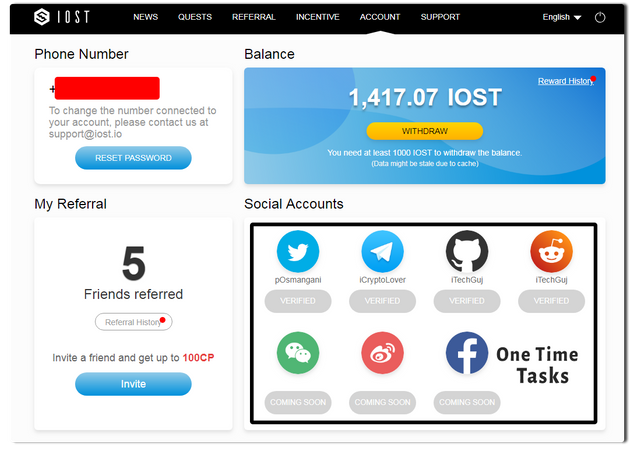 One time Quest Tasks : You have to complete all Quests tasks to receive your free tokens and daily points like Join Telegram Group, Follow Twitter handle, Like and Retweet posts, connect Reddit account, connect Github account. Don't forget to login daily and claim rewards. It will not take your much time.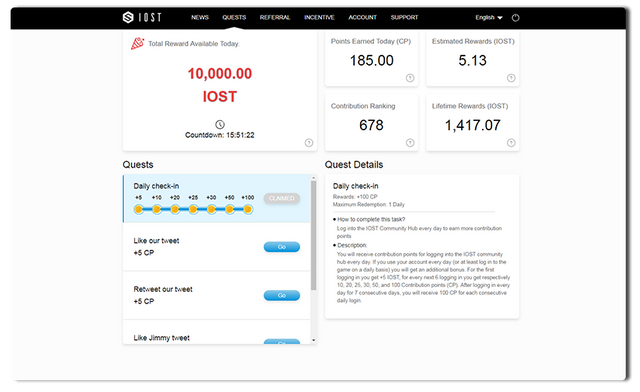 Daily Quest Tasks : In Daily tasks, you have to login and collect 100 CP after that you have to complete 4 tasks one by one. 1st is Like IOST's Tweet, 2nd is Retweet Tweet, 3rd is Like Jimmy Zhong's tweet, 4th Retweet Jimmy Zhong's tweet. That's it very easy for all.
Once you reach 1000 IOST you can withdraw tokens to your preferred ERC20 supported wallet address. Your awarded tokens will become available to withdraw after a 30 days lockup period and withdrawal will take upto 5 working days to process.

So friends, collect your Free IOSTs as much as possible before the price boom. If you can make referrals, you can earn big money from it. So don't miss this earning opportunity. If any confusion or query, feel free to ask in comments. I will be glad to help you out.
---
Thanks for reading my blog. If you like this post, please upvote and resteem. Dont forget to comment. I always need your suggestions for better blogging. Thank you all for reading post and giving me your precious time and effort. Do checkout my other posts also @i-steem . You can visit and read posts on my own blog site also. Check it
---