Start selling the EDU tokens and why you need to participate in it!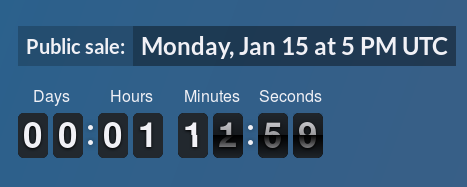 Hello friends! I can not write about such a big event (at least for me), like the start of sales of EDU tokens! It's really cool! One of the best, if not the best platform for learning online, goes even further and starts popularizing crypto currency! More details can be found in the white paper https://tokensale.liveedu.tv/static/docs/LiveEdu-white-paper.pdf
Reasons for taking part in the ICO:
LiveEdu is a real, working product with a ready-made monetization model. Those. options that the project will not start - just not.
LiveEdu is a young, fast growing, flexible team consisting of talented developers. These guys have great knowledge in programming and development experience: they have already managed from scratch to develop their own video infrastructure with more than 50 frontier servers around the world.
The LiveEdu team has extensive data on the most cost-effective channels for attracting users. For example, without any financial support for a relatively short time, more than 1 million viewers and 13,000 developers, content creators, were attracted. Thus, before LiveEdu there is no need to search for streamers. The only thing that remains to be done is to get such streamers interested in terms of material benefits.
Unlike other ICOs, LiveEdu is a kind of market in which the demand for tokens will never fall (for example, the monthly payment for getting a subscription contributes to this). This means that the price of tokens depends not only on financial speculation on exchanges, but also on the actual use of the product and the growth of the company.
In order for the price of EDU tokens to grow, thereby attracting players on exchanges that own such tokens as assets, 20% of all tokens that were created as a result of the viewers subscribing to LiveEdu content will be burned monthly. Thus, the more viewers watch LiveEdu content, the more tokens will be burned and the higher the cost of EDU tokens. In addition, 5% of content creators tokens will also be burned.
EDU tokens will be sold on the exchanges in order to create liquidity for their buyers and sellers. The names of the exchanges on which it will be possible to sell or buy EDU tokens will be announced on the official website of LiveEdu ICO after the end of the ICO. The creators have already addressed such an offer to such exchanges as Bittrex, Poloniex, EtherDelta, Liqui, Tidex, Bitfinex and HitBC.
ICO investors will have voting rights to make key decisions in the ecosystem, for example: what premium projects will be created first, and what new topics or features need to be added to the platform.
If you, like me, are interested in this project - then hurry to register! Below I leave 2 links - one referral, the second - usual. If you liked the article and the information was useful for you - I will be happy for the registration of my link. Good training!