The bitcoin rate is over 8,000 dollars.
A month ago, bitcoin was $ 6,000. So in 1 month it gained 40%.
Those who have cryptocurrencies do not fall into successful ones this year. Since the beginning of the year, the monthly rate of return from bitcoin has been almost 75%.
So far, the area around 6,000 has proved to be an effective support for bitcoin. dollars. When the cryptocurrency approached this level or the valleys decreased, sometimes a lot increases
At the end of June, bitcoin reappeared at a level lower than 6,000. dollars. Then the rebound was very poor, the rate was only 17% and now a dangerous approximation of up to 6 thousand dollars gave a huge reflection.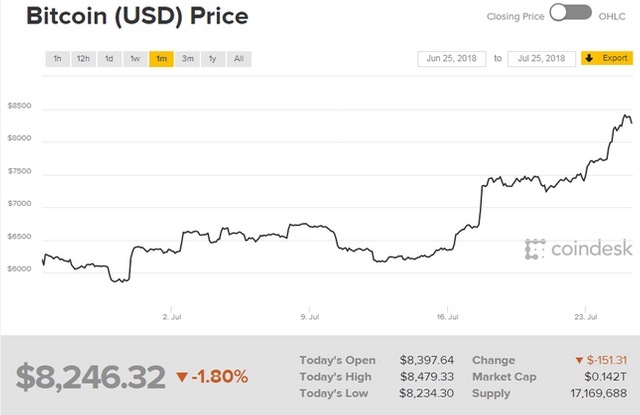 Now there is no bitcoin growth. The rate of bitcoin was on the afternoon of 8,240.17 dollars on Thursday, a drop of 2% yesterday's closing rate. The maximum exchange rate was at midnight at around $ 8,499.33.