Diversification is key, but how many of us have our favourite cryptocurrency?
One whose product, team and goal excite you and drive you to make it your biggest investment (without going all in)?
FUNFAIR is that coin/token for me. I am not a gambler (cryptos aside) but I really like that FUNFAIR aims to change how online casinos operate. Fairer, faster and cheaper and with a first class and professional team, it has quickly become my number on Alt coin.
I was lucky enough to buy it close to its ICO price and too cautious and I suppose too greedy to sell when it increased by 1200% (I'm hodling for a year at least).
So when this January/February (who knows how long) correction was compounded by news that FUNFAIR would be delisted from Bittrex, I went scrambling to Telegram, Reddit and of course Blockfolio to check the price.
I learned that yes, on February 9th, Bittrex will indeed be delisting FUNFAIR and with no explanation from either Bittrex or FUNFAIR, we can only guess the reasoning. The rumour that the Securities and Exchange Commission are looking at Bittrex and coins that could be regarded as securities could be the reason, but rather than speculate, although I guess we are all speculators, I would like to highlight something positive
![Screen Shot 2018-02-03 at 19.49.56.png]
(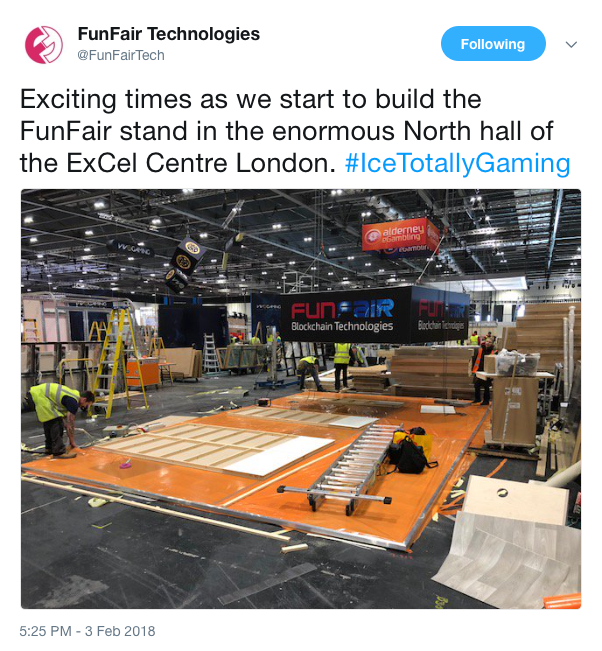 )
From Feb 6th - 8th, FUNFAIR will be showcasing their platform at the world's biggest online gaming conference and FUNFAIR will be located nicely next to the door and the bar.
Without shilling it too much (well ok, maybe a little too much), FUNFAIR is primed for an exciting few months, with or without Bittrex. The fact that the FUNFAIR price has consolidated and risen in value after the news while RISE (also being delisted for airdrops possibly) has fallen by over 20% in a 24hr period hopefully provides confidence in a very volatile and, for many, a panic inducing period.
FUNFAIR is currently sitting at about 660 satoshi and can be currently bought on various exchanges including Bittrex (for now) , Binance and Bitfinex
What coins are you taking a gamble on and what are your thoughts on the Bittrex delisting?
As always, please do your own research and only invest what you can afford to lose.