Guld OS an Introduction.
Since Bitcoin introduced the blockchain concept in 2009, hundreds of experimental technologies have been developed to help users achieve consensus on one topic or another. The majority of these have been organized around the model of a central, unbranching trunk of absolute truth, i.e. a blockchain. To "fork" a blockchain, is perceived as negative, because it breaks the implicit or explicit contract of absolute truth that formed the chain.
Perhaps due to their unforkability, blockchains have proved inflexible at managing conflict and change. Though Turing complete contract systems have been created, these have so far been insufficient to address the problem of the Firm, let alone the Government. This restricts blockchains to the realm of prices and payment systems, and outside of the firm.
A relativistic blocktree of perspectives would be a much more flexible and powerful platform for propagation of information in contracts, communities, firms, and governments. Such trees operate on abstract beliefs and observations to create causal relationships between nodes, and allow efficient proofs.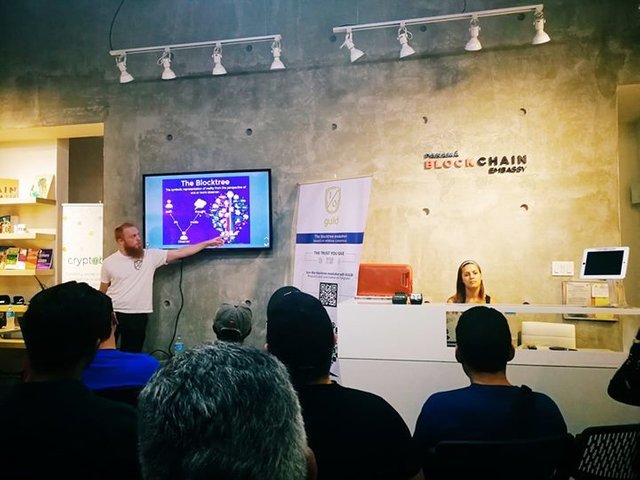 Last Night Ira Miller the Founder of Guld Explained the Blocktree and How to Use the Guld A.I. or G.A.I. Thank you to our hosts the Panama Blockchain Embassy.
We learned how we could interact with our G.A.I. in Telegram. We can ask prices of Crypto Currency like Bitcoin, Guld and Dash. We also learned how we will be able to transfer our Guld to other users directly on Telegram. I highly recommend you join us on Telegram. The Guld Blocktree is truly going to transform our industry.
Guld is my second largest HODLing of crypto and will soon be available for all to buy on exchanges.