Privacy Coins Continued: Particl & Sumokoin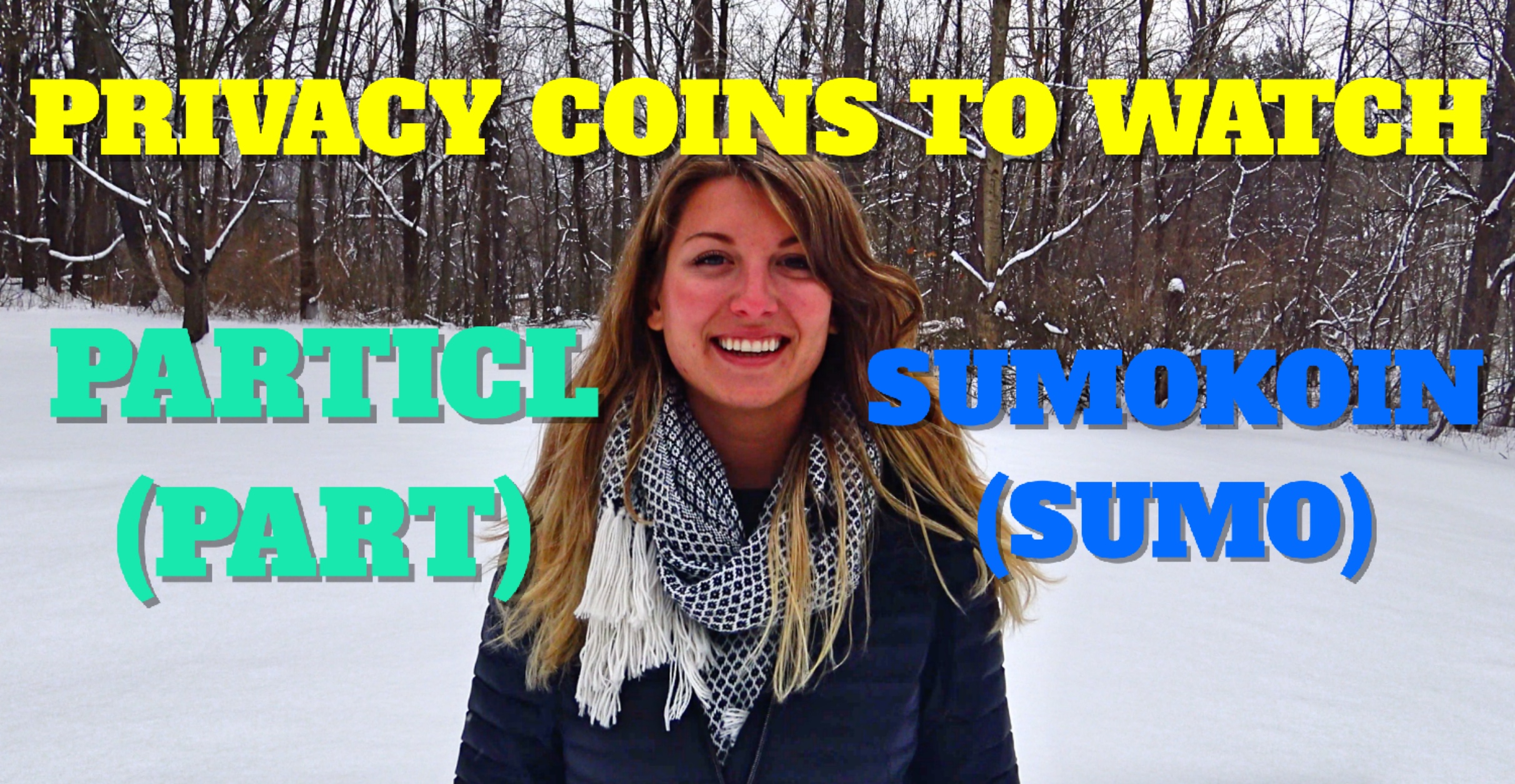 Let's continue this journey learning about different privacy coins.
The coins I'm covering today are designed to address the privacy shortcomings of Bitcoin currently. One is proof of stake and the other is proof of work.
Privacy based blockchain
RingCT
Encrypted messaging with BitMessage protocol
Marketplace lets you purchase with any crypto without having to go to other exchanges
POS encourages users to keep their PART in order to receive rewards.
Cold staking
Atomic swaps
All transactions use Segregated Witness.
Charlie Shrem recently added to the team as an advisor
Let's take a look at Particl.
It stems from the ShadowProject which also was a privacy focused cryptocurrency.
The ShadowProject team shifted to Particl in March of 2017 so they could pursue better branding and funding.
Since Particl is the result of the ShadowProject or ShadowCash team moving forward with a new brand and ultimately an entirely new blockchain, they arranged for holders of SDC to be able to swap their coins for PART and also purchase additional PART at a discount with BTC. This is how they gained enough funding for their operations for one year.
So Particl has plans to be more than just a privacy coin. But before we get into that, let's learn how they achieve private transactions. They use RingCT which stands for Ring Confidential Transactions and means that when you take part in a transaction multiple addresses are used in a way that determining which address is actually yours is very difficult.
With this new blockchain and cryptocurrency Particl is also going to be a way to conduct private messaging via the BitMessage Protocol. But the real utility of Particl will be seen with the development of its marketplace.
The Particl blockchain was designed so that every transaction will utilize Segregated Witness and for the sake of frictionless usability of their marketplace it also has atomic swap capabilities so users can make purchases with other cryptocurrencies.
To motivate users to hold their native coin PART, Particl is also POS with staking rewards. They also offer cold staking as well.
And if you're a fan of Charlie Shrem (@charlieshrem), the man who is very involved in this space and has been an advocate for Bitcoin since day one. He even paid the price and did his time for the sake of Bitcoin. He was recently added as an advisor for this project.
The marketplace phase of this project is set for its Alpha release for this quarter, and the Beta will follow after another round of funding. So Let's be sure to keep an eye out for these announcements and see how the platform performs.
CryptoNote
RingCT with a minimum of 12 other addresses for increased anonymity
Default obfuscated transaction amounts
POW
According to their blog, Sumokoin is a fork of Monero.
As such, they also use RingCT much like many of the other privacy coins available but Sumokoin has implemented a higher default number for the ring signatures to increase anonymity.
Also their privacy features are default for everyone.
Sumokoin uses Proof of Work and they've designed their block reward and coin distribution to resemble familiar commodities like oil.
They've designed this so that as more people join the network and mine the coin, the number of coins that will be available will also increase. Compare this to let's say how Bitcoin is designed and you can see how this has the potential to prevent early miners from accruing a majority of the coins and may ensure a more even distribution of coins.
This could also mean better price stability.
Take a look at this one for yourself and see what you think. If you're interesting in possibly mining this coin I've included a link to a calculator that can show you how the profitability looks.
Additional Reading/Sources:
Particl Website
Particl Whitepaper
Particl Blog
History of Particl and ShadowProject
ShadowProject (ShadowCash)
Particl Team Interview
In depth look at Particl Specs
Addition of Charlie Shrem as an Advisor
What Happened with Charlie Shrem's Arrest
Sumokoin Website
CryptoNote Whitepaper
Sumokoin Blog
Comparison to Monero
Coin Distribution Explained
Cost to Mine Calculator