I decided to take 51 interesting coins and look at their performance in the last 30 days.
Here are some interesting observations:
there is only 1 coin with a loss in my list: Electroneum (ETN).
32 out of 51 coins at least doubled in value.
3 coins are at least 10x of the value 30 days ago
Biggest winner is Tron, growing 7751%!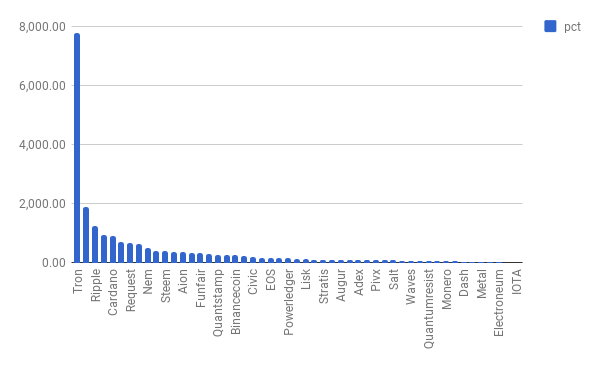 | Currency | Trend30d |
| --- | --- |
| Tron | 7751.41 % |
| Verge | 1899.37 % |
| Ripple | 1263.23 % |
| Dragonchain | 944.23 % |
| Cardano | 903.81 % |
| Ethlend | 694.66 % |
| Request | 675.80 % |
| Stellarlumens | 646.16 % |
| Nem | 514.97 % |
| Vechain | 408.04 % |
| Steem | 399.76 % |
| Bitshares | 384.03 % |
| Aion | 383.59 % |
| Icon | 350.37 % |
| Funfair | 337.03 % |
| Qtum | 297.40 % |
| Quantstamp | 284.06 % |
| Substratum | 269.99 % |
| Binancecoin | 255.51 % |
| Civic | 218.52 % |
| Bat | 179.83 % |
| EOS | 157.36 % |
| NEO | 152.08 % |
| Powerledger | 151.37 % |
| Litecoin | 128.00 % |
| Lisk | 118.44 % |
| Kyber | 116.52 % |
| Stratis | 107.14 % |
| Neblio | 107.10 % |
| Augur | 106.97 % |
| Ethereum | 105.18 % |
| Adex | 99.52 % |
| Omisego | 96.08 % |
| Pivx | 95.27 % |
| Navcoin | 86.67 % |
| Salt | 83.97 % |
| Tenx | 72.12 % |
| Waves | 71.66 % |
| Zcash | 67.68 % |
| Quantumresistant | 67.48 % |
| Bitcoincash | 65.52 % |
| Monero | 54.23 % |
| Ark | 52.26 % |
| Dash | 46.80 % |
| Nxt | 39.41 % |
| Metal | 39.32 % |
| Bitcoin | 26.28 % |
| Waltonchain | 10.44 % |
| IOTA | 5.35 % |
| Electroneum | -19.46 % |