Inmining is a new innovative project that is ready to provide everyone with a unique opportunity to participate in cryptocurrency mining. Interestingly, if you decide to work with the platform, you will no longer need to buy equipment, assemble a farm, solve serious cooling problems and many other problems. You now get 100% access to advanced mining advanced technologies from world famous companies. A modern Data Center will be built on the territory of Russia in the Alabuga Special Economic Zone. The capacity of this center will be 10 MW.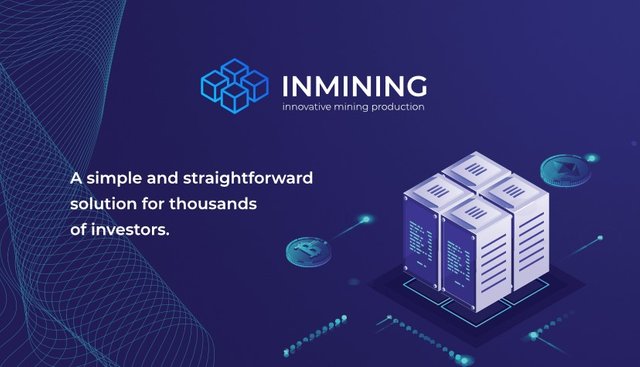 The main element of the architecture of the Inmining data center will be Blockbox AC mobile mining modules from Bitfury, one of the world's leading blockchain service providers. BlockBox AC is a container solution: inside a reliable container on an area of ​​about 45 square meters there are 176 refrigerated servers with a total capacity of 14 petaheches per second, which consume 1.2 MW of electricity. Modules are manufactured in South Korea using the same industrial containers that are used for sea freight. BlockBox AC is one of the most powerful mining devices available today in the global market.
Production of the Inmining Data Center will be based on the use of Bitfury's BlockBox AC modular equipment (container assembly). This equipment makes it easy to expand and scale production in increments of 1.2 MW and at the same time completely minimize capital construction costs and ensure quick installation and commissioning.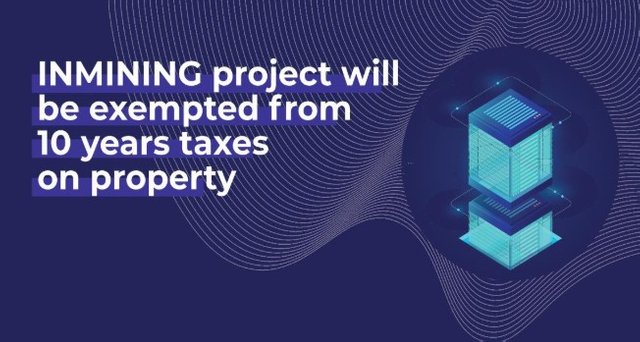 Principle of operation
Inmining has the following advantages over competitors of this type:
Ability to join at any time. Inmining tokens will be freely available not only during the sale of tokens, but also subsequently, on cryptocurrency exchanges. Similarly, anyone who wants to become an Inmining member can do this at any time. Cloud mining providers regularly stop selling Bitcoin contracts when they do not have free mining equipment.
Transparent process. Inmining data center will be built in the next few months, and its location in IES Alabuga is known. This distinguishes the project from cloud mining providers, which often do not have their own mining equipment.
Main advantages of using BlockBox AC equipment:
High efficiency. BlockBox AC Mobile Data Center consists of 176 air-cooled servers.
Innovation and scalability. BlockBox AC is one of the most powerful and low-cost solutions that currently exist in the Bitcoin mining market.
Mobility. BlockBox AC is a mobile container-type Data Center that can be placed at any convenient geographical point.
Stability and reliability. BlockBox AC provides round-the-clock monitoring and professional technical support, which in turn guarantee high system performance and a quick solution to any problem.
Remote performance monitoring. BlockBox AC owner can remotely monitor the status of equipment using a regular browser or mobile application.
State-of-the-art technology. BlockBox AC Mobile Data Center has the ability to upgrade by replacing only the necessary components.
Tokensale:
INMG = 0,1$
IEO: 25.09 - 12.10
You can study this project using the technical documentation proposed in the resources listed below. Which links, I have specially prepared for you.
Additional Information:
Website: https://inmining.io/en
Whitepaper: https://inmining.io/files/white_paper_english.pdf
Bitcointalk: https://bitcointalk.org/index.php?topic=5181985.0
Telegram: https://t.me/inmining_en
Twitter: https://twitter.com/inmining_io
Facebook: https://www.facebook.com/inmining.io
Author: GoodochOK (https://bitcointalk.org/index.php?action=profile;u=2505349)
ETH wallet: 0x8Cdc2fFA88c620803238bE1D4Ba092Bcf5E20a80