Gobaba.com Update Report (16.11.2018) — Platform improvements and new features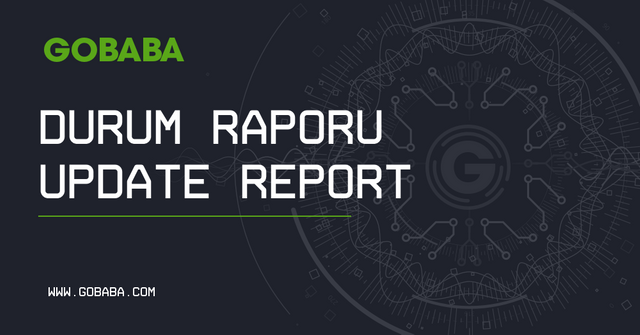 Greetings from Gobaba!
It's been nearly a month since our latest update and we've been hard at work improving our platform. We believe we have come up with some cool features.
Read below to take a look at the list of updated features on Gobaba.com.
Online signup for business accounts
Business owners can sign up for a business account on Gobaba.com using the online form. A Gobaba business account gives you the ability to accept payments in a number of cryptocurrencies and make your settlements in any fiat currency of your choosing.
Follow the link to apply for a business account: https://onboarding.gobaba.com/tr/member/register
Request crypto payment with your username with Gobaba.me
Gobaba's cryptocurrency request feature Gobaba.me now lets users create unique usernames to request payments. Users can request a payment in any of the cryptocurrencies on Gobaba, either by specifying an amount or simply request a payment for an unspecified amount — which is a very convenient way to collect funds from your fans or supporters.
Gobaba's crypto POS is now available on Google Play
Our cryptocurrency payment feature for merchants, Gobaba POS, is now available for download on Google Play for Android devices. If you are a business owner, we urge you to take a look at our products for merchants. Accepting crypto payments can add a brand new channel to your sales funnel.
Click here (https://onboarding.gobaba.com/tr/member/register) for a merchant account.
New Telegram link!
We were able to create a new Telegram invite link for our global Telegram channel. Join us our crypto-related conversations on Telegram if you haven't done so yet — and don't forget to invite your friends!
Here is the new link for our Telegram channel: https://t.me/gobaba_tr
Under-the-hood platform improvements
We've also made some minor performance updates and fixed a few known bugs on our platform.
We couldn't have done it without our supporters! Which is why your feedback is always welcome. You can use this link to report problems and make feature requests: https://community.gobaba.com/feature-requests
This wraps up today's update. Watch this space for updates on our platform and don't forget to hit the clap button below if you enjoy our posts.
Join the Gobaba Community
Instagram: https://www.instagram.com/gobabaofficial
Facebook: https://www.facebook.com/gobabaexchange
Twitter: https://twitter.com/GobabaExchange
Telegram Chat: https://t.me/gobaba_tr
Telegram Announcements: https://t.me/gobabaannouncements
Medium Blog: https://medium.com/gobabaexchange
Discord: https://discord.gg/2d3Wafe
YouTube: http://bit.ly/gbb-youtube