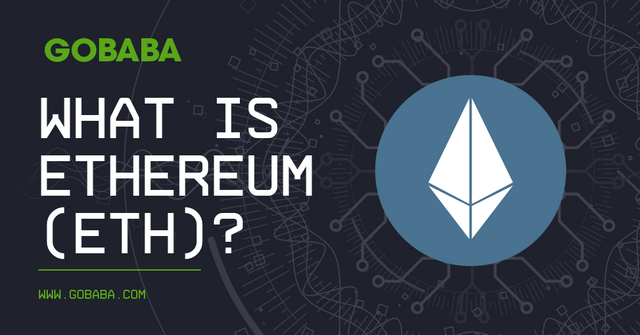 Dear Gobaba community,
In this second post of our Cryptofacts article series, which we started by introducing Stellar (XLM), we continue introducing you the altcoins listed on Gobaba. We will be sharing facts of Ethereum(ETH), which perhaps the most interesting coin with Bitcoin of cryptocurrency and the blockchain ecosystem.
You can see the up-to-date list of available altcoins listed on Gobaba here-> https://steemit.com/cryptocurrency/@gobaba/announcing-new-altcoin-listings-and-the-gobaba-trading-module
What is Ethereum (ETH)?
To explain in a nutshell, that is first presented by its founder Vitalik Buterin in a Bitcoin conference in Toronto, Ethereum is a "Decentralized Operating System" whose main source is its platform token ETH (Ether). Even though it has similarities to Bitcoin such as being decentralized, based on cryptographic algorithms and safe, it has a big difference that is having a "smart contract" technology that is the core process mechanism of the Ethereum Blockchain.
A few years after Bitcoin emerged, young software developer Vitalik Buterin began to be interested in Bitcoin and started to write articles about cryptocurrencies. After a while he decided to create an independent platform that would go beyond writing articles and beyond the financial services offered by Bitcoin, which he had dreamed of, and he created the foundations of Ethereum. Over the years, Ethereum grew rapidly and people who did their job best continued to join Buterin and increase the project acceleration. Right now, Ethereum is the second cryptocurrency with the second largest market volume, right after Bitcoin.
Although the debate over whether Ethereum could takeBitcoin's place after it emerged, the statement made by the Ethereum team's Vitalik Buterin made clear the vision of Ethereum:
"If we compare the cryptocurrencies with the valuable resources in the world, and if we accept Bitcoin as GOLD, LITECOIN as SILVER, Ethereum is PETROL. Because the underlying technology of Ethereum will be the energy source in the world's internet system. The same is true of Ethereum technology if oil is used in many sectors and technologies in the world. For this reason, we call Ether as 'crypto fuel'. The energy needed by the Ethereum platform will be provided by Ether (ETH).."
Interesting Facts about Ethereum
Ethereum is a platform rather than a currency
People often mistake Ethereum for a digital currency, but it is actually a platform that is driven by the coin Ether. So just to make things clear: Ether is, in fact, a form of cryptocurrency, while Ethereum is simply a cryptocurrency platform. Developers can develop decentralized-apps ("dapps") on the Ethereum Blockchain.
11 Banks, among them Barclays, UBS, and HSBC, have shown their support by teaming up with a startup called R3 in order to troubleshoot a system working with Blockchain for the purpose of trade. This troubleshooting test employed Microsoft and ran on a platform created by none other than Ethereum.
Ethereum Uses a Custom Programming Language for Smart Contract Development – Solidity
Solidity is the programming language used in the development of Ethereum's smart contracts. It was developed by Gavin Wood, Christian Reitwiessner, Alex Beregszaszi, Liana Husikyan, Yoichi Hirai and several former Ethereum core contributors to enable writing smart contracts on blockchain platforms such as Ethereum. At present, Solidity is the primary language on Ethereum as well as on other private blockchains running on platforms that compete with Ethereum, such as Monax and its Hyperledger Burrow blockchain, which uses Tendermint for consensus.
Ethereum blockchain hold the position of most popular DApp platform in the entire blockchain industry and this has given it a competitive edge.
Ethereum Hard-Forked in 2016 Creating Ethereum and Ethereum Classic
In April 2016, a project on the Ethereum blockchain known as the Distributed Autonomous Organization (DAO) was planning to launch an automated venture capital firm. This firm would have no human authority but would use smart contracts to automate all decisions. The project raised more than $150 million in less than a month but then it got hacked and lost more than $50 million of investor money. So in order for the developers to ensure the hacker had no claim to the stolen funds they enacted a hard fork on the chain. Some users remained on the initial chain, calling it Ethereum Classic while the majority moved to the new and the actual one, Ethereum.
Ethereum is the most popular blockchain to host the ICOs
Many cryptocurrencies have their own ICOs to fund their investors with cryptocurrencies. Ethereum is a popular choice for ICOs due to its capabilities. About 70% of ICOs use ether-based coins.
There is No Hard Cap for Ether
Most cryptocurrencies including bitcoin have a maximum currency supply limit for their native tokens. Ethereum's token, ether, has no maximum capitalization value. However, the network still has some limits in place. For instance, the total number of coins mined every year is subject to a limit that depends on the total supply cap. At the moment, the total number of ETH that can be mined per year is 18 million.
How to buy ETH on Gobaba?
You can buy ETH within minutes using Gobaba. While buying ETH, you have 2 options. You can buy Ethereum from direct "Buy/Sell" section of Gobaba using your Fiat wallets. Find below the guide on how to buy XLM using your Euro wallet:
As a second option, you can give orders on the Gobaba trading module for the price that you wish to buy ETH for and once your buy order corresponds to any sell order, your order will be completed and you will receive your Ethers in your Ether wallet.
ETH MARKET DATA
(
https://coinmarketcap.com/currencies/ethereum
)
Trading Price (past 24 hours): €375 EUR (~ ₺2018 TRY )
Global Market Cap: €37572 M EUR (~ ₺202.502M TRY)
Global Trading Volume (past 24 hrs): €1252 M EUR (~ ₺6.75M TRY)
All time high: €1195 EUR (~ ₺6.430 TRY)
Circulating Supply: 100.34M ETH
Total Supply: No Hard Cap exists
Follow us on Social Media
We're always listening to you. For your feedbacks feel free to let us know on Gobaba Community.
Stay tuned for news & updates and join us to start trading safely and securely!