How Trading for too Long Could Hurt your Capital!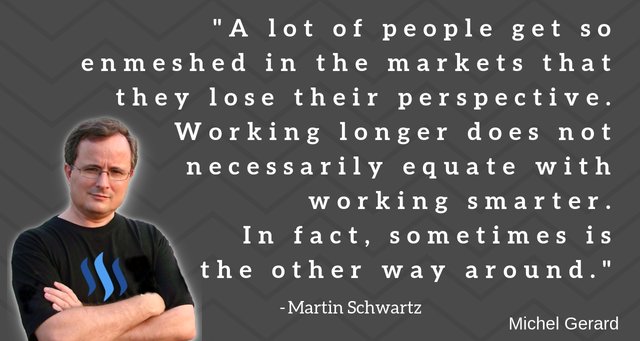 "A lot of people get so enmeshed in the markets that they lose their perspective. Working longer does not necessarily equate with working smarter. In fact, sometimes is the other way around." -- Martin Schwartz
How Trading for too Long Could Hurt your Capital!
Most traders usually find themselves trading too long than planned and this often happens for novice traders who are just getting started. The urge to make more profit can be too overwhelming. This usually becomes the case when the going seems good.
Ask someone who ever were caught in this bubble, they will tell you it's a bad idea. When trading high volatility markets like cryptocurrency, being cautious goes a long way. One of the downsides to prolonged trading is that as much as you can make more profit, you expose yourself to more risk along the way.
And what better way to be frustrated and disappointed than losing the little you have already made while giving the chase for more?
Martin Schwartz said that working for longer is not necessarily about being smarter. Most people focus on working so long that they end up losing their perspective. And in most cases, he said, working for long can actually result in the opposite. In trading, this holds true, where the odds can easily be stuck against you.
Sitting in front of your computer screen for endless hours can be disastrous. You can easily end up with more losses than they can ever recover. Let's face it, more trading means putting more of your capital on the line. This could be different when you are not tired, and you are sure of what you are doing.
Once you run into one or several losing trades, which sometimes happens, you should consider taking your trading losses and move on. If you stick around too long trying to recover every penny and make a profit, you will need to do even more. In this state of panic and frustration, you can easily lose control psychologically as well as on the tactical aspect.
This leaves you prone to making wrong decisions. It can get worse if you had made some profits before and you didn't opt out while you were still ahead. It's simple, just avoid trading for too long. Take your few but sufficient profits and exit, grow your capital gradually, but consistently to something you can count on.
Avoid being stuck on the market at all costs, the volatility of the cryptocurrency market could be a blessing and a curse to your money, you need to be cautious. If you have to work more on the crypto world, let it be on research and analysis. And don't take any of these overboard either; moderation is of the essence here.
Would you upvote this post and follow me for more because this will encourage me to write more posts like this one?
I have categorized my posts on Steemit for easy access:
Steemit tools | Steemit strategies | Steem economics | Steem on WordPress | Blogging on Steemit | Steemit posts I curated | Cryptocurrency | Cryptocurrency trading | Mac computer tutorials | WordPress & online marketing | Self-development & motivation | Travel in Thailand | Travel in Japan | Travel in Europe | Life in Thailand | Fitness challenge | Fruit-veggie juices & smoothies | Education | My answers on Quora | Fundition tutorials & projects | Miscellaneous writing
You may prefer to go to my Steemit Posts Directory.
Want to learn a new skill? Visit MG Course Discounts where I have lots of online courses you can take for only $9. Sign-up for the newsletter to get one free course and coupon codes.
Want to learn about Bitcoin and Blockchain technology? Click here for free ebook.
Would you like to learn how to trade Bitcoin and cryptocurrency with daily profits and grow your money with a simple, but effective strategy, because this beginner-friendly crypto trading course, that I am taking myself, might be your opportunity to finally be a winner in crypto?
You might want to read this post: My First Impression of the "5 Trades Money Machine!"
The most important votes you can make on Steem are for Witnesses. The top 20 witnesses can influence the addition or removal of features in future Steem hard forks. Read my post: What is a Steem Witness, How to Vote and Why?
Michel Gerard