How to Learn Risk Control When Trading Cryptocurrency!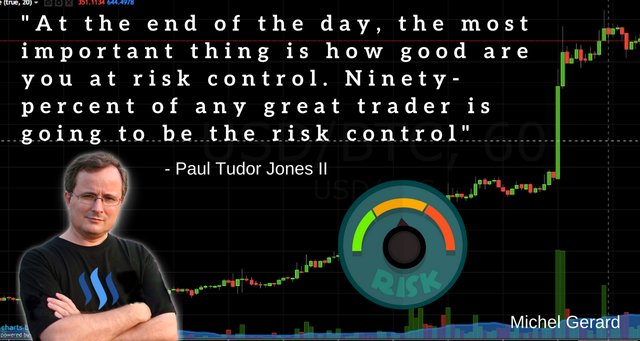 "At the end of the day, the most important thing is how good are you at risk control. Ninety-percent of any great trader is going to be the risk control" -- Paul Tudor Jones II (Famous Trader, Hedge Fund Manager)
How to Learn Risk Control When Trading Cryptocurrency!
As Paul Tudor Jones II stated, risk control turns out to be the most crucial aspect for any cryptocurrency trader. Like in any other type of trading, managing the risk always takes the center-stage.
This approach could turn over the odds to your favor. Every one trading crypto out there, beginners and seasoned pros alike, are losing trades at some point. But the ability to take charge of the risks is what differentiates the successful pros from everyone else.
Sometimes the best thing you can ever do as a trader is cutting losses and accepting that not every trade is a win. Risk control is all about keeping your capital on the safe side. The good thing is, you have a whole lot of ways to control risk in trading.
Risk management is even more essential in cryptocurrency. This is because of the high level of volatility and uncertainty in this market. One of these is using a small portion of the capital for every trade. The worst mistake you can ever make in trading is going all in. Always consider throwing in a few portions of your capital when investing.
Another important consideration you need to make is assessing the length of any single trade. Even before investing your capital, make sure you have an idea of how long you want it to run. The best way to go is ensuring you don't leave your trades to run for long.
If it doesn't seem to bring in any substantial profit, stop it and use the capital for another one. You can also think of partially getting out of trades or splitting the exits severally. As such, you are exiting in several targets. This helps you take several profits along the way in case things go wrong in the long term.
At the bottom line, if there's one thing that can bring your capital down, it's poor risk control. Consider taking little but consistent profits along the way. You will have a considerable amount of return in the long haul.
The last thing you want as a crypto trader is failing to manage your risks. Thus, you are likely to flatten out your investing capital in a few days.
Risk control should take up to ninety-six percent of you as a trader. This is what makes the most of the successful cryptocurrency traders in this field.
Would you upvote this post and follow me for more because this will encourage me to write more posts like this one?
I have categorized my posts on Steemit for easy access:
Steemit tools | Steemit strategies | Steem economics | Steem on WordPress | Blogging on Steemit | Steemit posts I curated | Cryptocurrency | Cryptocurrency trading | Mac computer tutorials | WordPress & online marketing | Self-development & motivation | Travel in Thailand | Travel in Japan | Travel in Europe | Life in Thailand | Fitness challenge | Fruit-veggie juices & smoothies | Education | My answers on Quora | Fundition tutorials & projects | Miscellaneous writing
You may prefer to go to my Steemit Posts Directory.
Want to learn a new skill? Visit MG Course Discounts where I have lots of online courses you can take for only $9. Sign-up for the newsletter to get one free course and coupon codes.
Want to learn about Bitcoin and Blockchain technology? Click here for free ebook.
Would you like to learn how to trade Bitcoin and cryptocurrency with daily profits and grow your money with a simple, but effective strategy, because this beginner-friendly crypto trading course, that I am taking myself, might be your opportunity to finally be a winner in crypto?
You might want to read this post: My First Impression of the "5 Trades Money Machine!"
The most important votes you can make on Steem are for Witnesses. The top 20 witnesses can influence the addition or removal of features in future Steem hard forks. Read my post: What is a Steem Witness, How to Vote and Why?
Michel Gerard