This is a warning about a bogus ETH Giveaway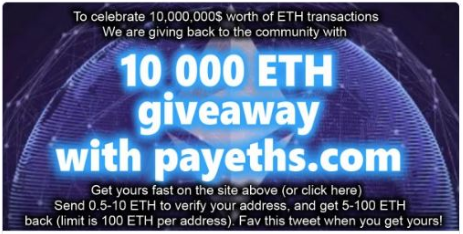 I was reading through my steemit feed yesterday and I saw a post from @dan that linked to a tweet, then linked to a post on Medium.
I follow the link to twitter, then medium, then read an interesting article about EOSIO development and the successes/decisions the teams have been making.
As I was leaving, I noticed a second comment from Dan below.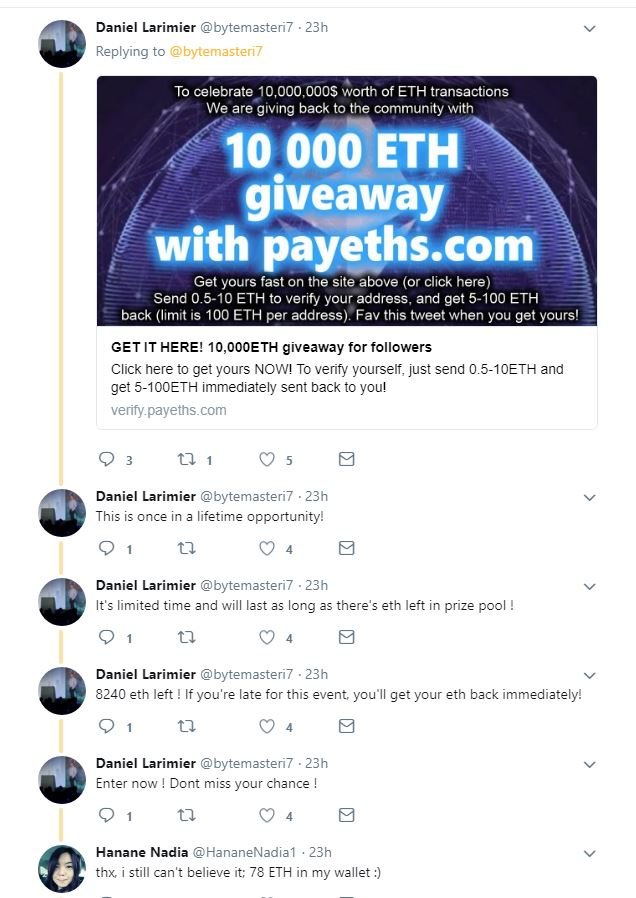 At a glance, it looked very intriguing. My first thought was ... why would he give out ETH instead of EOS. The picture was of Dan, but then I noticed, it wasn't Daniel Larimer, it was Daniel Larimier. It also wasn't @bytemaster7, it was bytemasteri7. So it's obviously a phishing campaign.
---
What the hell, I'll follow the link....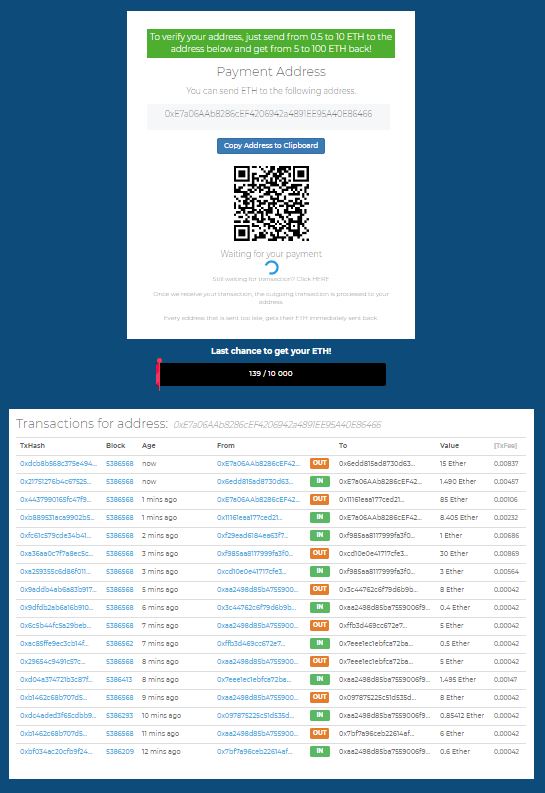 What a pretty webpage. It shows people transferring ETH to the wallet address specified, then it show that wallet sending back 10X as much ETH! At the same time, a status bar decreases, showing you that it's a
Limited Time Only Offer
---
So ... I thought I'd take a look at the wallet in etherscan.io
Holy Smokes - People are going to be pissed
In the past 24 hours, people have transferred 43.9 ETH to this address!!! At the current price, that's around $20K USD!!
When I went back to the webpage, I refreshed to see if the phisher was smart enough to not let the status bar ever reach zero. Sure enough, after a couple of refreshes, the status bar goes back us again ... but also, another ETH address appeared. I looks in there and there was another 30 ETH that had been transferred in the past 24 hours.
BE CAREFUL OUT THERE!
This phisher is obviously taking advantage of the fact that most people trust @dan and, most people are reading on their phones where the font is small enough you might miss some subtle differences in the account.
I am sure that there are many scams out there, but this one impressed me in it's subtlety. I wish there was a way to stop this person, but in the Wild West of Crypto Space, there is no sheriff.
I hope this post prevents at least one person from falling for this trickery