Crypto on a Micro Budget 5-21-2018
Last Weeks Holdings
BCN - 3214 @ 118 sats
TRX - 2142 @ 845 sats
.219 LTC
Reserve - 0 btc
My Current Holdings
BCN - 3220 @ 118 sats
The difference in the amount of BCN is due to 2 quick in and out trade on Sunday
FUN - 3492 @ 560 sats
Reserve - 0 btc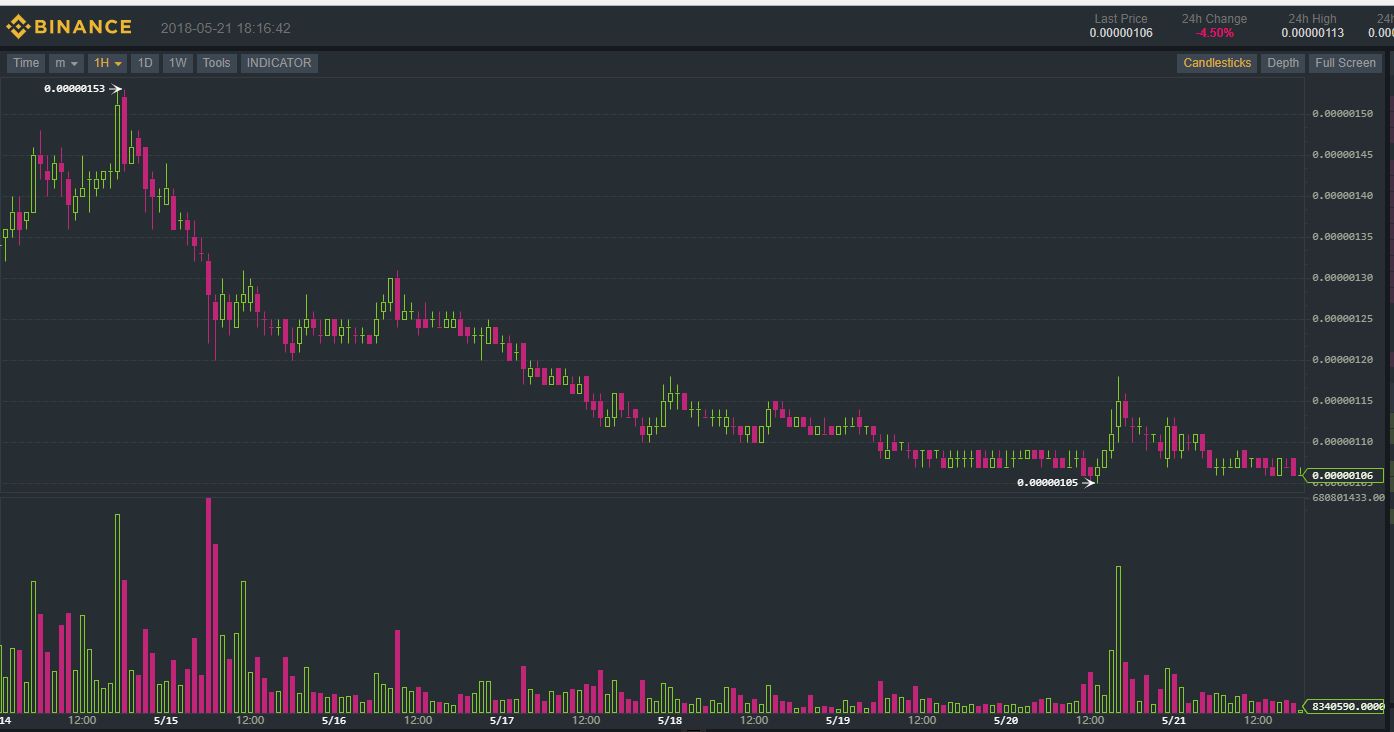 screenshot from BINANCE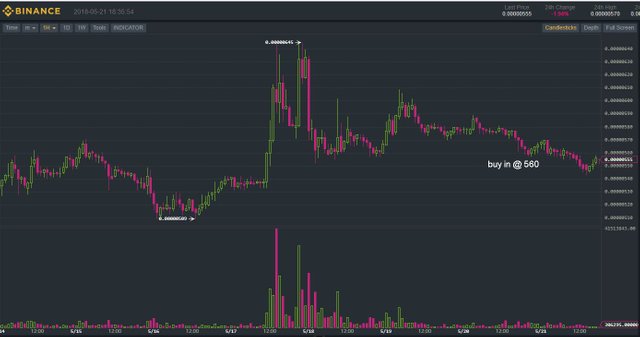 screenshot from BINANCE
Current Thoughts
This is another short blog post as I haven't been able to find many good trading ops.
Since my last blog post TRX made some great gains hitting a high of around 986 sats. I still think it will go higher by the end of the month but I'd sold hoping to buy back in the next few days.
I took the proceeds from the sell of my TRX holding and bought FUN. I'll be talking more about FUN later in this blog post.
I still think BTC is going to drop below 8000, I would share how low but my crystal ball is in the shop. If it does go down I don't think it will stay down long.
FUN
FUN(Funfair) is a gaming token aimed at online gaming and we all know the online gaming industry is huge. The token is relatively new being created in 2017 and as of yet doesn't really have a real world application though that may change soon.
Being a low volume token (less than 200 btc per 24 hours on Binance) it can make big movements in a short period of time but it can also just sit there and hardly move at all. I guess thats why I'll take a chance on it as you don't have to worry about a lot of money coming out if bitcoin does drops.
For more information on FUN please visit there website at https://funfair.io/
MinerFarm Update
Just a quick update on my MinerFarm experience so far. I turned off my miner on May 19th as it was losing money. I will turn it back on when bitcoin raised above $8800. Once I have some extra bitcoin I'm going to buy a better miner and see how it works then.
I still think MinerFarm has lots of risk but you have to risk money to make money.
..........
As always have fun, play safe and don't risk what you can't afford to throw out your Lambos window while on your way to the moon.
Legal Disclaimer:
I am not a financial advisor. The content of this blog/article or any other blog/article by georgeknowsall or resteem's on this account is not presented as financial advice.
The information provided in this blog/article is for informational purposes only.
Please consult with a financial or investment professional to determine what may be best for your individual needs.
Please check your countries laws on TAXES as any cryptocurrency trade could be taxable.
Referral links: Anytime you see a referral link I may receive a small commission from that site.
..........
Referral link Binance
Visit me on my new twitter account