Take a look at Korean ICON(ICX) Aion projects - easy X10-X20
It's time to look at investing in almost ready-made projects. Now I consider the most stable projects, around which there are many successful people. We can find a lot of projects at this time, all of them are already the most popular Korean projects with great technological potential. First of all, these projects, in the coming month, will hold a swap on their own blockchain of all their coins. You will be able to test and work on your platform, some already have ready-made projects waiting for their turn and launch these platforms. Second, pay attention to the news feed, the ICON agreement C SK Planet MOU, is the largest telecommunications company in South Korea. the price is now only 60 cents, may be lower in the coming days, as I wrote in my previous posts, there is no reason to move in the direction of growth at this time, but there are great prospects in the coming month, so I have formed a position now.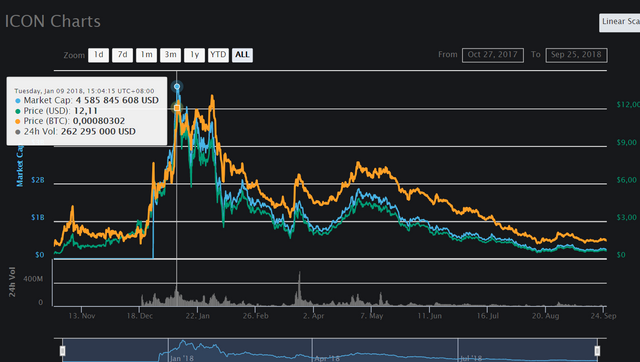 In conclusion, I want to clarify that although the maximum price was about $ 12, many who then bought, counted on a large profit, so I recommend waiting for new levels, ie part of the profit to withdraw at $ 6, while the part to leave to the levels of $ 12. However, I would like to emphasize that I am not your financial Advisor in this case, this is not financial advice, but only information for reflection and my personal steps. I have to say this because the price of the ICO was 11 cents, so there is still much to fall.
Another nuance is that my investment is mainly in ICON (90%), 10% I sent to AION