💡What is BitMEX? Preview & How To💡


What is Bitmex?
BitMEX is an international cryptocurrency exchange that was launched in 2014 by HDR Global Trading Ltd. (Arthur Hayes, Samuel Reed & Ben Delo). This particular platform is cryptocurrency only, meaning that deposits and withdrawals via fiat wire transfers are not allowed – i.e. Bitcoin in-Bitcoin out only.
>> Read This article on german here / Lese den Artikel auf Deutsch <<

BitMEX offers margin trading, with leverage up to 100x on Bitcoin on the spot and futures markets. Leverage on altcoins varies and for now Bitcoin is the only cryptocurrency that offers the full 100x, with Ethereum offering up to 50x and Litecoin up to 33.3x (It is important to exercise caution with respect to current market volatility).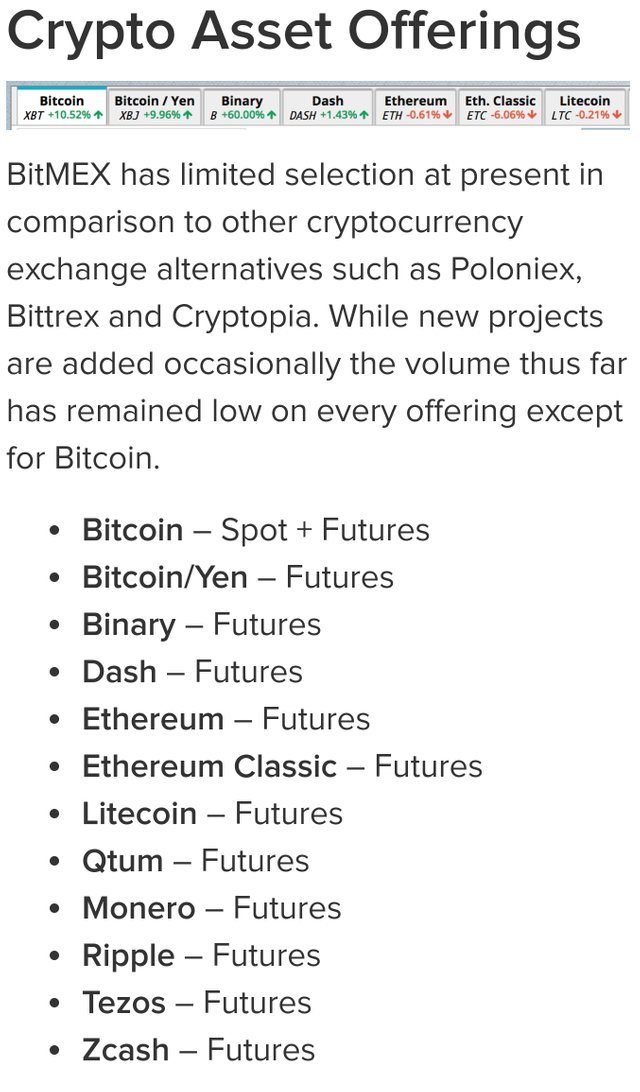 As of September 9th, 2017 BitMEX's liquidity for both the Bitcoin spot and futures markets is respectable and has continued to grow since inception. What is lacking however is the volume on every other cryptocurrency traded on Bitmex. Slippage (degree of price movement when entering & exiting a position) is so drastic on some of the pairs as to render shorter term trades or large entry's & exits as unfeasible.
The Bottom Line – For now BitMEX only has adequate liquidity on Bitcoin trading. If you want to actively trade altcoins with minimal slippage then for now this exchange is less than ideal.
Security
One of BitMEX's strength is its focus on security. To date there have been no hacks or major security breaches and the withdrawals are processed by hand once a day for an added layer of security.
Additionally, the trading platform is written in kdb+, a database and toolset used frequently by major banks in high-frequency trading applications. The BitMEX engine has unprecedented speed and reliability, something that is a notable difference in comparison to some of the less polished platforms like Poloniex and Bittrex.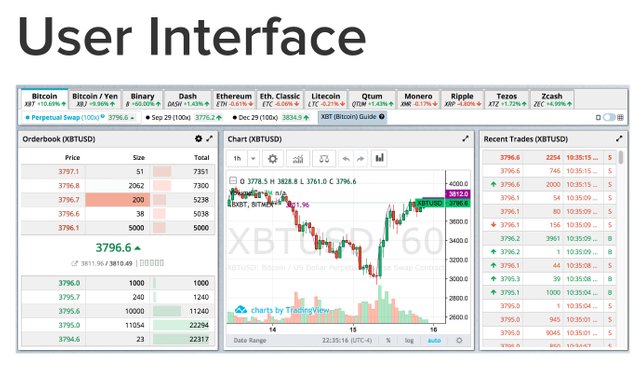 Generally speaking, many cryptocurrency exchanges today have sub-par interfaces (think webpages circa 2005). Some examples of poor UI that stand out in the space are Poloniex and Bittrex, which both command extremely high levels of volume in the altcoin markets. For what BitMEX lacks in overall volume, it makes up for in UI.
The mobile implementation is full featured and the desktop page blends usability with simplicity. For those who have experience with trading there is an 'advanced UI' feature that can be activated to make use of all of the platforms features, including an aesthetically pleasing 'night-mode'.
BitMEX is one of the few exchanges in the space to have built-in full featured TradingView charting. This offers a wide range of charting tools and is a vast improvement on the offerings by some of the current competitors.
Deposit & Withdrawals
Bitmex (for now) ONLY accepts Bitcoin deposits and withdrawals. Deposits can be made 24/7 but withdrawals are processed by hand at a recurring time once per day. The hand processed withdrawals increases the security of your funds by providing extra time (and email notice) to cancel any fraudulent withdrawal requests, in addition to bypassing the use of automated systems & hot wallets which may be more prone to compromise.
BitMEX Digest
The founder & CEO of BitMEX puts out a weekly 'Crypto Trader Digest', the repository to which can be found here - https://blog.bitmex.com/. Arthur has been an active member in the cryptocurrency community since 2013 and often has interesting & unique insights on the ever-turbulent cryptocurrency market events. As a free to view offering this is a useful resource for any avid cryptocurrency trader.
Caveats/ Points of Caution
As with most exchanges in the cryptocurrency space, especially those that trade solely crypto assets and do not interact with USD (and thus do not fall under the same regulatory oversight) have their risks.
Due diligence such as reading the terms of service is advised before signing up with any exchange. It is also important to remember to not trust unregulated and uninsured exchanges with large amounts of capital.
Conclusion
If you are looking to trade Bitcoin spot and futures markets with up to 100x margin, this might be the platform for you. Liquidity is high and the UI is laudable in comparison to most of the current competition. Management takes a security-centric focus which is a must in the crypto space.

Also interesting to you - must read!:
---
New Exchanges:
💡Be a first-mover on new Exchanges!💡
Get 300 KNOW Token for KYC on New Exchange
Register on new Exchange and Earn Bonus
💎Get 3 QASH [15$] Token for registration💎
Get Get 50 HIB Token for KYC on IDAX Exchange🔥
🍬Get 700 PRAB Token on Prandex🍬
FEE FREE Trading🔥ExToke - 50 tokens Airdrop🔥
GET PAID to Search What is Presearch & Airdrop
Click to Claim your bonus for your first registration:
Coinbase - Binance -
Cryptopia - KuCoin - COSS - CobinHood - Gate.io - Huobi - Hotbit - BitMEX - bleutrade - Tokenomy - IDAX - Kryptono - Qryptos
CLOUD-MINING:
Kryptogold - Hashflare Mining - Genesis Mining Promo-Code:
4eN7aA
☄☄☄☄☄☄☄☄☄☄☄
stay tuned!
your
fux!