Hello dear blog readers,
in this article I want to to share a good news about the Decenturion project with you: DCNT Liquid is listed on XBTS DEX!
XBTS DEX is a BitShares-based decentralized exchange and an entry point to a decentralized market. A SmartHoldem team built the XBTS. XBTS DEX is the first exchange that created a gateway between Waves Dex and Ethereum. Coins that won at the TechCrunch startups conference and opened ERC 20 gateway are listed on the exchange.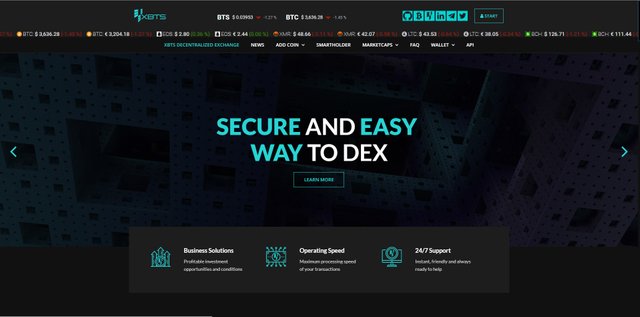 This is the exchange for everyone who wants to buy and sell his/her coins and tokens in safety. About 100,000 transactions are processed per second; confirmation time is only 3 seconds.
You have an opportunity to trade any amount, anytime, anywhere without restrictions on withdrawals.
The exchange lists different tokens and coins. Now, a simplified method of listing, creating trade pairs for any tokens and coins (more than 27 pairs) is presented.
◾ DCNT / BTS
◾ DCNT / BTC
◾ DCNT / STH
◾ DCNT / ETH
◾ DCNT / btcUSD
◾ DCNT / btcCNY
◾ DCNT / btcRUBLE
XBTS is operated in more than 180 countries. Return bridge operations from BitShares to Waves Dex are currently being completed. The team's goal is to build a hybrid decentralized exchange combining indices of any blockchains.
Advantages:
any trading pairs
no delisting
users keep their account keys
the platform provides an infrastructure, users keep their funds
opportunities to trade DCNT tokens with fixed assets: gold, silver, etc.
Link to the exchange: https://xbts.io/
Offical announcement: https://twitter.com/XBTS_EXCHANGE/status/1093113465730928640
---
--> Here you can sign-up as Decenturion citizen!
---
Official channels of the Decenturion State
Facebook — https://www.facebook.com/decenturionapp/
Telegram — https://t.me/decenturion
Twitter — https://twitter.com/DECENTURIONOF
YouTube — https://www.youtube.com/c/DecenturionState
---
PS: This article was published with the Esteem Surfer Software 2.0.4 by @good-karma and the @esteemapp team.