Start exchanging Tether (USDT) on Flyp.me. Instant cryptocurrency exchanges.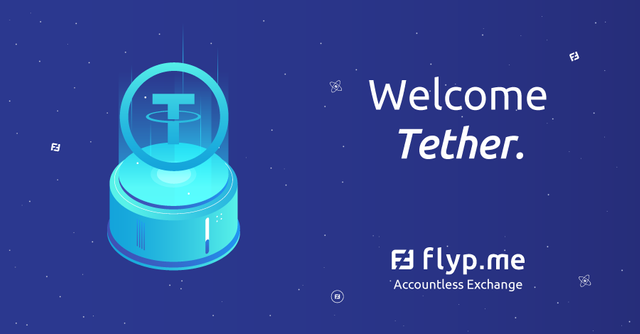 The time has come for another token to join the Flyp.me family. We are happy to reveal that starting today, TetherUS (USDT) is available on Flyp.me accountless exchanger!
To exchange TetherUS with 30 other cryptocurrencies, head to Flyp.me. You don't need any registration, email, nor account. Just one click to exchange seamlessly and instantly while always being in control of your privacy and private keys.
Tether recently surpassed $4 billion in market capitalisation and is a great addition to the cryptocurrencies and tokens available on Flyp.me. Tether's growing adoption has made it a leader in solutions for fiat on the blockchain. You can send and receive 1-to-1 pegged digital currency across platforms and start reaping the rewards of stable currency on the Blockchain.
We are very pleased to bring you instant access to TetherUS. Since 2017, Flyp.me accountless exchanger has been focusing on privacy, simplicity and speed.
To everyone in the Tether community, welcome to the Flyp.me accountless exchanger.
Use Flyp.me to exchange TetherUS with 30 cryptocurrencies: Bitcoin, Ethereum, Zcash, Augur, Litecoin, Syscoin, Pivx, Blackcoin, Dash, Decred, Dogecoin, Flyp.me Token, Gamecredits, Peercoin, 0x, Vertcoin, Basic Attention Token, BLOCKv, Groestlcoin, Essentia, DAI Stablecoin, DGD, Power Ledger, EnjinCoin, TrueUSD, Cardano, Maker, Monero and Storj.
Don't miss important updates!
Connect with the community on Telegram, Twitter and Facebook.