Instant Cryptocurrency Exchange Flyp.me Adds Enigma (ENG) Trading Support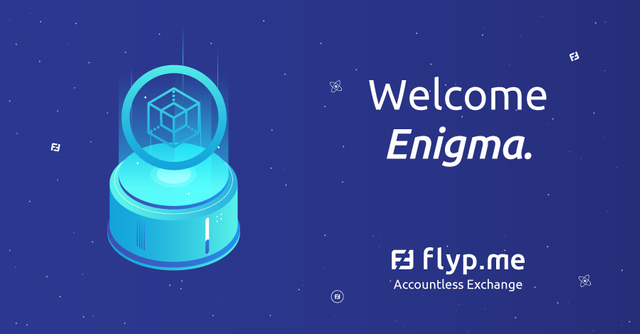 Data is the oil of the 21st century. It fuels everything that happens online and, consequently, in the real world as well.
However, that data, especially on public blockchains, often compromises sensitive data. Enigma is a protocol that allows counter parties to run computations on encrypted data without revealing the contents of that data — a feat that is nothing short of revolutionary.
Now, you can buy and sell ENG token, the native digital currency of the Enigma protocol, at Flyp.me, the world's preferred cryptocurrency exchange that doesn't require an account or sign up to use.
Adding ENG to your portfolio of high-potential digital assets is super simple. Head over to Flyp.me and complete three easy steps to get some ENG in your wallet.
Select the cryptocurrency you will use to exchange, then enter your ENG wallet destination address and the amount to be exchanged.
nter a refund address for the cryptocurrency wallet you are exchanging from (ie. if trading with ETH, enter an ETH wallet address).
Send cryptocurrency to the Flyp.me transfer wallet address.
Done! Flyp.me will automatically send ENG to your destination wallet. Easy, right?
Ready to learn more about what the Enigma protocol is and why ENG deserves a place in your portfolio? The next sections have you covered.
Enigma Enables Privacy & Scaling for Blockchains
Of the many virtues blockchains possess, privacy and scaling are currently not amongst them. Not yet, that is.
That's why Enigma protocol was created by Guy Zyskind and Can Kisagun, two brilliant minds trained at MIT. Currently, to use a blockchain for running computations, one has to accept that the data upon which those computations will run is going to be public.
However, the Enigma team is working to shield blockchain data with a privacy layer while still allowing for the data to be usable, and computations running on it scalable. To envision how this works, imagine two private research labs who would benefit from collaborating together, yet don't want to reveal their data to one another.
By using an Enigma encrypted blockchain (Ethereum is Enigma's first target), they can run computations using each other's encrypted data — meaning they will get the benefits from collaborating without revealing proprietary information.
It's not difficult to understand the positive implications of the Enigma paradigm. Data leaks are an all too common issue in which your private information is circulated, leaving you exposed while not rendering any financial upside for your loss.
With Enigma data marketplaces, insights are garnered from non-duplicable data, rendering data spills a thing of the past.
How the Enigma Token (ENG) Works
At the center of the Enigma protocol are secret contracts — these are private smart contracts enabling computation without data sharing.
ENG, the network's token, is used to encourage people to bring their data onboard, and is also used by buyers who want to purchase that data. As such, ENG is the sole currency accepted in Enigma marketplace transactions, creating a closed-loop economy.
Buying ENG has never been easier than it is with Flyp.me, an instant cryptocurrency exchange that does not require an account or registration to use!
About Flyp.me
Flyp.me is the professional tool for instant crypto trading. There is no registration necessary and no hidden analytics tracking you. Moreover, Flyp.me does not control users' funds, so your private keys are not at risk of being held on third-party services.
Flyp.me currently supports over 30 cryptocurrencies and is continuing to add more: Bitcoin, Ethereum, Zcash, Augur, Litecoin, Syscoin, Pivx, Blackcoin, Dash, Decred, Dogecoin, Flyp.me Token, Gamecredits, Peercoin, Aidcoin, 0x, Vertcoin, Basic Attention Token, BLOCKv, Groestlcoin, DAI, Power Ledger, Enjincoin, TrueUSD, Cardano, Storj, Monero, Maker, TetherUS, DigiByte, USD Coin, MANA and and now Enigma.
Connect with the community on Telegram, Twitter and Facebook.