Exchange 30+ cryptocurrencies to Monero at Flyp.me. Instant and anonymous exchange.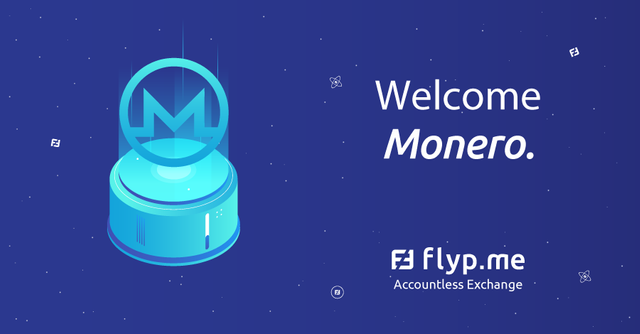 We have exciting news to share with our community: starting today, Monero is available on Flyp.me Accountless Exchange!
Flyp.me is the fastest, safest and most private way to exchange 30+ cryptocurrencies straight to your wallet. No registration, no email, no account. Just one click to exchange XMR seamlessly and instantly, while keeping your balance private.
Monero is a privacy-focused cryptocurrency. The project follows three main values:
Security: the main tech behind Monero allows you to control your keys and operate privately with proven security mechanisms, while also allowing malleability and development in the network.
Privacy: Monero comes with ring signatures and stealth addresses. Also, thanks to its privacy, XMR is truly fungible.
Decentralization: released in April of 2014, it was originally called BitMonero. Created to build a fairer and more decentralized currency system, it later grew to be based on the CryptoNight Proof-of-Work consensus algorithm.
At Flyp.me, we share Monero's values and purpose. As Riccardo Spagni, the lead maintainer of privacy coin Monero, recently said in Davos, "Financial privacy is a basic human right".
For those seeking financial privacy, Flyp.me is the easiest way to obtain XMR. Welcome to accountless trading, Monero Community!
Head to www.flyp.me to flyp to Monero (XMR).
Stay tuned through our social networks. Keep Flypping.
https://t.me/@flypme
https://twitter.com/flyp_me
https://facebook.com/flypme
Visit Flyp.me
Flyp.me is developed by HolyTransaction, the first multicurrency web wallet since 2014. Created for the community, trusted by hodlers everywhere.