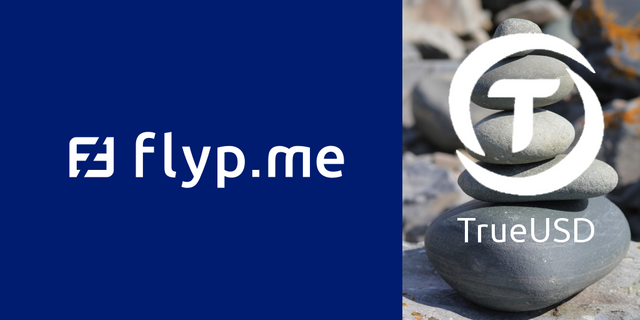 The time has come for another member to join the Flyp.me family. We are happy to reveal that starting today, TrueUSD (TUSD) is available on Flyp.me accountless exchanger!
To exchange TrueUSD to 29 cryptocurrencies, head to Flyp.me. You don't need any registration, email nor account. And why would you want it any other way? Just one click to exchange seamlessly and instantly. You are always in control of your privacy and private keys. It is so simple, like sending a transaction from your wallet.
Since 2017, Flyp.me accountless exchanger has been focusing on privacy, simplicity and speed.
TrueUSD is a great addition to the cryptocurrencies and tokens available on Flyp.me. The team at TrueUSD has done an outstanding job at providing a stable trading instrument for the crypto community. This stablecoin provides yet another instrument that can facilitate wider adoption. It can be redeemed 1-for-1 for US Dollars. It relies on a network of independent third-party trust companies to hold the corresponding USD in escrow.
Many congratulations to the team for creating a trustable product that can enhance the cryptocurrency world. They recently surpassed $200 million in market capitalisation, had their smart contract successfully audited by three independent security firms with no known vulnerabilities and scored a number of partnerships.
We are very pleased to bring you instant access to TrueUSD, just using your preferred wallet while maintaining control of your private keys.
To everyone in the TrueUSD community, Welcome to the Flyp.me accountless exchanger.
Use Flyp.me to exchange TrueUSD with 29 cryptocurrencies: Bitcoin, Ethereum, Zcash, Augur, Litecoin, Syscoin, Pivx, Blackcoin, Dash, Decred, Dogecoin, Faircoin, Flyp.me Token, Gamecredits, Gridcoin, Peercoin, 0x, Vertcoin, Basic Attention Token, BLOCKv, Groestlcoin, Essentia, DAI Stablecoin, DGD, Power Ledger and EnjinCoin.
Don't miss important updates!
Connect with the community on Telegram, Twitter and Facebook.