FLASH Mammoth Giveaway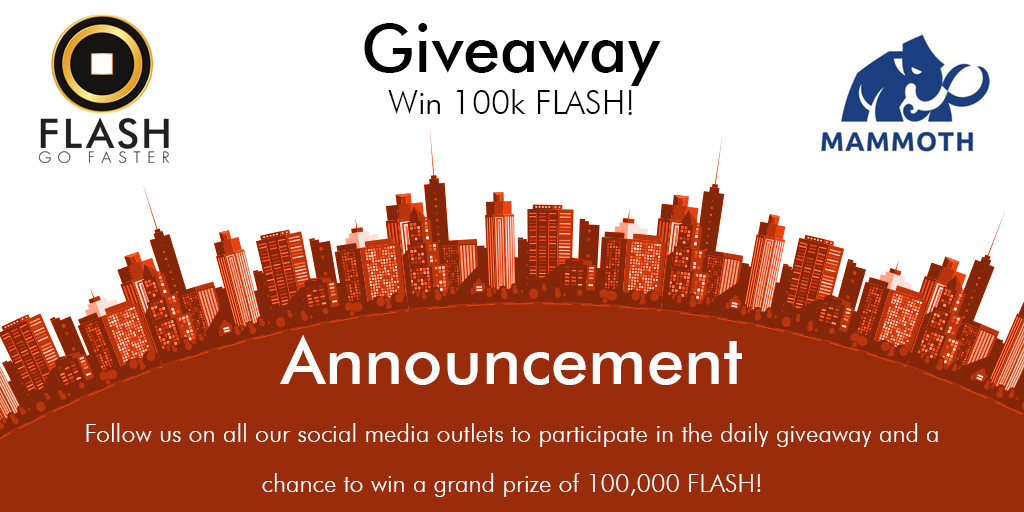 We are going to be giving away a random amount of FLASH everyday (1k to 10k) until Mammoth.li officially opens with crypto to crypto trading. On the day Mammoth publicly opens, everyone who participated during the entire giveaway period will be entered to win 100k FLASH, the grand prize. This means that individuals who participate every day will have a higher probability of winning the grand prize.
The first day of the Mammoth Giveaway will begin in about 8 hours on the FLASH Reddit channel.
In order to participate in the giveaway, follow the daily instructions on one of the community channels below.
Reddit - https://www.reddit.com/r/FlashCoins/
Discord - https://discord.gg/AuAnQ32
Twitter - https://twitter.com/FlashCoins
Telegram - https://t.me/joinchat/C5go9ExsGGNeVvForEgb6w
YouTube - https://www.youtube.com/channel/UCMOYSMroaTrgCNslbaQ6Urw
The prize total and daily winner will be randomly generated and announced everyday on the FLASH YouTube channel.