Exodus' Shiny New Browser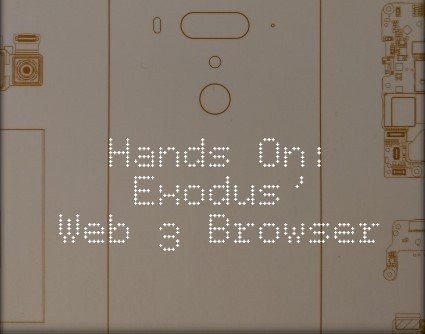 In an unexpected and welcomed announcement this week by HTC, the Exodus1 blockchain smartphone's cryptocurrency wallet Zion has been integrated with the Opera Web 3 browser, making it the first phone to offer a DApp browser integrated with the phones own cryptocurrency wallet. In my previous article comparing the HTC Exodus and Sirin Lab's Finney I touched on the importance of having a fully integrated browser before any serious users of DApps will bother using either of these phones wallets. In this article I take a look at the Exodus team's integration of the Opera browser with Zion and give my thoughts on features I think were enhanced as well as some heightened concerns.
Enhanced Functionality and Usability
There are already existing reviews of the Opera Web 3 browser so I won't go into the specifics of any of the features here; the menus are quick, the websites load and scroll with ease and in my experience I had no issues using any of its existing features. What I do want to dive into are the features of the browser that I think are really put to good use on the Exodus.
Feature #1: Crypto Wallet
The Zion wallet native to the Exodus1 integrates with Opera through its Ethereum based Crypto Wallet. When you first navigate to a DApp using Opera you will be prompted to setup your wallet, which in the case of the Exodus takes you to a screen where you can unlock your device, thus connecting the wallet to the browser. The system did not allow me to take a screenshot during the integration process and informed me that the screen was protected while sensitive information was being presented, showing that the Trusted UI that HTC has been touting is in place here as well. It is a two click process and once complete gives you a view of all of your assets from within the browser itself, making it an easy way to watch your Zion wallet without having to open the wallet itself.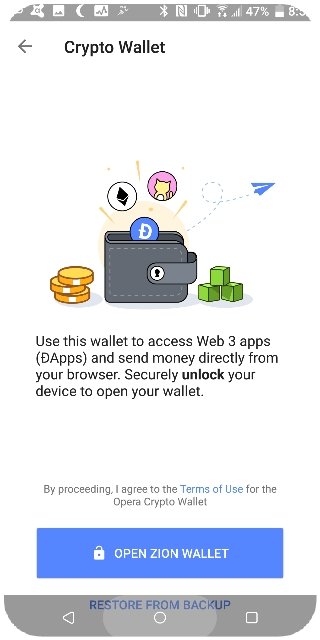 Feature #2: Crypto Connect
One feature that is not often seen is the ability to sign a cryptocurrency transaction from a separate device that isn't connected by either WIFI or USB to the device you initiated the transaction from. Crypto Connect allows you to do just that by connecting your computers Opera browser wallet to your phones Crypto Wallet, giving you the ability to browse and interact with DApps from your home computer while signing transactions from your phones wallet. This link between Zion and any computer will give some DApp users enough confidence to store tokens and collectibles on their phones so they can interact with DApps and play games during the day, then continue to use the same assets from their computer later that night. Before this integration, there was not a way to use assets stored in the Zion wallet from a computer without importing the private keys into a wallet, which is not recommended. This solution is similar to what MetaMask is exploring with their EIP to allow users to sign in using app Keys. It will be interesting to see how these multi-party signing protocols develop over time.
Feature #3 DApp Store
Opera is a full Web 3 browser and does not restrict the user from visiting DApps that are not offered in the curated DApp Store. This makes it different from the Finney's browser where you can only interact with DApps that have been integrated by either the Finney team or third parties using their SDK. The Exodus no longer has to rely as heavily on third parties to integrate with their wallet, however when DApps advance and become fully fledged MMORPG's and shooters that dependence on the SDK may resurface.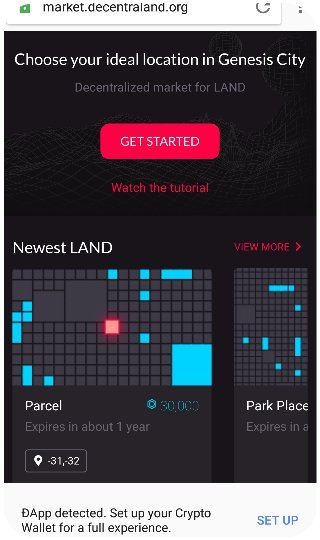 Enhanced Concerns
Reliance on Opera
With the Opera and Zion wallets now being interlinked it is doubtful that HTC will put resources towards their own Web 3 browser. This means they will be reliant on the Opera team to spearhead any improvements to the browser such as enhanced currency or token support within the browser, chat functionality, ENS name support or even hardware wallet integration (ie Trezor). This could free up HTC to focus on more important features such as Multisig or it could mean these features integration will depend on how strong the partnership is between the two teams.
Closed Source Code
The source code for Opera is not available online meaning that you have to trust that the Crypto Wallet has been coded without bugs that will make your cryptoassets vulnurable to attack. Since the Zion wallet is also closed source this is a big security issue for many members of the cryptocurrency community and hopefully one that these teams start to pay more attention to in the future. There are valid concerns about attack vectors that are enabled by putting the code freely online, however I believe many of those concerns can be alleviated in time through improvements such as providing a node for each phone to validate transactions through or bug bounties to ensure the code is hacker-proof.
Collecting User Data
Opera is proprietary software and is most likely collecting and selling user data. This is in stark contrast to the ideals of the emerging browser giant, Brave Browser. In short time, MetaMask will launch its mobile DApp and users will be able to choose between using MetaMask to store their assets along with a browser that protects their data completely or use a slightly more secure wallet that exposes their data entirely. In time companies will develop wallets that are as secure as Zion and will be freely available in the Play Store, so we have to wonder if it is worth using this solution with a better one on the horizon.
Where Does the Road Lead
HTC's next focus is turning their phones into light nodes so that each phone is a somewhat participating member of the community. From there, HTC has a decision to make about whether they focus on expanding their product line and improving their hardware wallet to match that of the Finney's, or if they continue for now on the framework they have created with Exodus1. Having Ledger or Trezor integration with Zion or the ability to use Multisig Ethereum accounts would make this device a truly secure mobile platform for interacting with the blockchain, but for now having a fully integrated Web 3 browser with a fairly secure wallet is a big win for the entire blockchain ecosystem.
Updated Comparison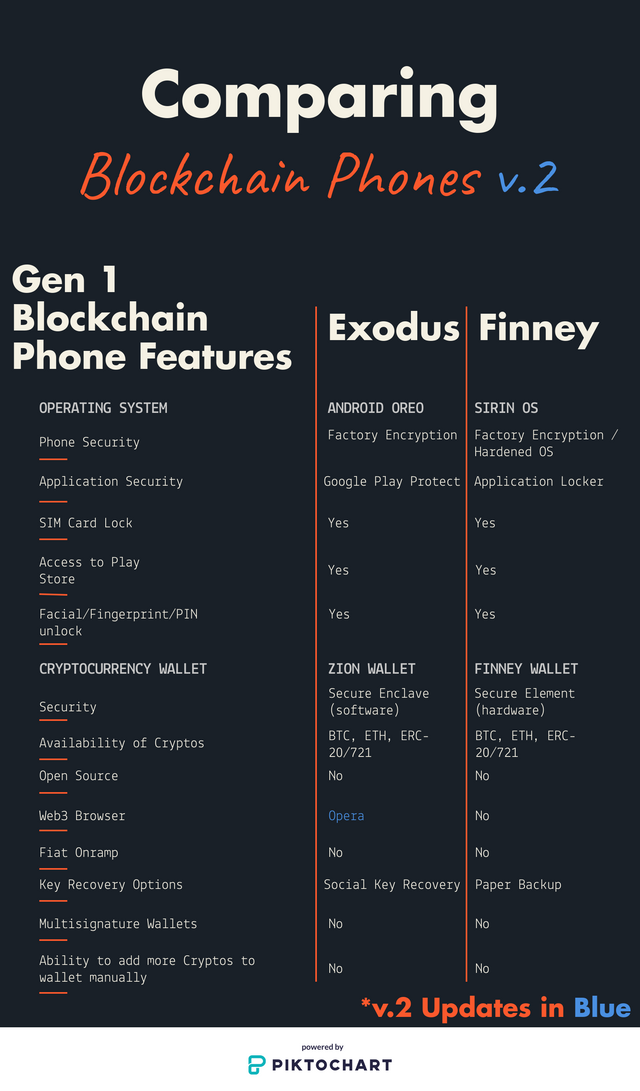 In future articles I will explore Electroneum's release of their M1 blockchain phone for developing countries, as well as dive into the upcoming Samsung and Pundi X blockchain phones. Thank you for taking time out of your precious lives to read and support me with your attention. If this information was useful to you please give me a like or drop me a comment below to continue the discussion.
Contact Me:
Discord/Twitter/Cent/Medium: felblob
Email: Cryptovacation@gmail.com
Website: www.felblob.com