When I was a kid, we used to play the alphabet game when we were driving places. The first one to find all the letters of the alphabet won. We relied on the honor system, of course, scanning every possible billboard or advertisement lining the freeways. I suppose it made time pass and sharpened our reading skills at the same time. Q was the hardest letter - your only real chance of finding one was on license plates.
As a parent, I too encouraged this past time with my kids. When you have a lemon, meaning a long car ride or unbearable traffic, make lemonade!
But they grew up and stopped caring.
Perhaps my childhood obsession with letter searching never really went away. Now I play my own version of the alphabet game.
The rules changed along with the times. Instead of completing an A to Z search, what if my search had a deeper meaning?
Might not the "random" placement of letters on license plates actually be altcoins in disguise?
Think about it. My own car in California sports GLM between seemingly arbitrary numbers. (Satoshis, perhaps? The cost of a coin on any given day?)
All I know is that I can't unsee these potential coins when I drive. They are everywhere.
The car in front of me. SLS. I know that is a coin. Salus. Aha!
The search intensifies. My imagination goes into high gear with the ridiculous number of cars packed around me as we all head absolutely nowhere on the 405.
Is FUK a coin? After three hours of rush hour at noon it ought to be.
Watch. Pretty soon you will also read license plates in a whole new light. We are at the dawn of a new era. Cryptocurrency letter combination possibilities are endless.
You never know. That car in front of you that just cut you off in order to sneak his only rotten self into the carpool lane? Mark the letters on the license plate. It just might be a scammy coin dev with a personalized plate.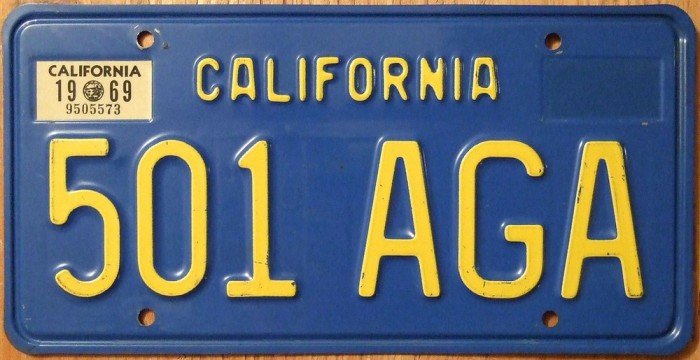 vintage CA plate courtesy of Hemmings Motor News