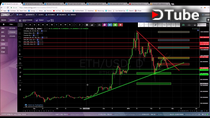 ---
Hello there everyone, I hope you're having an awesome Thursday today!
Little interesting lately with the unfolding of the petro dollar and now Venezuela is looking at potentially launching another gold backed cryptocurrency... Iran seems to also be jumping on the bandwagon to raise some extra capital as well.
Eth had a nice bounce in a zone I personally wasn't expecting however we also have a very small gap that has formed on the daily which is something to be aware of.
UBQ is actually at a decent level with a nice bounce off an area of support allowing for a trade to be taken if one so desired. That being said in order to get back into our lowest reload zone (78.6 fib level) we do have a little lower to go.
Anyways, I do hope everyone enjoys it, by all means all comments are welcome, hopefully I can offer a bit of a different perspective here for everyone and help make all you guys some money!
Remember, always buy the dip and sell the lower dip people!
Here is the YouTube link as well if you prefer to watch it over there
Thank you everyone for taking the time to give me a watch, if you find my content valuable I would very much appreciate a follow as I am trying to grow this channel.
Feel free to give me a follow over at Faded Gravity
---
▶️ DTube
▶️ IPFS