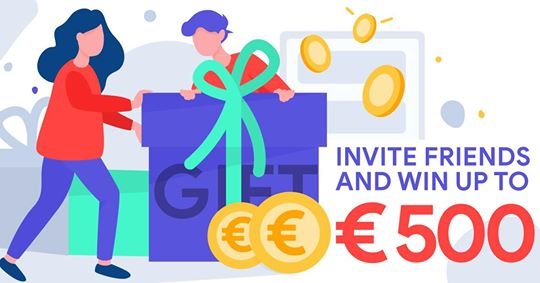 Exscudo, the developer of Channels secure wallet and messenger app is excited to announce the Channels for Friends contest – invite your friends to download Channels and get a chance to receive amazing prizes!
We will track who invited the most friends to Channels and award prizes depending on your performance:

1st Place will receive €500 
2nd Place will receive €300
3rd place finalist will receive €200
All of your friends will also receive 10 EON each. EON is the native currency of Channels that can be used to pay for transaction fees. This will be enough to get your friends started using the app and making free transactions. 
How does it work? 
It's super simple!

Go here and download the channels app;
Visit this site to get a referral link;
Share the link with your friends, write a blog post, print a giant billboard, anything goes! 
Let your friends join and confirm their phone number;
Your performance will be automatically measured; 
Last entries will be accepted on 27.09.2019;
On 01.10.2019 we will reveal who invited the most friends and announce our winners!
What is Channels?
Channels is a next-generation mobile wallet and messenger combined in a single application. It is based on the blockchain technology and allows to securely store and manage a variety of assets – from tens of different cryptocurrencies and stable coins to fiat.

What's more, Channels has some unique features like in-app currency exchanger and super-convenient and cheap cross border payments. In addition, the developer of this application, Exscudo, is constantly adding new features: the next updates will be integrated plastic cards for convenient payments at any vendor and TeamShop: an integrated coupon and social shopping functionality for amazing deals and discounts on products. 
So what are you waiting for?
You can win up to 500 EUR, discover an awesome app for your financial needs and share it with your friends! Sounds like fun, doesn't it? The competition has already begun, download Channels here, get your referral link here and start sharing!

Get in touch with the team in our official Discord

Note: to be applicable for 1st place you need to invite more than 50 friends. To be applicable for 2nd place you need to invite more than 20 friends. To be applicable for 3rd place you need to invite more than 10 friends. All prizes will be distributed in EUR to EUR wallets in the Channels application.