TenX (PAY) a review - Spend Cryptocurrency anywhere Visa is accepted almost no fees!
Spend cryptocurrency to buy anything around the world with no forex fees anywhere Visa is accepted. Currently supports or will support Bitcoin, Ethereum, Dash or Iconomi .
TenX looks to be the best of the lot for many reasons. It's competitors Mobi, Monaco, Tokencard, and Xapo all have higher fees and and some do not even have cards available yet.
Currently the race is on and TenX is IMO the current front runner because of it's low fees and the fact it actually as a working card and have devoted 41% of the millions (71-141?) it earned during ICO to develop the card. It also appears to be the only one that offers a use for the Token.
Once you have your card as long as you use it there is almost no fees at all. Transactions are free and there is no forex fees charged so you get the best rate every time. What this means is you can pay for anything you want in any country Visa or MasterCard are accepted and not pay foreign exchange fees. This is basically pay pals worst nightmare.
Here is the current fee schedule and list of countries they will and won't ship to. Currently USA is not supported but there is ways around this as the card will work in America. (USA is excluded from so many things these days because of the strict banking rules)
https://www.tenx.tech/fees.html
-Physical Card Issuing Fee (Covers Shipping and Tracking): $15
-Virtual Card Issuing Fee: $1.50
-Physical Card Annual Fee: Free (or $10 if you spend less than $1,000 a year)
-Virtual Card Annual Fee: Free (or $10 if you spend less than $1,000 a year)
-Foreign Exchange Fee: 0%
Again transactions are free. Using TenX as a customer is a very good experience and a great app.
Currently there is a Long wait list to get cards. If you ordered after 8th August you may not receive it until November. I personally ordered after this date and the app is telling me I should get it before end of September.
TenX tokens PAY.
Here is the rewards structure.
https://support.tenx.tech/hc/en-us/articles/115000765151-How-are-rewards-distributed-
Currently only the 0.1% reward is in effect but the 0.5% reward will be retro active to 24 June 2017 so when this comes online anyone who has tokens will be paid back till this date. What this means is if they release some news saying they are about to turn this function on you will see a big spike in buys before if you get forewarning. And then sell offs after its paid out. ( I don't expect the payouts to be huge anyways but it might cause hype).
These rewards can be collected by storing PAY in the TenX app/wallet or by storing it in any ERC20 wallet. You will not get rewards if it is on the exchange.
Upcoming release dates and features.
iOS App release (closed beta) 21 August 2017.
Web app currently in closed beta since 14th Aug.
Will allow you to set the transaction cost in the future. (not sure what this means actually)
How do they do zero fees or actually process transactions? I admit I had trouble finding this but I seem to recall it was done without dedicated miners using the commit network. In order to make a transaction you have to effectively mine 2. (Note this is going by my memory and could be wrong :) ).
The team looks good and they are actively hiring people and have plans in the road map for more people when they activate a new part of the road map. They are very active on releases and social media.
Concerns
Now to the zero fees claim, is it true? They claim to give you the best current exchange rate possible. This could easily be manipulated. But you can easily check this for yourself when making a transaction. And near zero is so so so much better than almost every other existing system that charges 3% or more.
I made a purchase of $15 USD the price of the card. I put the current forex rate for BTC to NZD (I am from New Zealand) and BTC to USD. Basically the exact rate you can get without any fees and checking it I got a 1% discount rather than being charged 1% or 0%. So far so good on that claim. Some others are claiming they get a fee of around 2% if they compared the price to BTC on Krakken. I found this in an older thread so it may have improved since then as the test I did was just a few days old.
How do they do it?
This comes directly from the TenX team, they take the price of say BTC from a pool of exchanges and pick the highest price. So say A, B and C exchanges have BTC at 4000, 4010 and 4088 they would value BTC at 4088. But say you use Krakken and BTC is at 4300, they will ignore this rate as they don't use Krakken for price checks (or didn't). You also have to take into account prices can move up and down $100 every second (for BTC). You also have to take into account they do real time API transactions so they need to buy at the Bid price not Ask price which will be generally 0-1% lower. There is also a risk margin because of volatility. And I think this is totally acceptable and still within acceptable tolerance to still call it 0%. Because if you or I tried to place an order there is no guarantee unless we set it for the bid price and not the ask. Even then you may miss it because the bid price changes by the second or faster.
I also found this article below. It is not well written as it doesn't take all the factors into account. But they do have a pretty good point. The token doesn't seem like that great an investment unless you got in at near ICO prices.
This token is definitely a long term investment.
Article titled a Glaring issue.
https://medium.com/@desconlon/the-glaring-problem-with-investing-in-tenx-pay-tokens-b73af66a8887
While this seems like a good run down on the reward structure. I really think it isn't. It doesn't take into account that you can sell your tokens whenever you want and they are likely to appreciate in value if the card takes off.
It also doesn't have much think crypto is a big deal. I personally think if they can get out in front and deliver a card to everyone that wants one, pretty soon everyone in crypto will want to have some kind of card similar to TenX.
To actually succeed TenX just needs to get 1% of the global credit card market and then only need to have around 30% of the cryptocard sales (if it wins the race it could have a whole lot more than 30%). I think this is totally achievable. And sooner than expected. Some estimates are 2-5 years. I think it will be much much sooner than that. Crypto is out of control and we are more likely to see this happen in a year or less.
REMEMBER NO FOREX FEES in any country and you always pay in one universal currency. Imagine buying a big mac in new Zealand and you know it costs you 0.001 BTC in one country and in the next it costs you 0.0011, you know which one costs more. But yes you can also see it in your chosen FIAT currency too so you can see how much say NZD or USD it costs in different countries.
Personally I am more excited about using TenX than buying the token. But I have snapped up a few anyways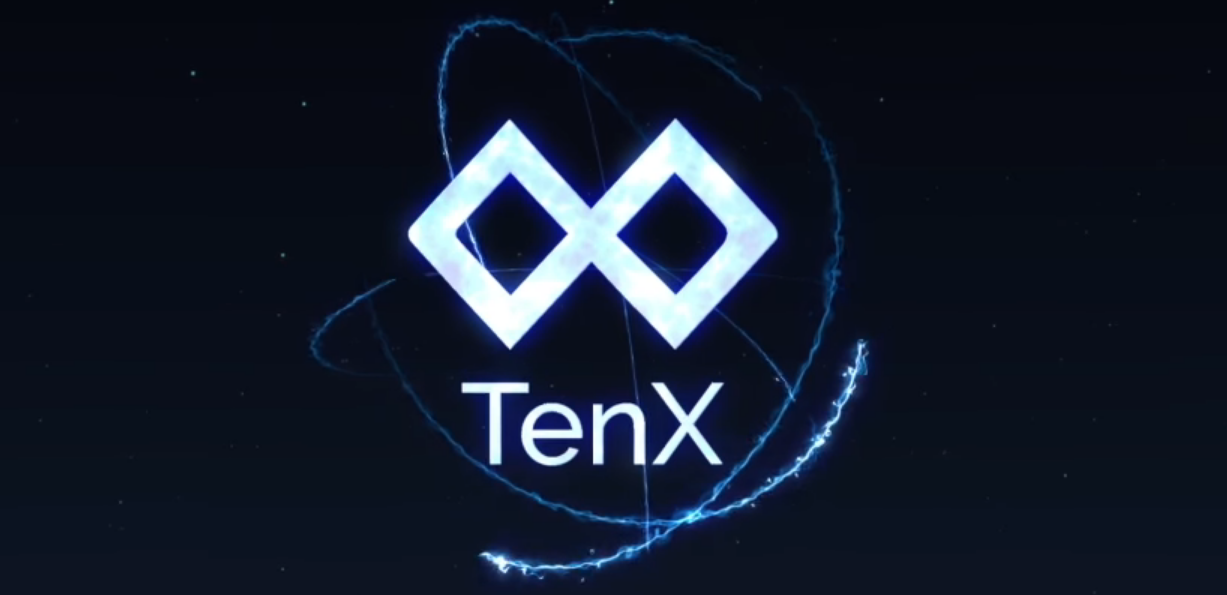 The competition
I have done some research on the competition but won't go into it here. I will leave you with a picture instead. Most of what is in the picture looks to still be valid but I don't know how old it is so check for yourself.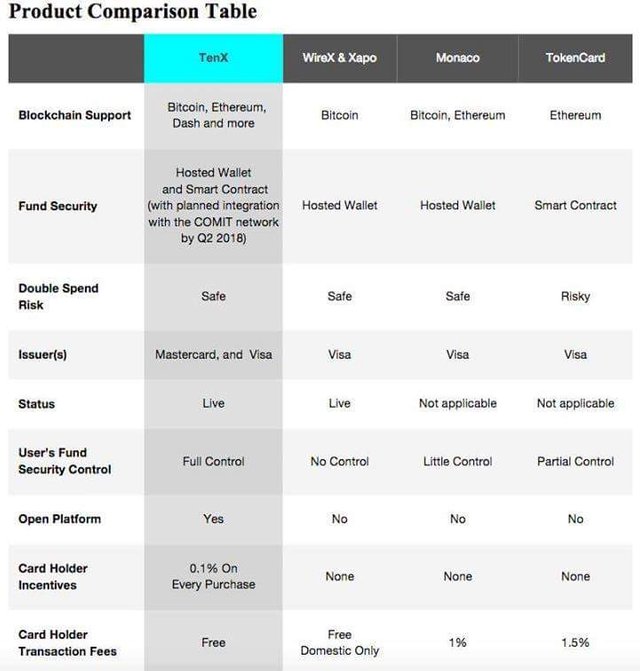 Monetha review coming soon. Will be up in one or two days. Remember the ICO ends in 10 days. Will wait to see if this post can make more than a few cents before I make more of my research free to the public.