#3 ICO review Kyber networks - An in depth review of a decentralized cryptocurrency exchange - 31 Aug
Your cryptocoins never leave your private wallets until you create a smart contract to buy/sell. A review of Kyber network Trustless decentralized cryptocurrency exchange.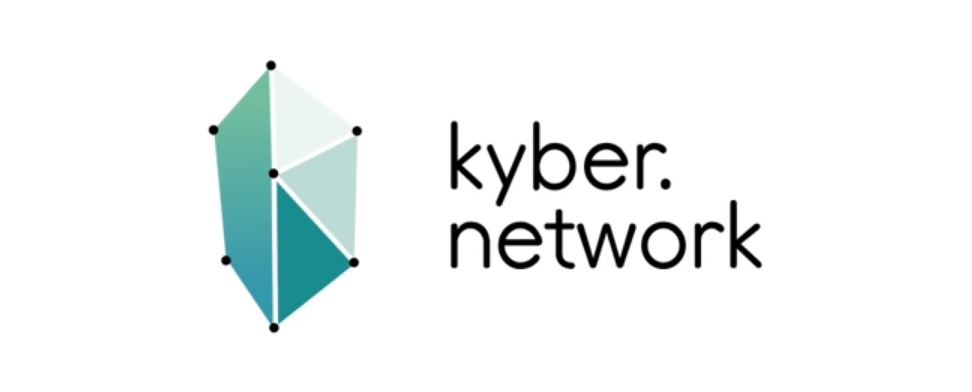 Kyber network is yet another blockchain exchange not to dissimilar to 0x (ZRX). Kybernetwork aims to allow you to hold your current coins in your own personal wallets and to do a transaction on an exchange using smart contracts. Transactions are going to be instant with a single confirmation. Kyber network will also have liquidity allowing for instant transactions.
Kyber network never holds users funds everything is done on smart contracts.
High Liquidity: Kyber Network will maintain a reserve of tokens to provide high liquidity so you can get your tokens instantly when you trade.
Instant Trade: There's no waiting for confirmation and no deposit required. You can instantly get your tokens once your transaction is included in the blockchain.
Many exchanges offer these features but only Kybernetwork will offer all of these features.
-Lower trading costs
-Trustless
-Instant trades
-On-chain
-Liquid
-Secure against attacks
It will allow you to transfer tokens to anyone with low fees.
Kyber network will have derivative trading for serious traders that like to leverage others coins. Also will allow you to lend out your coins at a fixed percentage rate gaining profits for coins you long term hold.
Has Vitalik as an adviser. Not just some guy they talked to once like others claim but they can communicate and get advice from him directly. Not a huge deal but pretty cool.
Compared to 0x which is good for the community but not great as a token holder, Kyber is good for both. You don't need tokens to use Kyber networks unlike 0x.
OMG may also be similar but I know nothing about OMG.
0x is already out, while Kyber network is slightly behind. Here is a comparison of some Kybers competition.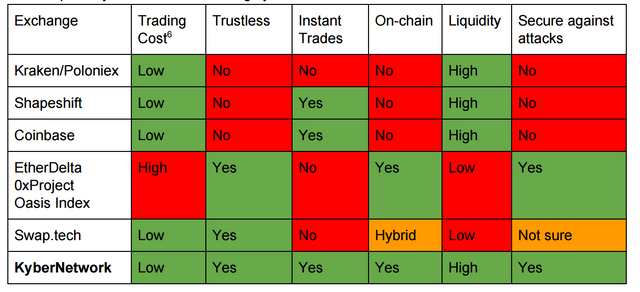 Kyber Tokens
KNC are required for reserve managers to run reserves. So anyone wanting to run a reserve will have to purchase KNC tokens. I guess you could kind of calls these like masternodes or relays or similar but they require management and investors to deposit liquid assets into. These reserves help process transactions and the fees for the transactions are payment to the reserve manager.
Reserves create liquidity. If you add a token of any kind to a reserve you will be given KNC tokens to represent your contribution. Profits generated from this reserve will be distributed proportionally to your contribution. You can withdraw your KNC contribution at anytime in whatever coin you wish to receive.
Also over time very small amounts of KNC will be burnt as the fees are processed. I am not sure how this works but it will decrease the over all supply of KNC over a very long period of time.
There is an example on page 16 of the white paper if anyone wants to try and understand it better.
https://kyber.network/assets/KyberNetworkWhitepaper.pdf
Token sales distribution
1-A maximum amount of 226,000,000 KyberNetwork Crystal tokens (KNC) will be minted. This equates to 377,000 ETH. The token distribution will be shown as below:
2-61.06% for public trading and usage
3-19.47% for founders and advisors
4-19.47% for Company usage
Roadmap
In August 2017, the Kyber Network plans to launch on a testnet, in preparation for the full mainnet launch in Q1 2018. That mainnet launch will support trading between tokens and ETH. By Q2 2018, Kyber Network will support trading arbitrary token pairs, and by Q3, they'll support trading advanced financial instruments.
In early 2019, Kyber Network hopes to support cross-chain trading.
ICO 31st August
To participate in Kyber network you need to have been part of their slack channel which is now closed due to to many users. Or if you were lucky you could sign up on the white list before 22 Aug.
Here is the current instructions if you missed out on the white list sign up. Even though you missed the white list you may still be able to buy into the ICO but may not get as many tokens.
https://blog.kyber.network/kybernetworks-token-sale-registration-db714f0ea814
Here is where you can find out if you were on the pre aug 22 whitelist.
https://blog.kyber.network/post-whitelist-announcement-21b9da4f75c3
The team
The team looks very solid and I can't find any dodgy information about them so that is a good sign.
Verdict
I personally couldn't find any red flags or anything that was that concerning at least. It looks like a solid idea and a solid gamble. The site and all documents and everything is done very professionally and there will be HIGH demand for this token.
The only thing I would love more details on is how the reserve managers and the investors in those reserves work and how the managers need to acquire the tokens. And a bit more detail on how the Token works. But it really looks like the Token is going to be the Key and will be valuable. There is a mention of a green paper but I was unable to find it.
I will be investing a small amount but I never really go big on ICO's.
I publish and talk about all these reviews on the facebook group Cryptocurrency Collective. Any comments and questions are usually discussed here. Anyone is welcome to join just make sure you answer the entry questsions.