Ripple Effect
Ripple continues its parabolic ascent as a blockchain-based financial facilitator of interbank transactions. Up another 30% in the past 24 hours, after finishing December up 816% and 38,200% for the year. Ripple now has the second highest valuation among cryptocurrencies at $121 Billion according to Coinmarketcap.com. According to Forbes, the net worth of Ripple's co-founder Chris Larsen is $37.3 billion, which would make him the 15th richest American (tied with Steve Ballmer).
Even former Fed Chairman Ben Bernanke has sung Ripples praises. Saying, "It's an obvious area where new technologies like blockchain or these electronic currencies can be used to improve the process." Bernanke has called out Ripple specifically, saying he has read their work and thinks that reducing payment cost, improving accuracy/speed/reliability is a good thing.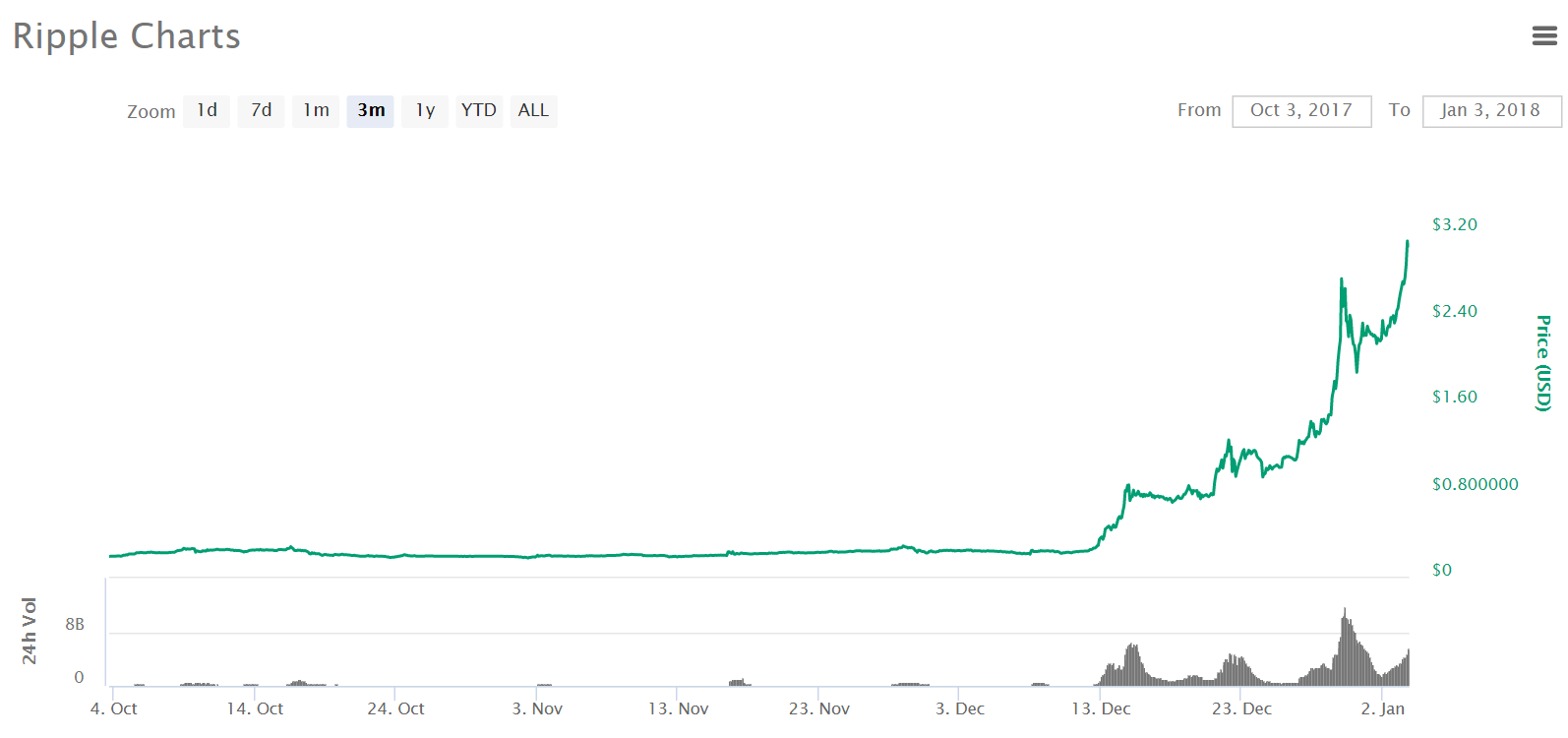 About XRP
Ripple is not merely a trading currency or store of value, it aims to modernize the global interbank transactions network. The FT recently explained, ripple "allows cross-border payments to be completed within 10 to 15 seconds, compared with about three days for interbank transactions using the Swift network, which was created 44 years ago by a consortium of the world's biggest lenders."
Skipping Stones
While the parabolic price movement has made Bernanke and others look prescient there are still many questions to be answered.
To displace the current SWIFT (Society for Worldwide Interbank Financial Telecommunication) network Ripple must get the banks to switch over. It is easy to say that SWIFT payment network needs to be upgraded and more secure, as it was hacked in 2016 for $38 million dollars.
However, why would the consortium of multi-national banks allow XRP to displace it? While getting faster and more accurate are important for interbank transactions. Is the XRP token actually necessary or could they create a distributed ledger with the tokens? Currently, Ripple holds more than 60 billion of the 100 billion of outstanding XRP tokens and they are selling the tokens over a 55-month plan. The $330 billion true circulating value of the currency assumes a high probability that they can displace SWIFT and there are many more stones to be turned over.
Where to Buy
This is NOT a recomendation to BUY, but many have asked where the best place to purchase cryptocurrencies is. For me, the easiest and most
cost-effective
way to acquire (XRP) or almost any other cryptocurrency is through
Binance
.
Binance is best suited if you are looking to buy coins with the best rates and lowest fees (0.1%). Can not emphasize enough the importance of low-fees (in any financial industry) to make sure you can compound your gains fully.