Steemit rewards February 2020
February comes to an end, so it is time for a new post about the rewards I got from different Steemit services and initiatives.
Voting distribution
Based on upVoters you can get insight in the upvotes you get for a certain amount of time. Below you can see the voting distribution of all incoming votes in February (and January as a comparison). It can be seen that @actifit is still on top of the list, but its share decreased. Second this month is @steembasicincome, followed by the @esteemapp and @jznsamuel. You could also see a nice increase this month for @pundito. Thanks for your continued support!
January:

Author rewards
The second important thing to take into account is the total amount of author rewards that I got during this month. Steemworld.org helps here, since you can see the rewards of the last 30 days on your account page there (see below). One disadvantage is that rewards are always paid out 7 days after you author a post. That means that the reward data from Steemworld are 7 days behind the upVoters data about upvotes. To keep the calculation easy, I assume that the amount of upvotes by the different services are comparable for both periods. Since I post 4 to 5 times a week nearly all weeks, that should be pretty close to the reality.

Source
According to the Steemworld data, I got 28.05 Steem (Power) in author rewards last month (compared to 22.96 in December).
Results
In the table below you can find the results of the calculation for this month, including a recap from the previous five months. I only take the services into account that are among the five biggest contributors/upvoters.
| Service | Share (%) | STEEM (Feb) | STEEM (Jan) | STEEM (Dec) | STEEM (Nov) | STEEM (Oct) | STEEM (Sep) |
| --- | --- | --- | --- | --- | --- | --- | --- |
| @actifit | 28.2 % | 7.91 | 8.56 | 9.29 | 11.41 | 10.86 | 21.57 |
| @steembasicincome | 14.9 % | 4.18 | 4.66 | 4.37 | 6.23 | 7.04 | 6.16 |
| @esteemapp | 11.4 % | 3.20 | 3.73 | 1.70 | 4.78 | 3.22 | 2.04 |
| @steem-ua | 5.3 % | 1.49 | 1.31 | 1.34 | 5.04 | 2.15 | 2.08 |
| @upvoteshares | 1.6 % | 0.45 | 0.83 | 0.67 | 1.33 | 1.07 | 1.18 |
Actifit is still on top this month, and is down a bit in rewards. I don't participate in the Appics contest, so I don't expect any growth the coming months.
SBI is down a bit in both share and Steem rewards. There seems to be little activity these days. I wonder how sustainable the initiative will be in the coming months and years.
Esteemapp has gone down a bit, but still contributed nicely.
Steem-UA is up somewhat in Steem rewards. I did try to interact more on the platform, which should increase my UA-score in the end.
Upvoteshares is down a lot this month. This is because most of my (lazy...) actifit posts don't get upvoted by the account anymore.
In the graph below, the Steem rewards per service over time are shown. You can see that there is a nice increase this month, mostly thanks to the "rest" category. It seems more "normal" users are able to find me.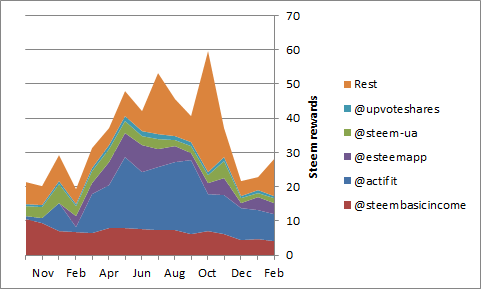 Conclusion and further thoughts
It is nice to see the rewards go up again. To be honest, that is mostly because of one, @holybread related, post that generated nice traffic and rewards.
Another positive point is that I seem to attract some new large regular voters or the votes of my regular voters are getting more valuable. That is something that shows the power of Steem #growtogether.
What do you think about the numbers? And do you have any recommendations for me? Let me know in the comments below!